Sungei Road is a place known as the one-stop place in Singapore for hardware and DIY products. But tucked in a HDB coffee shop surrounded by its resident HDB estate is a foodie gem. A store who survived and tested the perils of time, dishing out authentic Katong Laska, a Singaporean timeless favorite. The Sungei Road Katong Laska store.
The Laska store had been serving the delicacy around for decades, since 1956 as history speaks. Sungei road was the original site and birth place of the original Katong Laska store. It used to be situated on a road between Serangoon Road and Jalan Besar. This old road runs along Rochor canal (by the current Sim Lim tower) before the area was redeveloped. Back then a bowl costs about 20 cents each.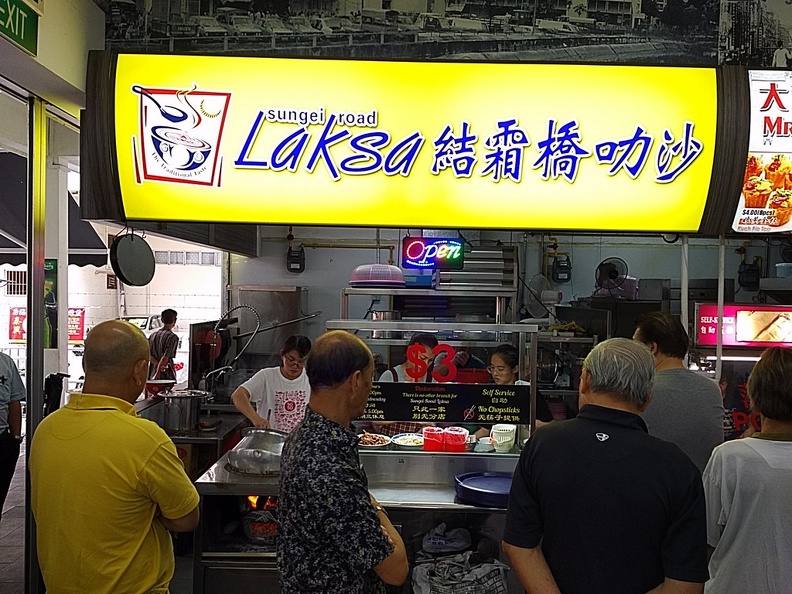 Getting to Jalan Berseh
Today, the store has now since moved to a nearby coffee shop at Jalan Berseh not too far off the old site. The Blk 27 coffee shop at Jalan Berseh where it sits now is located opposite the open field beside the Jalan Berseh hawker center.
You can enter the HDB estate through side lanes along Jalan Berseh road or Kelantan Lane. It sits along Jalan Besah road between Jalan Besah and Farrer Park MRT stations, with it geographically nearer to Farrer park station. There is a combination of open-air and multi-storey HDB EPS parking too.
From 9am to 6pm daily only during the lunchtime period, the store serves up their one and only renowned spicy dish. It is not uncommon to see a series of snaking lines forming in front of the coffee shop from 11am onwards. The store even has their own dedicated zig-zagging queue stands to boot to manage the crowds. A wait time takes about 20 minutes on peak, where it tapers down to under 5mins past lunchtime in the afternoon.
The Laska Dish
Each bowl costs $3 standard, and is served with a few pieces of fish cake, a small serving of cockles and a side spoonful of samba chilli sauce. Unlike the typical Laska dish you are familiar with, there are no bean sprouts or Taopok pieces served here.
The Laska is tasty and good, but I found the portions on the small side though, quite abit lacking though. I had to order more than 1 bowl to make up for my regular lunch portion. The small portions do also have a psychological effect, inviting you to return to the shop for more.
The base Laska gravy is not spicy at all, making it suitable for patrons of all tastes and spice tolerances. You control the desired spiciness of your Laska gravy through by addition of samba chili condiments into the gravy. Samba chili is served smeared by the sides of the bowl. You can always request for more chili if may. The chili sauce is finely ground, it is paste-like and sweet-tasting by itself. The sweet chili does also makes the Laska gravy sweeter (though tad more oilier) too when mixed in for more spiciness.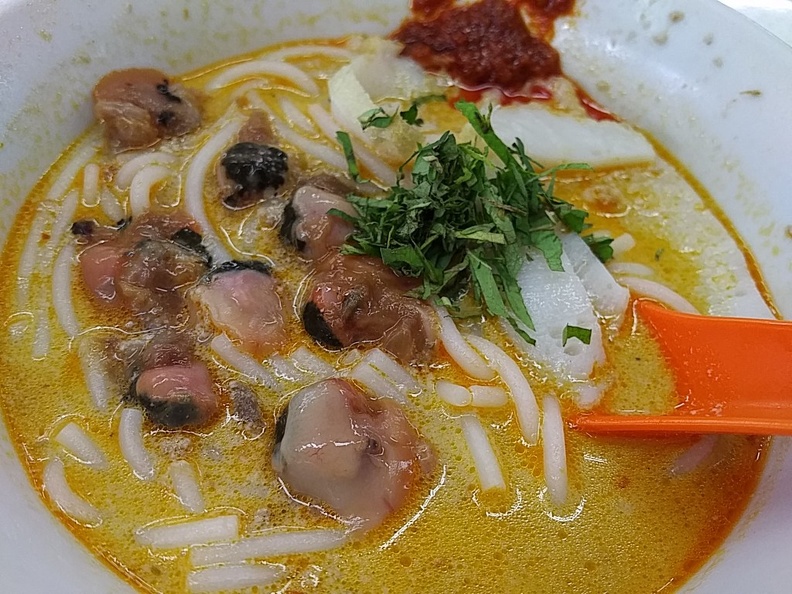 Laska packing quite a punch
The Laska does pack quite a punch. Going with the traditional Katong Laska style, the orangey-white Laska gravy is infused and boiled with coconut milk, which is not too starchy neither too watery or diluted to the taste. The gravy is rich and flavorful- a trademark the store owner claims. The gravy gets its taste from a continuously charcoal fired stainless steel pot.
The pioneering old uncle (Mr Wong) who used to man the charcoal fired pot on my past visits was not at the stall then. It was being manned by kitchen helpers. The stall itself was recently renovated. But still retains the traditional charcoal fired stainless steel pots till today which they still use for cooking.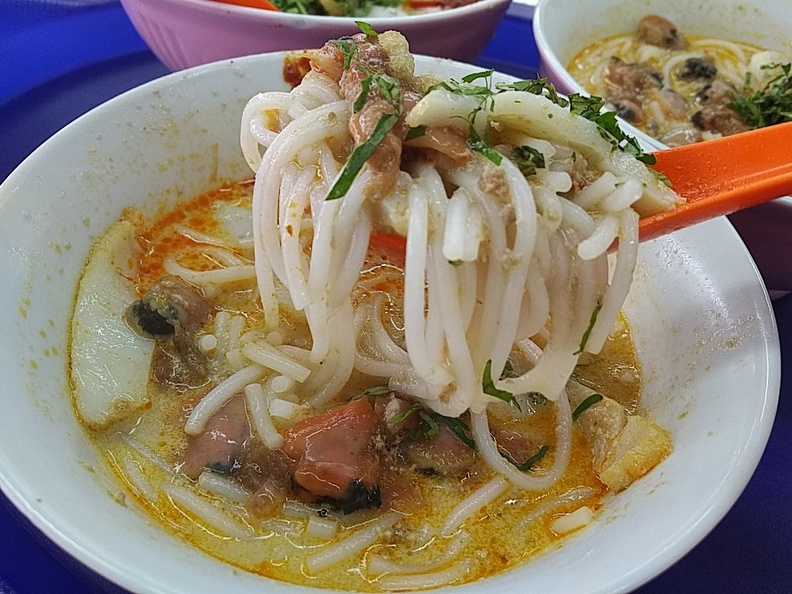 The noodles are not overcooked and not excessively soft so that sticks to your bowl, neither it is undercooked and hard. In typical Katong Laska style, each dish is served in small ceramic bowls eaten only with a single soup spoon. The coarse Bee Hoon (cu mifen) are all cut to length. You can simply scoop the Laska noodles and gravy off the bowl without the need for a chopstick.
To date, there had been many Laska stores all around Singapore claiming to be the famous Rochor Sungei Road Katong Laska, capitalising on the store popularity. From what I was told by the stall owners, to date, they claim there is only one and only original Sungei Road Katong Laska in Singapore, serving possibly the best Katong Laska in Singapore, and it is located right here at Jalan Berseh.
Now that is a claim to be proud of.
Famous Sungei Road Katong Laska
Blk 27 Jalan Bersah #01-100
Singapore 200027
Makan Place Locality Map