Manna story (Pronounced ManNa) is a casual dining Korean al-la-crate and self-cooking restaurant, today we be checking out their branch tucked in the basement of Plaza Singapura basement 2 food street. Let's have a walk-in dine-in in the causal Korean eatery.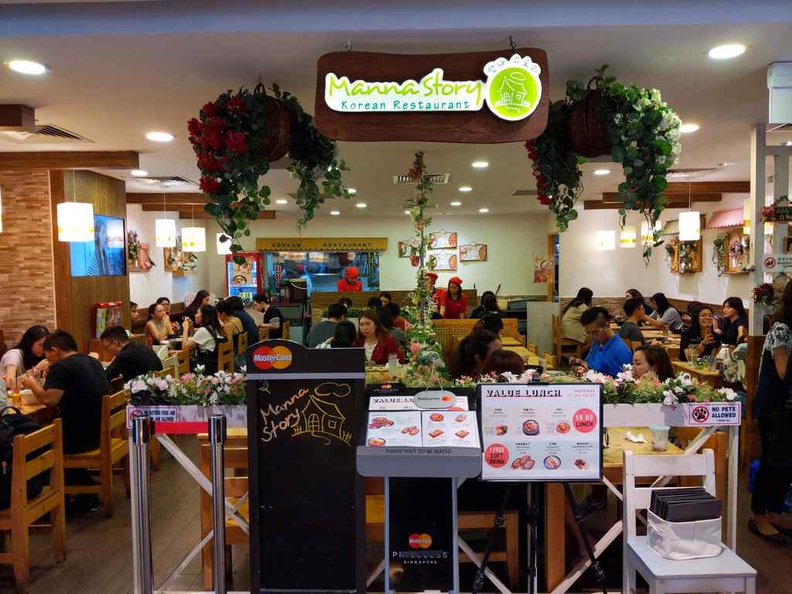 Korean casual dining on a budget
An attraction I find about Manna story is the affordability of their dishes in a convenient and accessible location right in the Dhoby Ghaut. Notably, they have other branches in Changi city point and Singpost center. Additionally, the restaurant is compact but otherwise utilises the best use of the small store footprint. I noticed the restaurant does get pretty cramped especially during peak dinner periods.
Moreover, you can't get any more Korean than having a Korean "army-style stew" on a table for sharing. A recommendation Budae Jigae spicy stew, served with kimchi pork ham, sausage, rice cakes, ramyeon and bean curd. It is quite a potpourri mix which is priced at $13.80 per pax. Also, an approximate sized tray with your ingredients be served depending on your group size. With a minimum size of 2 pax (priced from $31).
Also, each table has an induction hot plate heater allowing you to keep-warm large plates of Korean platters. They are great for sharing in groups with a conduciveness similar to Gogi at Alexandra and Wonderful Bap Seng at Suntec City we visited previously. Each table accommodate groups of 4 pax with ease. The quality of foods is adequate, but not fantastic. Manna story is well priced for casual Korean restaurants in the same $20-25/pax dinner price segment.
Korean staple dishes worth trying
Furthermore, I would recommend a couple of other main-sides which is great for sharing in groups, particularly if you have groups sizes from 3-4 pax in size. Also, it add more variety and allows you to sample more of Manna story's menu offerings beside their trademark spicy Korean stews.
Do try their Grilled Korean beef Bulgogi ($15.90). It offers a marinated meaty dish with choices of beef, pork or chicken served with glass noodles and vegetables. The glass noodles is otherwise known by its Chinese name "Tang hoon" and is fried with a dark sauce, giving it flavour and the darker colour you see.
In addition, their Japachae stir fried glass noodles is served with vegetables in soya sauce ($7.80) is a nice try, especially if for a carbohydrate rice or noodle staple with your soup stew, which can be rather overwhelming by itself. Their Kimchi rice (Kimchi Bokkeumbap) with egg and fried rice are not bad too and are cooked with short grained sticky rice.
Alternatively, their Dak Kalbi ($14.80) chicken with rice cake glass noodles is another good option. Also, you can't go wrong with good old Kimchi Bokkeumbap Spicy kimchi fried rice ($10.80). It is served with sliced sausage and egg in hot plate served with soup.
All in all, even in the increasingly crowded casual Korean dining scene, ManNa Korean Restaurant still stands out in offering value authentic menu offerings without breaking the bank and is great for groups. Something worth trying when yu are in town.
Verdict:
Must Go! | Actually pretty Good | Worth Trying | Shortlist Optionally | Should Avoid
ManNa Korean Restaurant Locality Map
68 Orchard Road #B2-22, Plaza Singapura,
Singapore 238839
Opening Hours: 11am- 10pm