Lorez (L'Rez) is a campus restaurant is a student training restaurant located in Nanyang polytechnic. Here, students cook and serve a variety of really affordable dishes in a fine-dining setting as part of their hospitality training. Let's check out Lorez restaurant Nanyang polytechnic with a dine-in.
A restaurant in a Campus
The establishment is situated on the 3rd floor in a sports centre building (Block F) near the East end of the polytechnic campus. Also, you can find it just beside the campus swimming pool and outdoor running track.
Moreover, the menu selection is published at the restaurant entrance. Menus are always revised, so do note that selections tend to change with time depending on the batch of students. Hence you may not get the same dishes on my visit. It does add quite abit of a surprise for each visit.
The eatery is large and simple in layout. Customers sit in a variety in booth and tabled seating with ample space for groups. Additionally, the center of the restaurant sits a large serving booth which the trainees use as a holding area for meals to be served.
Lorez waitered course meal delight
Furthermore, each meal ordered is a $15 4-course meal per person. It comprises of starters, mains and desserts. Drinks cost extra and typically cost $1 for a cappuccino, latte, mocha and iced chocolate. Also, the restaurant usually try to cover as much food variety range as possible. Also, during my visit, you have a choice of two options of starters and main courses to choose from.
Appetizers on my visit comprises of choices of Roasted Tomato soup or Tuna Nicose Salad. Additionally, the Tomato soup is a soup cup like serving with a dash of basil foam with a side grill cheese sandwich finger. It is rich, but kinda small in servings.
Additionally, I found the tuna salad a better selection with a mix of romaine lettuce, cherry tomatoes, fine beans, eggs and olives. Also, the ingredients are really fresh and meticulously put together with a nice dash of seasoning on the lettuce without the need for additional dressing.
An experimental delight
The highlights includes mains, it comprises of Aburi glazed salmon or Chicken fricassee stew. Typically, one usually have a western and the other, a more Asian flair.
Sometimes, it does take a degree of trial and error to know what suits you. The chicken is grilled and sits over a deep plate seasoned with beets and sweets. You also get a side of Potenenta puffs on the side. For the mains, choosing between salmon or chicken, the salmon on my visit was the better choice in my opinion.
Also, the salmon dish has an east-meet west kind of fusion-flair with European style salmon fillets served with congee porridge. Moreover, the salmon are grilled well, crispy on the outside and juicy on the inside. It is a delight.
Furthermore, deserts follows after your mains and closes with serving of either with complimentary coffee or tea. At times some desserts are usually built off from experiments in the kitchen. Hence, do expect to find unconventional selections, say, like Mango Tango in a glass anyone?
Interestingly, here, you can find layers Mango marmalade with white chocolate mascarpone placed on a bed of cereal-line liner. Also, it is topped with tofu lime vanilla sorbet almond foam and chocolate fiancier. It is quite a rich and eccentric combination of ingredients for a dessert.
A training restaurant
Moreover, as introduced, Lorez restaurant is a student-run restaurant as a training ground for their hospitality courses. The polytechnic runs full time courses in hospitality, particularly those who major in restaurant F&B.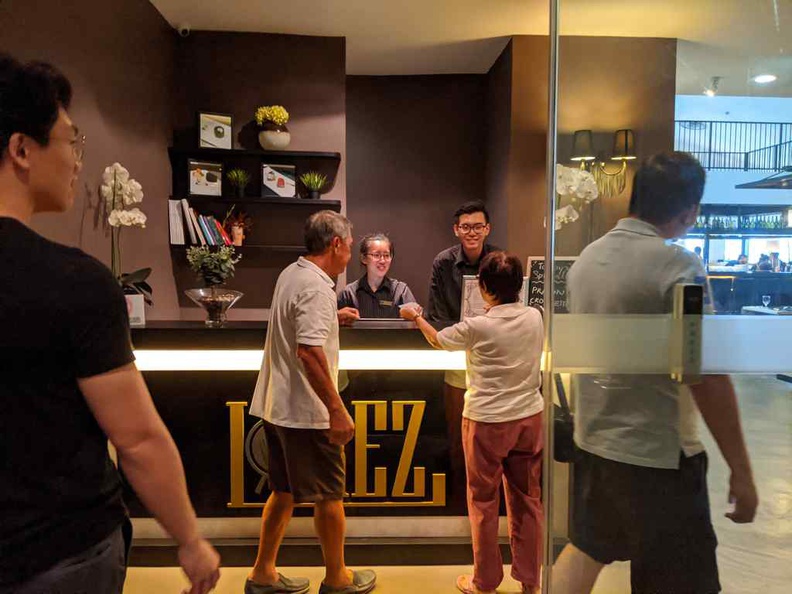 Notably, such student run restaurant are synonymous to SHATEC's Sapling restaurant at Bukit Batok and Republic Polytechnic's Oliva training restaurant. Moreover, it being a training restaurant, dining here has an arrangement synonymous to say, having your teeth done at NUH by a trainee dentist.
Here, you can be assured that protocols as sterile as textbook instructions are met with great attention to detail. However, you have to manage your expectations of dealing with a relatively inexperienced service.
Henceforth, what you are paying in terms of the possible lack of quality is useful undivided service attention. Notably, what you get are usually rather impressive meals, but things are rather experimental by nature. Also, after all, the students here operate the restaurant as part of their academic curriculum as the best means of obtaining real-world experience in-house within campus grounds without having to work or operate a real restaurant.
L'Rez, only a lunch place
Additionally, a thing to take note is that the restaurant only serve reservations and is only open only during lunchtime from 11:30am–2pm on weekdays. Also, you have to reserve a slot by indicating your preference to dine by making a reservation the day before. Notably, the establishment may not attend walk-ins in the day itself.
Moreover, their menu options are also pretty limited. The menu selections could change by the day depending on what the students are cooking up in the kitchen. Also, notably, the restaurant touts the presence of celebrity chefs. Also, that may appeal to those who desire it. At times, to add to variety, side dishes are available to order, such as their special Prawn croquette which serves as a good side.
Do Provide feedback, and oh, no credit cards payment
Also, after your meal, the students will approach you for feedback. As the restaurant is essentially a learning restaurant, do not be afraid as a patron to provide frank and useful feedback. These are useful for the students can undertake to improve their work and service processes. Moreover, do note that payment in cash or nets is available. There are no credit card payment options.
In conclusion, Lorez restaurant Nanyang polytechnic is one of the few unique dining experience you can have in Singapore, a meal prepared in pure textbook-style innocence at a price and service really hard to beat. You can be paying easily twice the amount for an equivalent level of service for this 4 course meal. And on yes, also, do indicate your intent to dine at least a day before.
Verdict:
Must Go! | Actually pretty Good | Worth Trying | Shortlist Optionally | Should Avoid
Lorez (L'Rez) Restaurant Nanyang Polytechnic
180 Ang Mo Kio Avenue 8,
Nanyang Polytechnic,
Block F, Level 3,
Singapore 569815