Floral Fantasy is a temporary curated flower showcase and manicured garden located in the Singapore city Gardens by Bay. This is done via one of several chambers which connects through the attraction in a linear fashion. Let's do a walk though of the Floral Fantasy attraction.
Floral Fantasy sit at about 1,500 square metres in air conditioned comfort. The galleries follows through in a logical and linear fashion. It starts with an entrance of overhanging flowers. These come from the ceiling is a mix of over 15,000 fresh cut, dried and preserved blooms.
Also, it is a stone's throw from Bayfront MRT station from the Marina Bay Sands complex, Floral Fantasy offers a magical escape among suspended bouquets and creative floral arrangements.
Moreover, the displays touts to bring you through various themed chambers named after various dance movements. It starts with the dance of Dance canopy of suspended flowering plants. Double doors opens putting you to a cold sub 20 degrees air conditioned comfort. Temperature within Floral Fantasy greenhouse ranges from cool 23°C to 25°C, a welcome in Singapore's tropical heat.
Look up and you can find rows of roof-hanging floral patterns and delicate fuchsias greeting you at the entrance run way. On top of this, you can also find a myriad of these flowers growing from walls, power beds. It does create quite a bit of an impression at the start. Additionally, the enclosure is a glass-walled greenhouse, which allows for a humidity and temperate controlled environment, while still allowing sunlight through into it's spacious interior.
Joy Floral animals
Furthermore, hand-crafted flower motifs depicting animals are quite the center stage here at Floral Fantasy. Part of the "Joy" section of the displays, animals of mention here includes a blue peacock couple, as well as a pink horse flower arrangement. There is also a nesting bird (in the pink of health) with eggs by a small pond.
Come to think of it, the animal flower motifs does look like the ones we saw previously at the canopy garden at Changi Jewel roof top park.
Also, on top of birds, you can find Nobu garden guardian sitting here in this sector. He is tad a living moving tree. It is tad bit like a mellow friendly Groot you might recognize from Marvel's Guardians of the Galaxy.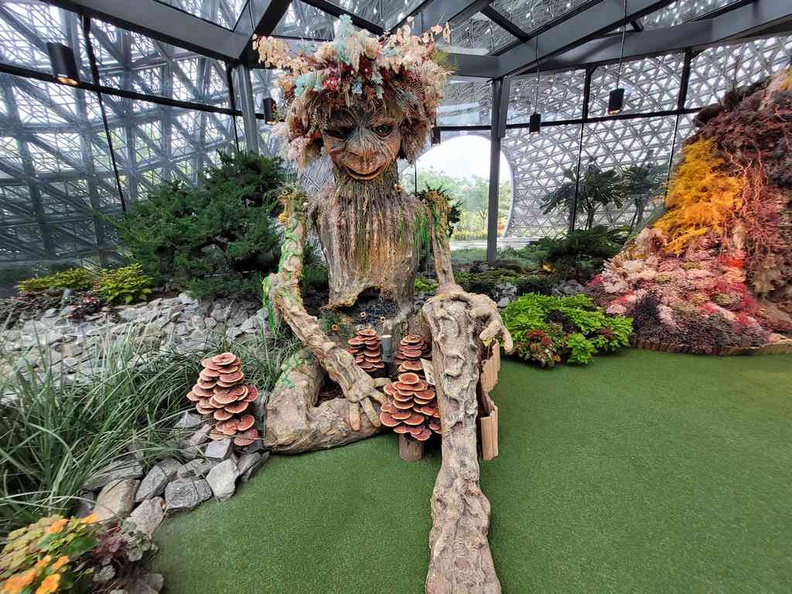 Additionally, the displays lead onto a garden park-like area. You can find quirky items here such as crochet of carnivorous plants such as the pitcher plant hanging from the roof. There are some seating on benches and a small gardening area.
You can also find water features such as small running streams and mini fountains which adds some white noise into the otherwise rather quiet and tranquil section of the displays.
Tropical Merlion and poison frogs vivarium
Moving on, the display follows onto one of the more wetter sections of the park, called the Waltz rain oasis. Here, an artificial following water wall greets you into the entrance of the sector. It splashes down into controlled little ponds with cascading rockscape and driftwood which you can zig-zags on a dry path into this sector.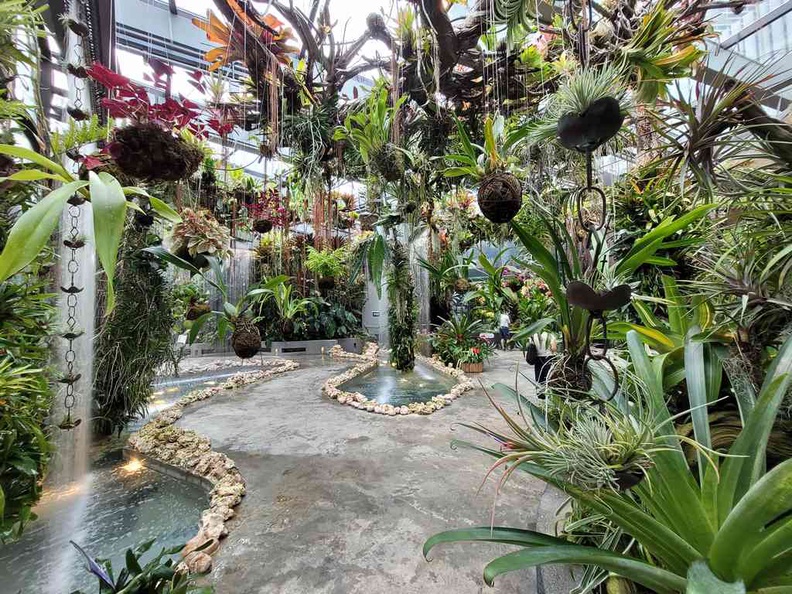 In addition, here at the rain oasis, you can find a myriad of rainforest type plants in a fitting wet environment contrary to the previous drier exhibits. Notable highlights finds here include a wooden Merlion sculpture and a poison frog exhibit. The Merlion figure was conceptualised by Nanyang Polytechnic lecturer Lynette Wu. Also, this sculpture was a permanent resident in the Flower Dome conservatory since 2015 as part of SG50 jubilee year celebrations.
Additionally, the poison arrow frog vivarium exhibit is an interesting one along the way, but rather feels out of place too. Here, you can find an enclosure populated by tiny poison dart frogs in a gamut of stunning hues. Take you time to spot through the vegetation foliage a myriad of brightly coloured frogs in different colours such as yellow, red, and even unconventional colours such as blue.
Caves and attraction store
The last sector is more of a minor gallery which most would typically simply walk through. Here, you find a cave-like cavern recreation complete with a huge assortment of drift cave like hangers. This includes ferns and shrubs littered throughout the cave-like boulder walls.
Notably, this is to mimic the vegetation typically found in caves and rocky terrain. Also, if you are sharp, you can notice the little blue LED lights dotting the artificial rock face ceiling. The tour ends with the Fantasy theatre, housing a motion platform ride called "Flight of the Dragonfly". It brings you a simulated flying ride around the gardens of the bay. However, on my visit, the 4D-ride is closed due to pandemic restrictions.
The Floral Fantasy glass building is quite a self-contained with a rest area, toilets, an attraction gift shop and restaurant. You exit out of the Floral Fantasy tour with a walk through the shop and Cafe Aster. There is also a mini floral area operated by Far East flora as well.
All in all, you are good at Gardens by the Bay Floral fantasy for about an hour tops. It allows you to appreciate and explore a curated diverse garden landscape that segue through a curated meandering space. Entry costs $10 per pax ($5 for child) and can be subsidised using the government provided Singapore Rediscover Vouchers if need be. The attraction is open Mondays to Fridays from 10am to 7pm, with extended opening hours up to 8.00pm on Sat, Sun & Public holidays. Do check it out!