Claypot Chicken rice is something I particularly adore as a hawker dish. Today, let's check out Happy snacks claypot rice, one such Claypot rice store located at the Bukit Merah southern region of Singapore.
Tucked at one end of the NEA hawker center in Bukit Merah View block 115, you may know it as the notorious market which was one of Singapore first large COVID-19 clusters in Singapore. But don't let that deter you. Things are all good currently here.
At its heart, Happy snacks claypot rice is a cooked food store. Interesting items includes their Claypot red wine chicken stew dish ($3.50). It is a warm hearty meat meal which is great on a cold day. Additionally, you get your Red wine served with small chunks of boneless chicken in rather flavourful wine-enriched broth.
Also, it is reddish in colour presumably from the Chinese wine used for the dish. Also and alternative is their Claypot Sesame oil chicken. For $3.50 for the dish. It is cooked in a brown broth which is less soupy than the red wine and best paired with a bowl of rice.
Try their Claypot chicken rice
Moreover, the highlight is the chicken claypot rice. It is a staple and signature dish of the store. Your rice dish is served in a steaming out claypot with plain white rice infused with black sauce. You are advised to immediately start mixing your after serving. Also so as to prevent the rice from sticking to the claypot walls. Also, your dish is served with large chunky chicken meat which is all boneless (a plus). Minor condiments include sliced Taiwanese sausages and oriental mushrooms. You can taste a small hint of salted fish buried in the rice.
Furthermore, your Claypot rice is available in 4 sizes, starting from $5.50, $8 $10 and $12 for the largest. The $5.50 portion is great for lunches and dinners for most people. I would recommend the still-value $8 is for those who are really hungry.
Also, their smallest bowl or even their next up $8 is comparable to the claypot rice we had at YMCA Stevens in terms of quality, with the YMCA one costing from $15 per bowl. Notably, we previously found similar little gems such as the Fuxiang claypot and the now defunct Redhill Market Hong Kong Clay pot offering a similar proposition, but not at the price point here at Happy Snacks claypot.
More than a claypot store
In addition, the store also sells a selection of bowled herbal soups, with 6 choices to choose from. A bowl of steamed rice costs an additional 50 cents while healthier bowl rice costs 80 cents a pop. Also, other interesting soups includes pig stomach soup ($4.50) and pig tail soup ($4.50).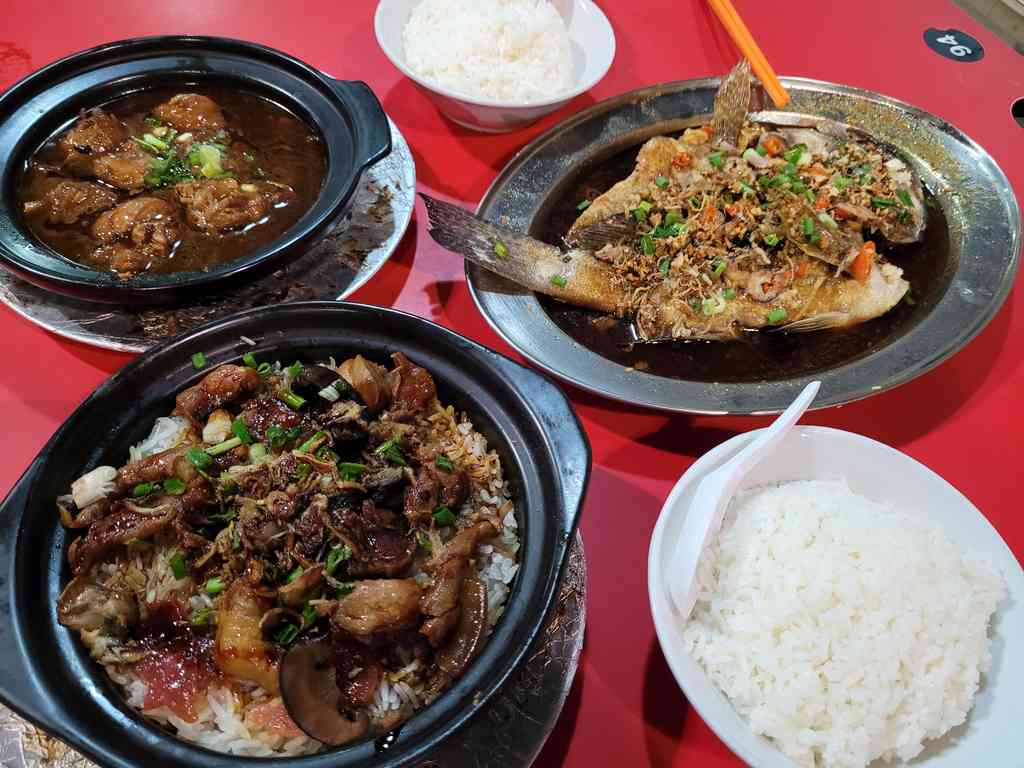 Also, interestingly on their menu is pan fried fish. This costs $10 a pop, and is incredible value for what you get. Though a rather oddity for a claypot rice store is encroaching more into the Chinese Zhi-char offerings. Also, your fish is garnished with generous servings of fried shallots, parsley and chillies.
I found the various quirky dish offering at Happy snacks claypot does makes for a rather great full hearty meal, all from a single Chinese store itself. I would recommend additional sides of vegetables. It costs an affordable $3. In contrast, typical zhi-char vegetables starts upwards of at least $9 for the smallest plate.
All in all, Happy Snacks Claypot Rice offers a rather quirky, yet wholesomely complete hawker dining from one shop with a great budget-friendly price to boot. Their must-try item would be their really affordable Chicken claypot rice, and their best offerings here at Bukit Merah.
Verdict:
Must Go! | Actually pretty Good | Worth Trying | Shortlist Optionally | Should Avoid
Happy Snacks Claypot Rice Locality Map
Unit #01-32
Blk 115 Bukit Merah View Hawker center,
Singapore 151115,
Opening Hours: 11am to 9pm (Or while stocks last)
Closed on Fridays.