Popped by after work today before dinner at my cousin Ben Puah's art exhibition at the Night & Day +gallery +friends bar along selegie road (unit 139). Titled "singapuahra", it's one his exhibitions lined up for the year. The gallery is currently open on the 3rd floor of the 5 foot wallway shophouse since early this month till the 16th May. Showcased are 7 art pieces based on reflections on his life, to well known political figures and simple plain art based on his whacky style.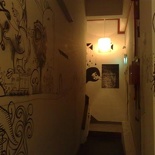 Night+day bar entrance (singapuahra)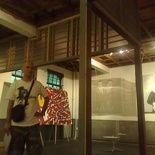 singapuahra art display on the 3rd floor with Ben himself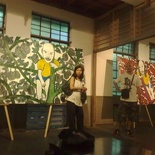 Some of his other exhibits
I've not been to this bar before but it seems that the owners are strong supporters of the art scene- judging at the amount of theming they put in for their deco. As you should know, the art scene in Singapore was almost non-existent almost 10 years ago till "we" finally realized not too long time ago that we needed one. Nevertheless, the bar is a descent place to hang out, especially those who appreciate the time by yourself or with some friends, and the tranquilly not offered by the other more "hussle and bussle pubs".