Alma By Juan Amador is a fine dining restaurant serving European Fusion food in a rather luxurious setting. They serve a variety of premium European fusion dishes and are located in the Goodwood hotel grounds. Today I shall touch on their Michelin one-starred lunch course menus in a rundown
Notably, the restaurant sits just outside the Hotel grounds by the outdoor carpark facing Lucky plaza. Hence you do not actually need to enter the hotel. The restaurant itself is cosy and not necessarily large.
Personalised fine dining
Moreover the establishment was awarded the Michelin Guide travellers' Choice in 2019. In the 2019 Michelin guide. When you are in the one star service is all about everything and I can say the service here is attentive and responsive enough to be warranted a one star rating. Also, you have dedicated service staff assigned to your table with undisrupted personised services. The restaurant also has a large selection of wine to your choosing from your sommelier.
Michelin course sets
Dining at Alma usually revolve around a selection of pre-defined set course meals. This allows the chef to control and perfect their servings typical of such fine dining restaurants. Additionally, Alma's course menu is pretty standard but pretty affordable for a Michelin starred restaurant. A 4 Course Menu sets you back $65++ per pax.
There are two parts to your appetizers. First off is their Kanpachi Brandade ($21). It is a small light dish comprising of Beetroot, Crab and soaked in lemon broth. Garnished with small edible yellow flowers. It has a zesty taste to it and nice to
Next up is their Crispy Tofu. The restaurant touts that this Tofu is homemade. It is lightly pan-fried and served in a shallow bowl with a potato slice and Wild Mushrooms. It is topped shredded vege and a sauce base of Foie Gras Emulsion. The sauce is rich and soaks into the bottom of the tofu, which you should eat lengthwise to get the best of the clear silky tofu and the sauce.
Like with every fine dining, the unique blend and arrangement of exotic ingredients sauces and spices does give you an interesting taste in rather unique ways. Also, if portions are what you are after, dining at Alma By Juan Amador is not for you.
A choice of four mains
For mains, you have a larger variety of choices, four choices in fact. I would recommend their Lobster Pasta. You get thin al-dente Angel Hair Pasta tossed in Hijiki Seaweed and diced Broccoli bits. The lobster is shredded and topped with leafy greens on the top of your pasta.
Additional mains choices includes 'Kuhlbarra' Barramundi, Iberian' Pork Jowl (with Cevennes Onion, Manjimup Winter Black Truffle infused in Ham Broth) and Angus Short Rib (with carrots, pomegranate and spiced jus). Also, in fine dining, everything is all about taste depth and presentation. Also do not expect any large portions of foods here too. Though you can easily gulp down the pasta ball in one mouth, it is meant to be eaten slowly and appreciated.
Do note that the last two cost an additional $12++ and $18++ extra top ups on top of the set menu pricing. Also, the Barramundi dish is served with sides of  white kimchi, potatoes and bouillabaisse. The Barramundi is a fish a supreme quality sea fish known for its white, firm flesh and delicious taste. Low in fat.
I didn't get to try the Pork Jowl or rib as right off Alma's recommendation. The restaurant Chefs in-fact strongly recommends the whole table to have the same number of courses to enjoy the dining experiences, as such, the menu is tailored to be enjoyed by the whole table.
Wrapping up
Wrapping up is Desserts with Vanilla Crème- Cherries. Meringue and Sake Lees. They are tad like little mini flowers sprinkled on your Creme. Additional dessert choices includes Apple Compote, Hokkaido Milk Ice Cream or the Apple Tart Tatin with costs $12 extra.
Also, in typical European fashion, bread is served. But they are served (3 piece buns) in wooden breadboxes infused with coffee beans. An interesting touch indeed. Though do note that additional bread per basket costs $5 extra.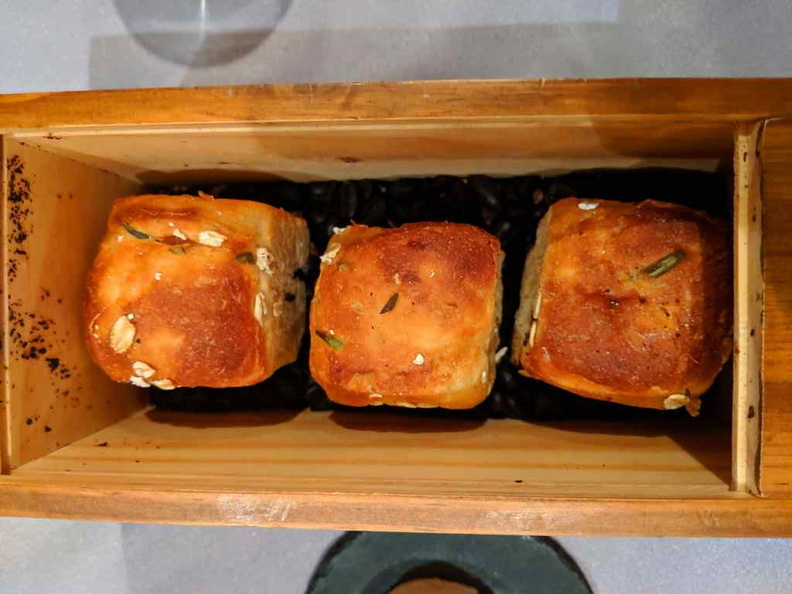 In conclusion, Alma By Juan Amador offers a rather unique multi-sensory European fusion and vegetarian-friendly dining experience through the rather unique dishes we had today. Focusing on the gustatory system, senses, and high culinary art. However, it is pricey and is not really a place you would see yourself eating daily on a budget. But what you pay is what you get and is definitely one which you know had tried and pretty much a talking point on its own.
Verdict:
Must Go! | Actually pretty Good | Worth Trying | Shortlist Optionally | Should Avoid
Alma By Juan Amador Locality Map
Goodwood Park Hotel,
22 Scotts Road
Singapore 228221
Opening Hours: 12pm- 2pm, 6pm- 9:30pm (Closed Sundays)