Following the explosive failure of the Samsung Galaxy Note 7 last year with their battery quality issues, Samsung has rather big shoes to fill with its successor to win back consumers trust. While Samsung has reassured us of their new commitments in producing phones now with more stringent battery quality checks, by putting their new flagship in the wild. Samsung's mobile division reputation is pretty much on the line to rebuild the consumer confidence previously lost.
The Samsung Galaxy Note 8 this year will be the redeeming phone for the company. The flagship of the entire line of Galaxy products, this "8th-gen" Note plans to showcase all the latest innovations Samsung has to offer.
New rear dual-camera setup
LG had done it, Apple had done it, why not Samsung? Notably, the Galaxy Note 8 is expected to be Samsung's first premium dual camera smartphone. This allows for higher quality images, providing zoom and photographic depth of feel when interchanging between two physical lenses with different field of views. The rear main shooter will be a dual 13 Megapixel (1/2.3″ sensor size) shooter with optical image stabilization, high dynamic range, phase detection autofocus.
Photo illumination is provided by a dual-LED, dual tone flash adjacent to the sensor centered at the back of the phone. The camera can do simultaneous 4K video recording with 9 Megapixel image capture. Video can be recorded at 2160p (30fps), HD 1080p (60fps) and sub-HD 720p (240fps). The Secondary camera is a more inferior 8 megapixel (f/1.6) shooter. Moreover, you get the usual Samsung software bells and whistles as such as simultaneous front and rear dual-video recording too, allowing you to capture your expressions/ commentary with your own face overlaid on the main recorded video.
Larger edge-to-edge screen but no in-screen fingerprint reader
The screen will be 6.3″ super AMOLED capacitive touchscreen with an ultra-high resolution of 3840 x 2160 pixels (~773 ppi pixel density). This is truly in the so-called "retina" range) while having a slightly more compact overall footprint. As their flagship phone, the Note 8 serves as a technological showcase of Samsung's best mobile innovations. This, while still retaining design cues from the rest of the Galaxy S8 line. It runs OS Android 7.1 (Nougat) out of the box.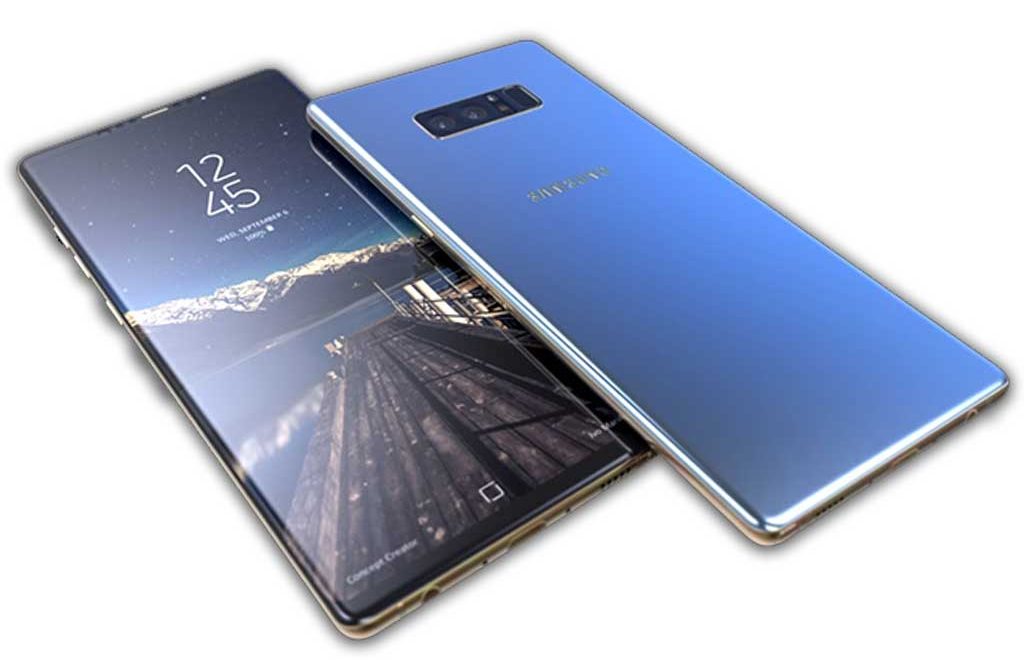 The front of the phone will be completely covered in screen. Here Samsung choose to do away with physical or capacitive Android "back", "home" and "menu" buttons in favor for soft buttons which Samsung calls their "Grace UI", this includes an "always-on" standby home button. Moreover, there won't be in-screen fingerprint reader as previously rumored. The technology for in-screen fingerprint sensors are not mature enough yet. As such the finger print sensor is moved to the back of the phone, by the LED flash in the rear.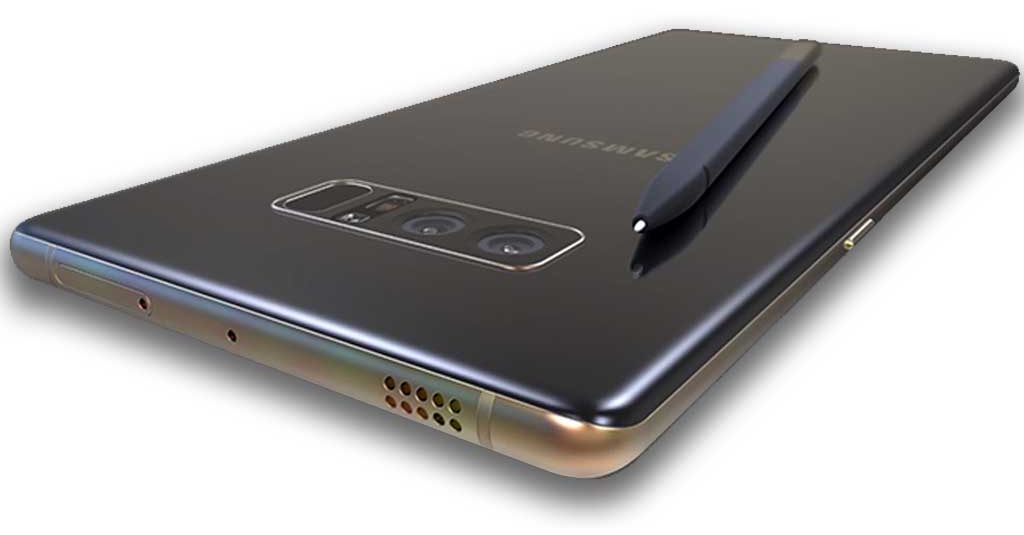 "Always-on" display
"Always-on" display is made display thanks to the links of AMOLED displays, which saw mainstream introduction on Smart watches. Hence, it bestows the phone to have very low standby power consumption. This is achieved by only activating (turning-on) the pixels needed to be illuminated with the rest of the screen powered off. Moreover, it allows for not only very rich saturated colours typical of AMOLED screen but very dark blacks too as the individual pixels and backlight spot can be turn-off. This is contrary to traditional LCD with a full single large backlight. The 16 million color screen features a rather quirky 18.5:9 aspect ratio. This is bound to give you side letter-boxing for landscape movies now. Moreover, the display sits under a layer Corning Gorilla Glass 5 on the front and rear faces. The phone is available in 4 colours (Gold, Silver, Black and Blue).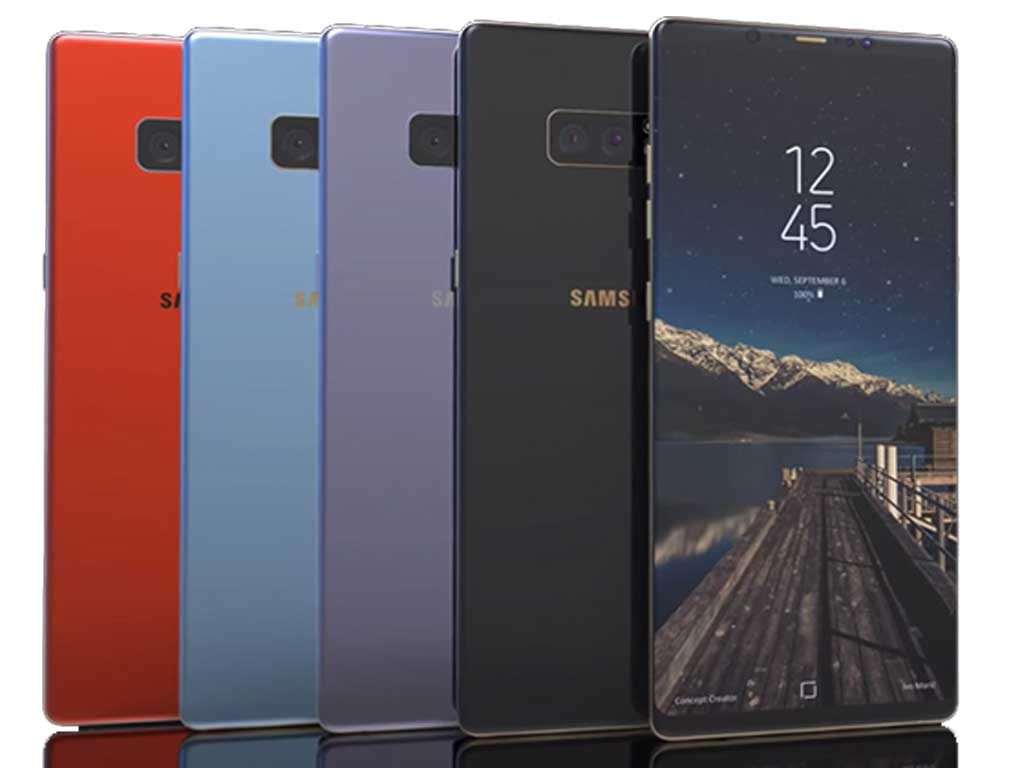 Innards CPU, RAM, Dual SIM and expandability
The Note 8 is expected to come in 2 hardware variants. It will feature either a Exynos 8995 or Qualcomm Snapdragon 835 depending on region and the use of the dual-sim model. Thankfully, the phone comes with a dedicated microSD slot. It supports card sizes up to 256 GB on exFAT.
Furthermore, the Single SIM (Nano-SIM) version will be the most widely marketed world phone. This is the phone model to be on sale globally, particularly for the American and European markets. There will be another Dual Nano-SIM (dual stand-by) variant targeted for the Asian and Chinese markets. Both hardware variants will feature both SIM card and MicroSD slots. The dual SIM slot model having the flexibility to use up the second microSD slot for the second SIM card. All variants of the phone comes with 6GB of RAM (50% up from the Galaxy S8 3GB), with an active digitizer (S-pen) for the note stylus.
Connectivity, Ports and S-Pen
The phablet retains much of the connectivity from the Note 7. At the bottom, you get the S-pen silo, a USB 3.1, Type-C 1.0 reversible connector as the main interface and fast-charging port, bottom speaker and thankfully a 3.5mm audio output and microphone input jack.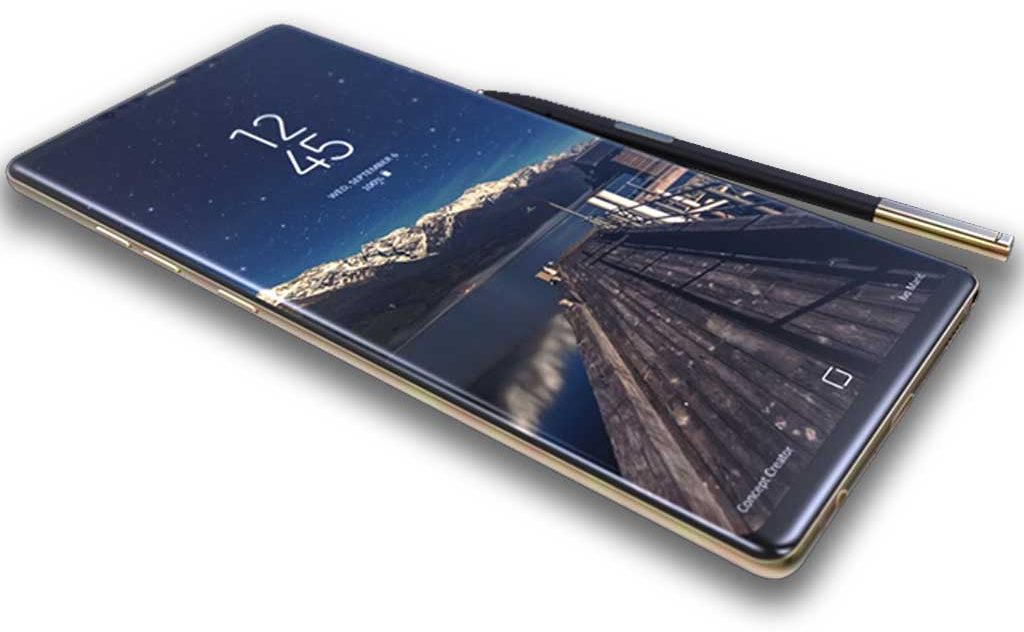 Furthermore, the note stylus (retractable) and resides in its own silo on the bottom right of the phone body. Expect levels of pen sensitivity to be about 2048 levels, using an active Wacom digitizer, similarly found on previous Note models while without requiring any pen battery power (unlike those found on N-Trig pens). You get the usual funfair of wireless-charging into a non-removable 3300 Li-Ion battery, Wi-fi Wi-Fi 802.11 a/b/g/n/ac with Wi-Fi Direct and hotspot functionality as well as Bluetooth 5.0 (supporting A2DP, EDR, LE). The GPS chip is impressive, supporting A-GPS, GLONASS, BDS and even the newest GALILEO.
Moreover, the phone comes with both stereo loudspeakers and thankfully a 3.5mm jack too. The audio jack kicks out 24-bit/192kHz audio despite being IP68 certified, with dust and water resistance up to 1.5 meters (up to 30 minutes). Lastly, there is NFC on board supporting Samsung Pay (Visa, MasterCard certified) too. There are also a range of 3rd party hard shell cases, particularly those by Okrar available for the Note 8 too upon launch.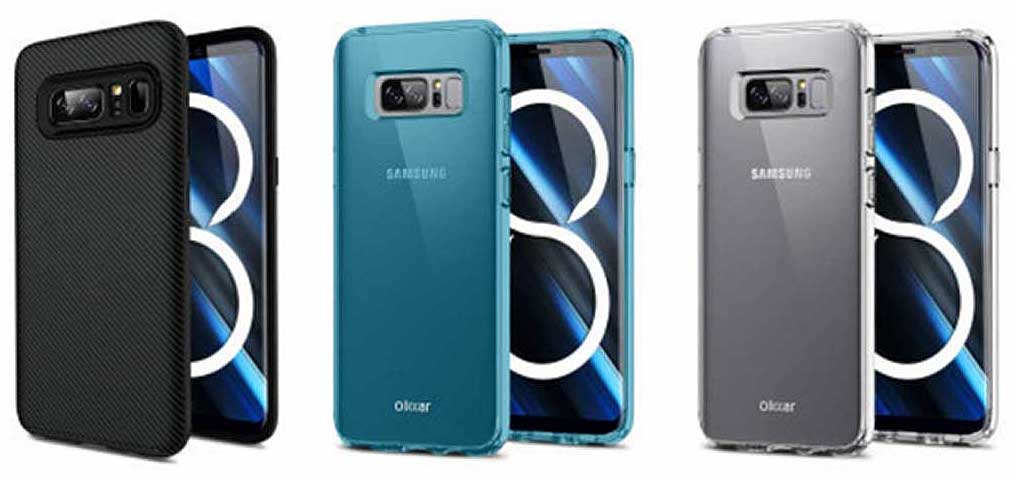 Launch date and Pricing- A thousand dollar phone
The most shocking thing about the Note 8 will be its price and don't expect launch prices to be affordable either. We can expect the phone to be more expensive than originally thought. Here, the entry-level Galaxy Note 8, with 64 GB of internal storage will start from as high as $1,100 without a 2-year Telco contract. This is $250 more than an equivalent 64 GB Galaxy S8 Plus and $130 more than a 256 GB iPhone 7 Plus. The flagship 128 GB version will set you back as high as $250 more ($1350). Expect the prices to hover around the $600 (64 GB) to $800 (128 GB) mark after Telco contract subsidies.
Furthermore, on initial product launch, the unannounced 256GB storage version won't be expected to be introduced. It is expected only to be released as part of a mid-cycle refresh typically a few months thereafter. Despite being a rather software-heavy phone, all Note 8 versions come with 6GB of RAM. This is also despite 8GB of RAM being the flagship forerunner specification in industry now. Therefore, we can guess that Samsung has some probably software to RAM optimizations. This was previously demonstrated on the dual-screen multitasking feature which the Note 7 was known for.
The Galaxy Note 8 is expected to launch in August 2017. Also around the time where the iPhone 8 is expected to be announced too. We can typically see the Samsungs being announced a few weeks earlier than Apple. This is often with very lavish setups we see similarly in the Note 7 product announcement. A good tell-tale sign will be the barrage of Samsung ads expected on the streets as nearing the launch date.
Samsung Note 8 Specifications
Bands: GSM/CDMA/HSPA/LTE
Dimensions: 162.5mm x 74.6mm x 8.5m
Weight: TBC
Display: 6.3" Full HD (3840 x 2160 pixels) Super AMOLED (773 ppi pixel density)
CPU: Exynos 8995/ Qualcomm Snapdragon 835
RAM and Storage: 6GB RAM, 64 GB/128 GB, expandable with microSD up to 256GB.
Battery: 3300 mAh non-removable
SIM: Dual Nano-SIM with dual stand-by
Camera: Dual 13 MP (1/2.3″ sensor size) with dual-LED flash, Secondary 8 Megapixel (f/1.6).
Ports: Type-C 1.0 USB 3.1, 3.5mm, Audio jack