On running gear review today, let's check out a suite of Decathlon running kit and the KIPRUN KSLight Mens running shoe. Decathlon is largely a credited as the brand which brings affordability and fitness to the masses at a price point for many. The KS Light is one of Decathlon's best running shoes in their affordable sport running segment allowing runners an entry into the performance running gear.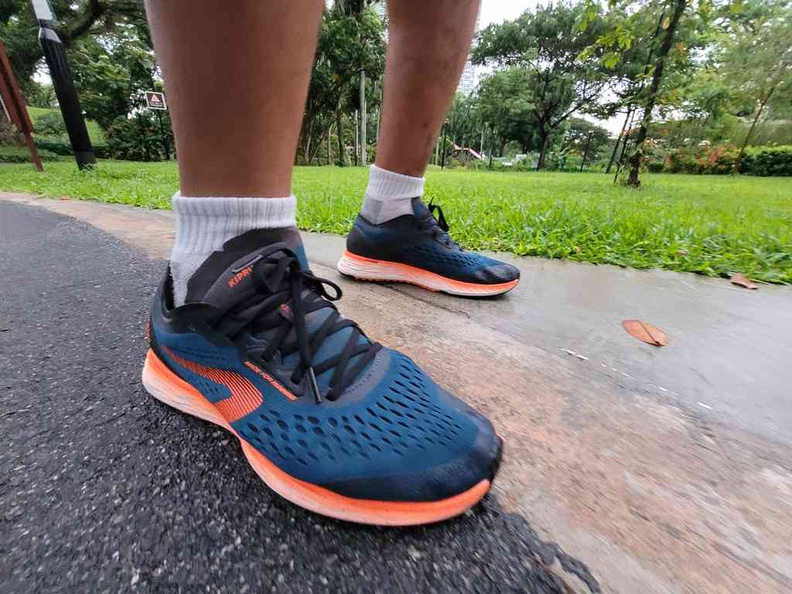 Kiprun is Decathlon house brand for their running line of products. It is synonymous to BTwin for their bicycles and Domyos for their fitness line. I would focus more on the performance of the Kiprun KSLight running shoe and Decathlon's running clothing kit at the end of this review.
Furthermore, the KIPRUN KSLight running shoe is reasonably priced at S$120 for the offerings. It sits on the upper-end of decathlon running shoe line, typically priced under $100. This puts the KS Light on par with casual type shoes but about half the price of typical trainer-type running shoe offered by performance brands such as Asics, Nike and Mizuno for that matter. Like all the major brands, the shoe is similarly made in Vietnam.
Exterior impressions
Moreover, the KS Light running shoe construction is simple but effective as a lightweight trainer. The shoe, available in one colour has a rather minimal upper body with a snug and very lightweight thermoplastic polyurethane fabric material on its exterior.
We start to see this thin yet tough material increasing being used on sports products such as knee braces and arm pouches. This is unlike most running shoes which offers a thicker padded upper sole and offer more stretchable compliance as you run-in your shoes.
Additionally, the front of the shoe morphs into a more thinner outsole with the same light material encasing your feet and holes on the light mesh material at the toe box allowing inwards ventilation. However, it suffers problem of an open water ingress spot into your toes if you run in the wet or accidentally wander into a water puddle.
I have yet to determine and assess the long-term durability of the shoes. Decathlon touts that the Kalensole lasts up to 1,000km mileage. However, after putting about just over 200km on the brand-new pair of shoes, I noticed with the exception of accumulated dirt, there was negligible wear on the fabric edges and the soles.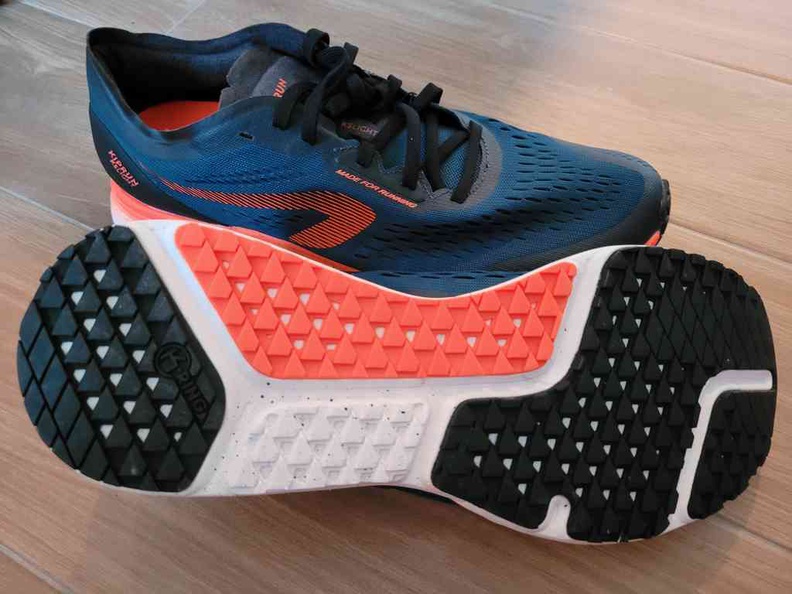 But still it also depends on the care of your shoes. Still, the shoe's material is easy to maintain and clean. Also, the lack of conventional padding cushion on the upper shoe does allow for a cleaner design which does not trap dirt.
Running performance
Furthermore, the Kiprun KSLight is light weight enough to warrant as a racer shoe. It is great for 2.4km run distances without the weight baggage found in heavier supportive shoes typically found on those "Marathon capable" the Nike Bowerman or Asics DS trainer or Mizuno Wave creation.
Still not everyone would be running a marathon every day or weekly for that matter. Hence, this puts the Kiprun in a position great for the lightweight trainer you can use for competitions, and still good enough for short <10km training runs.
Moreover, as a runner with a supine to neutral pronation, the Kiprun KS Light is surprisingly stable despite having a thin sole. In fact, it's heel strike is far more stable and does not rock all over the place like the New Balance NB565 we previously looked at. Also, the included orange insole is suitable for feet with normal arch.
Additionally, I found the thinner soles give you a pretty compliant run of the terrain you land on. It provides good terrain feedback, allowing you to literally "feel" more of the terrain you step on. It gives for a more confident heel strike as the shoe communicates well the terrain back to you. Also, I found the shoe has adequate outer sole thickness. The texture and simple geometry of the soles does provide extra grip on wet terrain.
I was able to get a good speed quickly on the lightweight shoes on short runs. It is something I would not be able to do with heavier more-supportive class of shoes. Still, the KS Light offers more support over lightweight racers like Nike's Lunarlite Racer, at half the price. The shoes could even qualify as an affordable "heavy" racer for lower distances without breaking the bank.
Energy return
Decathlon touts the mid-sole foam optimises energy return due to Pebax up'bar technology that enhances rebound, with denser EVA foam at the shoe front. For my runs, the shoe does maintain a consistent energy return to-mid distances under 5km.
Also, the foam material in running shoes have a limit to a compression and decompression cycles. When your feet lands on the ground, the micro pores in the shoes foam material closes up. It in-turn absorbs an takes away some impact of your foot-strike. The ability to cushion your feet strike in your run allows for some energy return. In-turn, it extends the inset of fatigue and "sore feet" which typically comes after repeated pounding on your feet during a run.
Decathlon touts that their Kalensole mid sole material improves cushioning by 34% and propulsion 25% compared with standard foam. However, the thinner sole of the Kiprun KS Light does result in a much lower energy return endurance to thicker marathon-ready type shoes like the Mizuno Wave creation which a much thick mid sole and heel.
Moreover, you will start to feel the KS Light starting to lack in cushioning past the 5km mark. You would get start to get sore feet after crossing 10km. Hence, I would recommend running a maximum of 10km on the Kiprun. Still, I would position the KSLight for seasoned amateur runners, or casual runners looking to maintain their fitness and who typically click at least distances of 5km up to 10km.
Also, to have the best running experience, you are recommended to pair with proper performance socks. Nothing too fancy, just regular snug sport socks will do wonders to comfort on longer distances. One to consider is Decathlon's Unisex Kiprun CHO7 Running Compression Socks.
Wrapping up
Wrapping up, topping up the Decathlon's running kit is the Men's Running T-Shirt and 2-in-1 Tight Shorts. has a thing and light fabric which is great for Singapore's humid climate when it comes to moisture management. It absorbs and dries quickly. Also, the tights have an inner tight shorts designed to prevent chafing between the thighs. Though the single rear shorts pocket could be bigger.
All in all, the Decathlon Kiprun KSLight running shoe offers great price value for the performance I would recommend the shoe for runners who run less than 10km per run. It lightweight and simple design is easy to maintain and clean, positioned for seasoned amateur runners, or casual runners looking to maintain their fitness and who typically click at least distances of 5km up to 10km. It is quite a basic pair of shoes, but less is more.