Picanhas Steakhouse is a premium halal steakhouse serving up rump steaks and rice beef bowls at rather affordable rates. They are located at a shophouse along Club Street near Maxwell and Chinatown districts. Let's see what's on offer.
Interestingly, "Picanhas" is brazillian for the type of beef cut of meat the restaurant uses. It is tad like sirloin steak but is otherwise notably fattier. It is also known by its trade name "Rump steak" or the Queen of steak.
Furthermore, dining at Picanhas involves a mix and match of sides and sauces form their two main menu staples. The restaurant is typical of a shophouse, with a narrow width with a mix of air-conditioned indoor and outdoor roadside seating. A long bar and kitchen runs the entire restaurant interior.
Two of kind, in a variety of combinations
Also, Picanhas Menu selections are simple. You have a choice of 2 mains, a steak hotplate platter called the queen of steak ($21) or a rice bowl called the Picanhas Don ($16). The rice "Don" suggests an otherwise Japanese take on "Steak with rice".
But this place is no Yoshinoya, particularly in the quality department. Their $21 queen of steak gets you 200 grams of their premium signature steak fresh and not from frozen. It is a fair price if you can stomach the additional fat content of rump steaks. The steak is served on a sizzling hotplate doused with Binchotan butter.
Moreover, their steaks are juicy, but does not melt in your mouth like the steak we had a Bread street kitchen. Still, it is flavourful for the price though it can be tad too salty. Being a rump steak, it can also be tad too oily and overwhelming for some diners.
In addition, their rice (don) gets you 100 grams of their trademarked steak with fried garlic, caramelized onions, pickled cabbage and topped with an onsen egg. Their rice is also purplish in colour, tad like olive rice, or otherwise also known as "black rice". It is an interesting touch out of the ordinary.
Sauces and sides
Moreover, you get to top up with meal with a choice of 4 sides costing $7 each. Bummer that no sides are included with your mains. Though pricey, the price is typical of sides in this restaurant segment. Options comprises of Spinach, Mushroom, Potatoes and Couscous. I would recommend their Potato and mushroom staples for both your carbohydrate fix and their mushrooms are plain interesting.
Additionally, menu specials are also available on request, which can range from burgers or new main courses not otherwise found on the daily. Occasionally, the restaurant runs off-menu specials, like a $39.90 steak burger on offer during the day of my visit.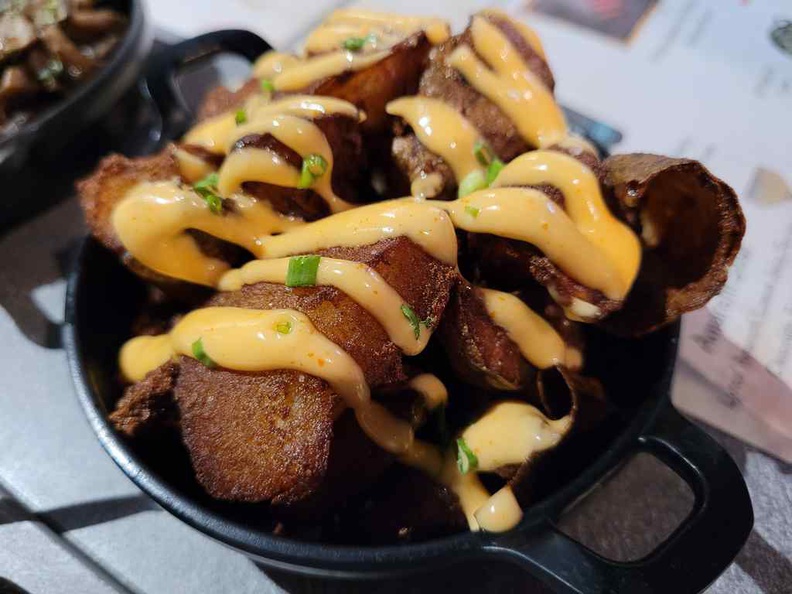 Additionally paired with your mains are three types of sauces. Sauce recommendations includes Wasabi cream, Chimichurri and Sze Chuan (all $2 extra each). Go for the Wasabi I say. Additional premium optional sides which you can do without includes their French Foie Gras, a fatty duck liver at $11, or their Hokkaido scallops, a premium seafood selection.
Sweet desserts?
Additionally, what's for drinks and desserts? Wrapping up your meal is one selection of sweet dessert, called the Sweet dreams dessert ($8). Mocktails are priced at $12 each or alcohol-free wine at $12 a cup or $48 per bottle available in red or white. Soda water sets you back $7, while premium still/sparkling water is served at $3 a cup, there is no tap water, oh bummer.
The relatively low price point for what you get here at Picanhas does make it an attractive proposition for the budget conscious, especially who yearn for a taste of the premium steak. But I find you do not get the value per gram offered by Mangiamo at Albert court or iSteaks at the price.
All in all, if you crave rump steaks, Picanhas Steakhouse is one of the most affordable places to savour it in a rather chill and upbeat environment which is club street. As a package with drinks, Picanhas is not a bad dinner place. However, the lack of menu options does limit its revisit value, and unless if fatty steaks are of your craving, there are actually more value alternatives with better quality out there.
Verdict:
Must Go! | Actually pretty Good | Worth Trying | Shortlist Optionally | Should Avoid
Picanhas Steakhouse Locality Map
90 Club St,
Singapore 069458
Opening Hours: 11am–3:30pm, 5:30–10pm (Split shift)