Mai Maison is a Japanese casual dining restaurant offering a rather quirky European-Japanese fusion menu which appeals to the masses. Its quite a nice dining experience. Let's check them out with a dine-in today.
Chill dining ambience
Interestingly, Mai Maison is one the few quirky themed restaurants I enjoy dining in over the years. I had visited the restaurant a couple of times, but hadn't had the chance to write about them. Moreover, "Mai maison" is French for "my home". This could the reason why all Mai Maison branches, it is themed to an English style colonial styled hotel inn.
Notably, Mai Maison has branches at Ngee Ann city (Takashimaya Orchard), Anchorpoint and Bugis branches all have the same English-style theme. Also, the ambience of the restaurant is rather cozy and home-like with shelves loaded with various books and trinkets.
Interestingly, like the hotel setting it is modeled after, your service waiter will present you a set of hotel "room keys" which you can use to "check out: at the cashier for payment after you had finished your meal. It is tad redundant in today's digital point of sale machines, but adds an old classical Victorian touch to your dining experience.
Also, echoing the Victorian feel is the ambience. It is largely dim and in some branches candle lit. Moreover, the table setting have a classic steak house or what I like to call the lost "Jack's place" feel with checked table cloth, very European indeed.
A European fusion offering
On your first visit, Mai Maison feels like you are more like in a French restaurant than a Japanese one. Also, despite Mai Maison being a Japanese establishment, but don't expect to find sashimi, udons or sushi here. In fact, the trend these days is Japanese dining moving towards European fusion menus, such as quirky combinations of pizzas, steaks and escargots. This is exactly what Mai Maison caters for.
The place for casual Hamburg
Moreover, mains recommendations includes Hamburger Steak 160g ($17.80) as well as their Chicken Steak with Garlic ($17.80). Hamburg steaks are the craze in Japan fast dining and Mai Maison is one of the few places you can try it here, with the other being Keisuke we dined at Tanjong Pagar previously. Their patties are infused with fillings of your choice (like cheese) adding for a delightful touch.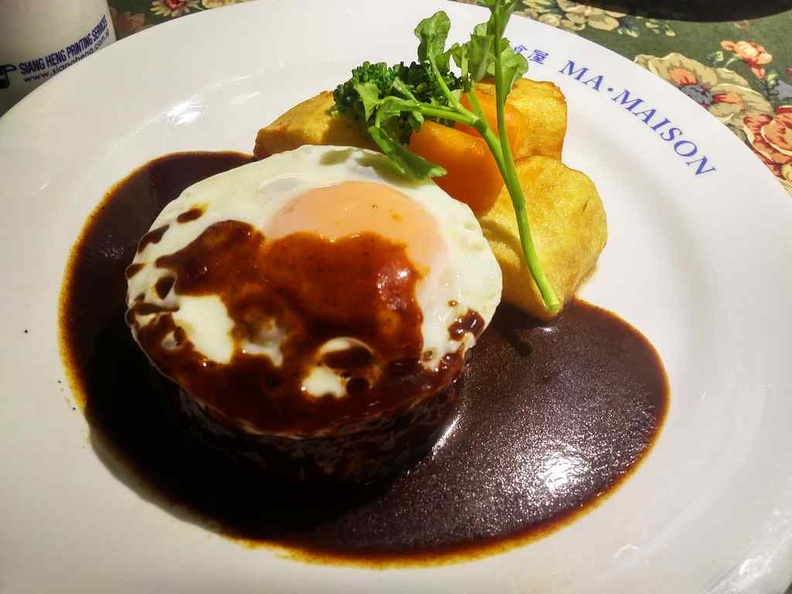 However, Hamburg steaks are usually very small in servings and may not be adequate, especially for larger eaters.
Hence, if you desire something more filling and premium, their Sirloin Steak with 250g of beef ($26.80) is one worth trying. The steak is cooked to a done-ness you desire served with vegetables.
Also, I found Mai Maison menu offerings is a generic one which caters to the masses. It is difficult not to be able to find something you won't like on their menu. Spaghetti is on the menu at the $18-20 price range, if you are adventurous, do try their Cuttlefish Ink Spaghetti ($18.30). It is one of the few places in Singapore you can try other than a full-fledged Italian pasta restaurant.
Try their Seafood Paella
Furthermore, more adventurous offerings includes their Seafood Paella ($27.80). Paella is something not easy to cook or find in Singapore and I can say Mai Maison did cater for a filler in the market otherwise only available in Spanish specialty restaurants.
Also, their Paella is pretty decent, tasteful though not overly fantastic, with a good seafood mix of fresh clams, mussels and prawns. It could do better in rice portions especially as I found it challenging to feed a group of 3.
Wrapping up, in addition, appetizers to go for would be their Baked Escargots with Garlic Butter ($11.30) and Shrimp Ajillo ($13.80).
Also, their thin-crust pizzas are great for sharing in groups as a side and Chef's Pizza ($16.80). They are about 10 inches in diameter and only available in one size. They are packed with good amounts of cheese and toppings to boot.
When you are done, do try their cheesecakes for desserts, they are pretty good too. Sometimes, these desserts are offered as part of a set meal, which brings the value out of your meal as most diners like myself usually won't see myself ordering them ala carte.
Moreover, Omu rice and Tonkatsu are probably the most Japanese item you can find on the menu, as well as a selection of Japanese curries. They are priced in the $25 to $30 range and is adequate for mains.
Though curry might not be their forte and I tend to prefer the Curry offerings form Coco curry and Monster Curry better.
Great service
Additionally, service is good and exceptional at their Ngee Ann city branch where I was lucky to have good interactions with the restaurant manager who was the server for my night. Seeing this level of service to a random walk-in customer does make this worthy of a mention.
All in all, Mai Mason gets a good recommendation for their variety of food offerings with branches in several central convenient locations around Singapore. Though the food prices are more than average priced, it is made up for a nice restaurant ambience and great hospitality which at its heart is infact more Japanese than European.
Verdict:
Must Go! | Actually pretty Good | Worth Trying | Shortlist Optionally | Should Avoid
Mai Maison Locality Map
Takashimaya Department Store
391 Orchard Road, #04-27 Takashimaya S.C.
Ngee Ann City,
Singapore 238872
Opening Hours: