Rabbit Carrot Gun is a chill British-style pub located at East Coast Joo Chiat area. It is a pub, bar, restaurant and a hostel. Let's check out the pub with a dinner dine-in tonight.
At its core Rabbit Carrot Gun is a restaurant by day and drinking bar by night. There are several tables good for groups of 2 to 4. The establishment sits in two traditionally-built Singapore shophouse units, which were constructed since 1925. Hence, the pub here ain't the most spacious there is so larger groups may find it tad more of a challenge.
A bar, restaurant and hostel
Additionally, each shophouse unit have their own drinks bar and serves the establishment hostel as a dining area too. Moreover, the setting is that much of your typical bar. You order drinks via tabled service with a hot menu to boot. Drinks includes your usual selection s of beers, ciders, cocktails and mixes. Do asks for specials if may.
Also, Rabbit Carrot Gun runs happy hour till 9pm everyday, with weekdays starting at midday and weekends from 3pm. Price-wise, bottled beer starts at $16 for 2, stout at $20 for 2 $30 for a bucket of 5 lagers or coronas. Cocktails, wines and house spirits gets $3 off.
Pub food selection
On pub food, recommendation includes burgers and an assortment of western grill dishes, including Burgers and hot food mains. Also, as the pub/restaurant serve guests on the upstairs hostel, you get a selection of all-day breakfast on-menu too. Signature dishes also includes their all-day Scotch egg, a breakfast item for $10 a plate. You can have it as an appetizer or sorts.
Burgers, a pub staple
Furthermore, burgers are a recommended staple when it comes to pub food. Rabbit Carrot Gun executes Burgers pretty well and does not disappoint. Selections begin with their King Burger ($25). It's a beef burger with bacon and cheese.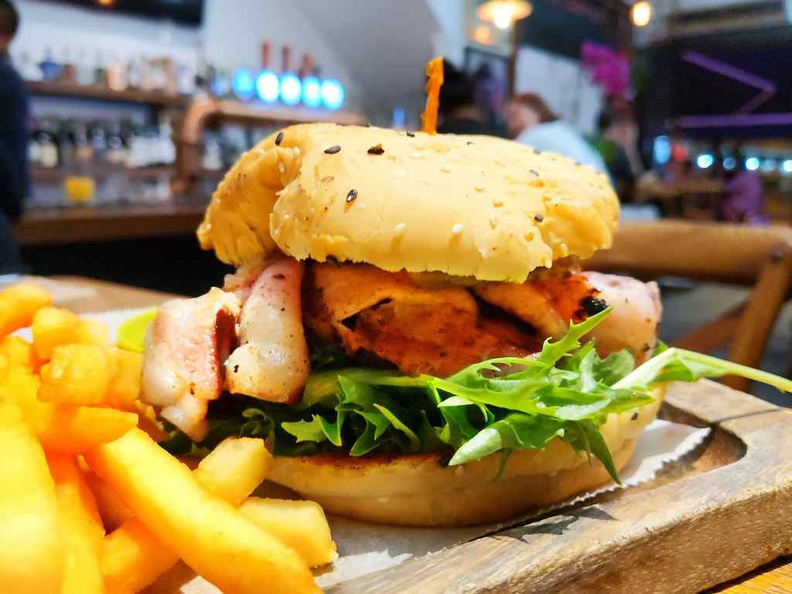 One size down, in pure British monarchy, is the Queen burger ($23), only you get here without bacon. Also, topping up the third burger selection is their Impossible Beef Burger. It is the priciest of the burger lot at $26 but is animal-free. All their burgers come with BBQ sauce, salad, pickles, sitting between sesame buns and served with fries as sides.
Moreover, other notable mains includes Steak with fries $28, Shepard's pie $22 and their Prosciutto wrapped chicken breast ($27). The chicken is served with white beans, tomato, smoked paprika and spinach. They are typically very British dishes. Of course nothing is as British as Beer battered Fish and chips. They are halibut fillet twice cooked chips with peas, and served with sides of tartar and lemon.
Try their Beef Wellington
In addition, a recommended dish here at Rabbit Carrot Gun would be their Beef Wellington ($39). The typically British staple is prepared with Beef Tenderloin wrapped in puff pastry. Also, you get two rolls here. Your rolls are served sitting on top of mashed potato, with sides of spinach, mushroom sauce, broccolini and red wine sauce.
The Beef Wellington offerings though does not melt in your mouth like that offered by Gordon Bread Street. It is still rather good quality with premium beef best had medium done in crispy puff. However, unlike Bread street kitchen, thankfully, your dish also comes served with sides of vegetables and costs half the price of Ramsey's kitchen.
All in all, Rabbit Carrot Gun offers not a bad dining experience for a pub. This, coupled with friendly attentive service makes the hostel-pub establishment one to check out when you are in the Joo Chiat area on Singapore's East Coast, especially if you are here for the drinks too.
Verdict:
Must Go! | Actually pretty Good | Worth Trying | Shortlist Optionally | Should Avoid
Makan Place Locality Map
Rabbit Carrot Gun
47 – 49 E Coast Rd,
Singapore 428768
Daily Opening Hours: 8:45am–10:30pm