Let's dine-in at Wonderful Bap Seng Korean in Suntec city. They are a Korean BBQ and ala-carte dining restaurant located in the heart of town offering value and authentic casual Korean dishes.
Interestingly, "Bap Sang" means "table where meals are enjoyed", the same can be said for the dining ambience and seating in the restaurant. The dining area is large and spread over a bare concrete floor. Furthermore, you pass through a small market (Lee market) area selling various Korean food produce and food to-go, such as ramen, sauces and condiments.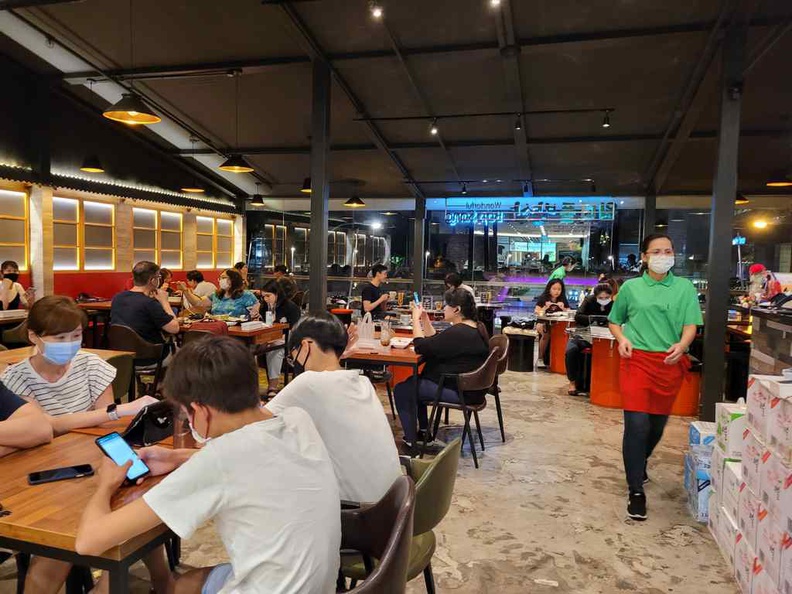 Moreover, the restaurant sits on the pedestrian bridge linking Suntec north wing to the east wing between tower 2 and 3. It provides a great overlooking view of the Suntec Fountain of Wealth in the background especially if you get a window seat. You might remember the mall being home to Wolf Burgers where we visited them at Pasarbella.
Great for small groups
Furthermore, there are individual table sand booth seating available. Each table has a circular hotpot insert, allowing you to have your communal shabu shabu for tables of four. Otherwise, it would be sealed off with a stainless steel cover which serves as part of your table surface.
Korean staples done right
Getting on to the food, you can't go wrong with Korean staples such as Bimbimbap ($12.80), Kimchi soup and Korean fried Ramyeon springy noodles. Bimbimbap is a packed loaded with quality ingredients and topped with trademark hotsauce to your liking. It is a simple yet delicious dish which is sure to fill you up and served in a classic hot stone bowl.
Additionally, I would recommend their Kimchi noodles (in Kimchi Jigae stew) and Ginseng chicken soups as sides for sharing. With the latter cooked in their Samgye Tang chicken broth ($19.80) and are served with a bowl of rice and condiments.
Also, it is a healthy potpourri of herd said to balance and keep your energy up in the hot weather. Here, a main course sets you back on average mostly under $15-20 per person.
Moreover, other side dish recommendations includes their Kimchi Joen and Pajeon (Seafood) Pancake ($10.80). It is a staple Korean delicacy which goes well to brightening up. Also if sides are not enough, there is also free-flow of Korean mini condiments places comprising of bean sprouts, vegetables, pickles and of course wait for it- Kimchi.
An authentic food and experience offering
Additionally, a skewer soup stew dish known as Kkochi Eomuk ($7). You may also know it as the normer "Fish Cake Soup". It is a popular street food in Korea and served well especially in cold winters.
Also, you can pick on the skewers like a satay on your main dish, or split them out of a plate for sharing. Also, another go-to dish is their Egg Jjim ($5.80). It is also known as Gyeran Jjim (also known as egg Jjim) is a mellow and clear dish which is paired well with rice and goes well in neutralising the more harsh fermented items on the menu.
In addition, service is prompt and friendly, with food served promptly too with all dishes served within 15 minutes from ordering. You also get free-flow of Malt wheat tea as a drink. Also, your serving cutlery uses metal chopsticks and spoons just like an eatery in Korean. You can't get any more Korean than that.
All in all, Wonderful Bap Seng is a nice and authentic Korean restaurant bringing forward to the masses what Korean casual dining food have to offer- great value and tasting food in a good location at a reasonable price to boot. And I say, Wonderful Bap Seng has got this recipe done well.
Verdict:
Must Go! | Actually pretty Good | Worth Trying | Shortlist Optionally | Should Avoid
Wonderful Bap Seng Locality Map
Suntec City Tower 3 East Wing (Between tower 2 and 3)
Units #02-609, 610
Singapore 038983
Opening Hours: 11:30am- 9:30pm daily