Chicken Claypot rice is a favorite meal staple I enjoy going all bout Singapore searching for. Tai Liok Claypot Chicken rice is said to be one of the best in southern Singapore. They are located at the Alexandra Village Food center. Let's check them out with a dine-in today.
Be prepared for a wait
A typical wait for a Claypot order takes at least 20-30 minutes. This is also for their smallest portion. The portions are pretty sizable. The smallest serving starts at $12 for a twin sharing Claypot. With $18 for a larger pot to feed three.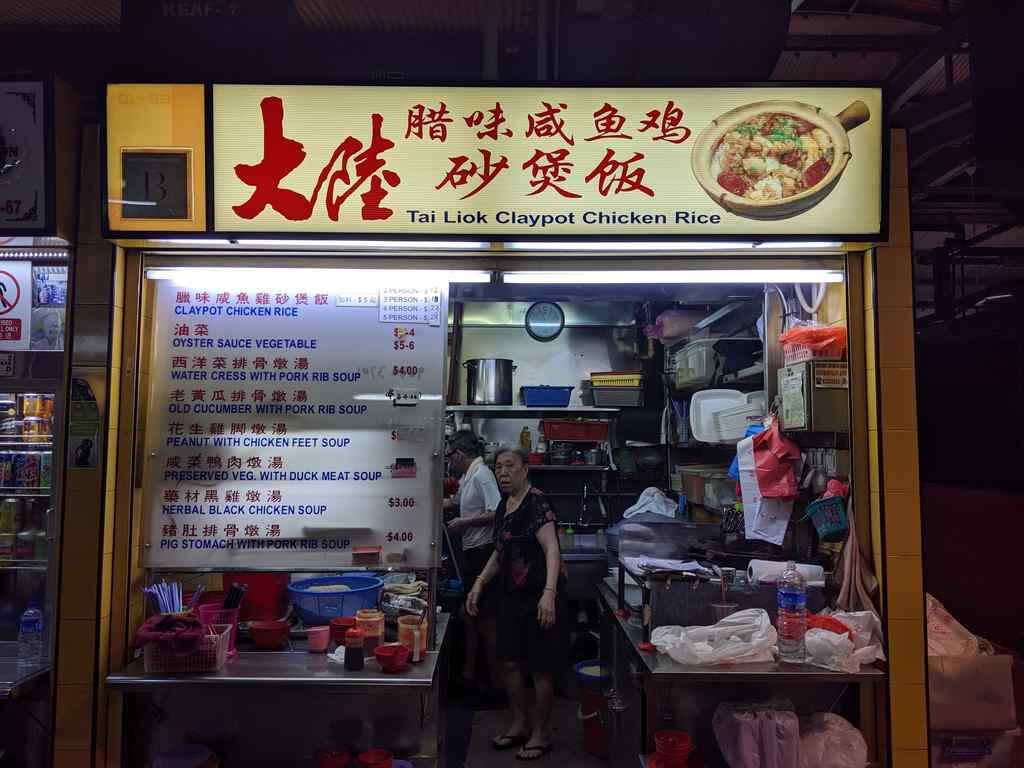 The stall owner will remind you of the long wait ahead when you make your order. Waits may be longer during peak dinner days. When you are committed, the store owner will take your payment and delivers a fresh set of cutlery and plates to your table after noting your table number.
Moreover, I found that gesture quite symbolic. Not that it starts the duration of your wait, but too acts like a contractual seal of commitment between patron and hawker. Also, it reaffirms your commitment as a diner and for the stall owner to prepare your meal. It also serves as identification when your claypot dish is ready to be served.
Notably, Tai Liok Claypot chicken rice is not the only establishment Alexandra food center is popular and known for. You can fill yourself up with a couple of appetite of even Alexandra Village own popular Avocado juices or Dim Sum, to lessen the main of the wait.
Portions great for a group
Notably, there is no single-serving Claypot offered. Presumably, each Claypot incurs a minimum preparation time and may not be economically-feasible to prepare smaller bowls given the sunk effort and cost. Moreover, the smallest pot is also pretty sizable. It can fill up two average patrons. If you are small eater, it could even feed three.
A traditional cooking process
Furthermore, each Claypot are individually fired and slow cooked for a good 15 over minutes. Hence, it somewhat justifies the 20- 30 min waiting time. Interestingly, you do have to wait that long even if you come during the quiet periods and near closing time.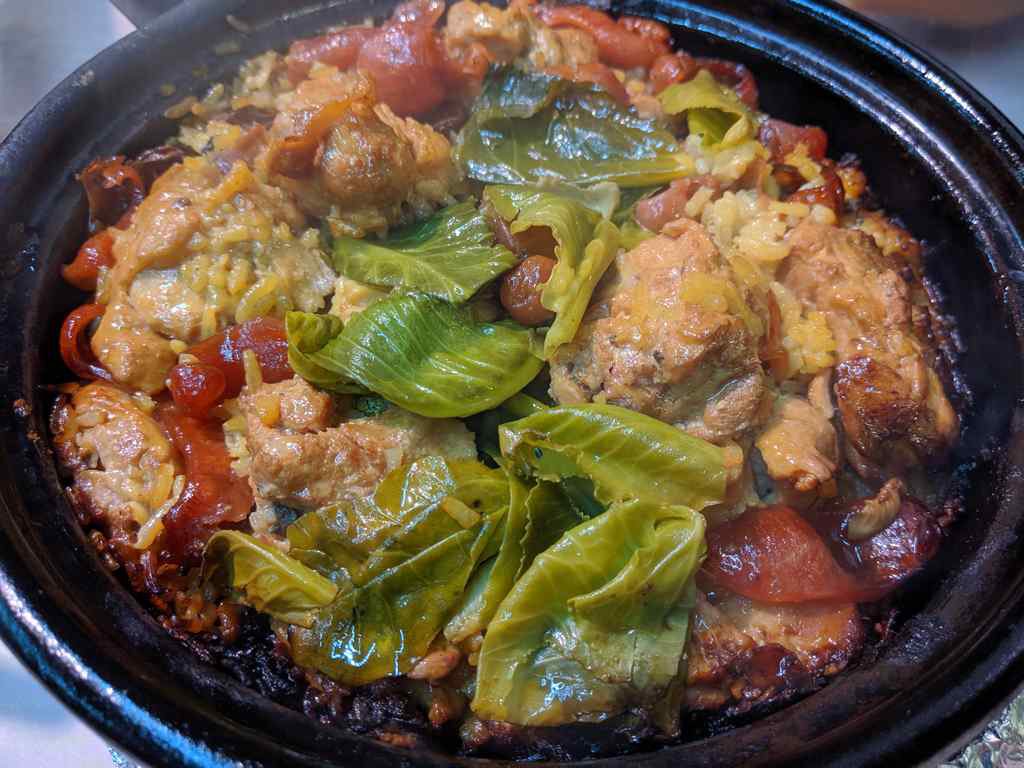 Moreover, the wait will still be at least 15-20 minutes, meaning the wait is more process-dependent than crowds. Though long queues of its popularity does add up to you waiting time a considerable bit.
Potpourri of flavors
Furthermore, the pot contains a potpourri of ingredients. Simmered within the slow-cooked pot are strands of green leafy vegetables, and moderately-sized generous chunks of chicken meat and Taiwanese sausages placed on the top of the rice. Also, it pays to give your dish a good mixing at the start of your meal to mix all the flavors in when it is still hot, as well as distribute evenly the black sauce within the rice.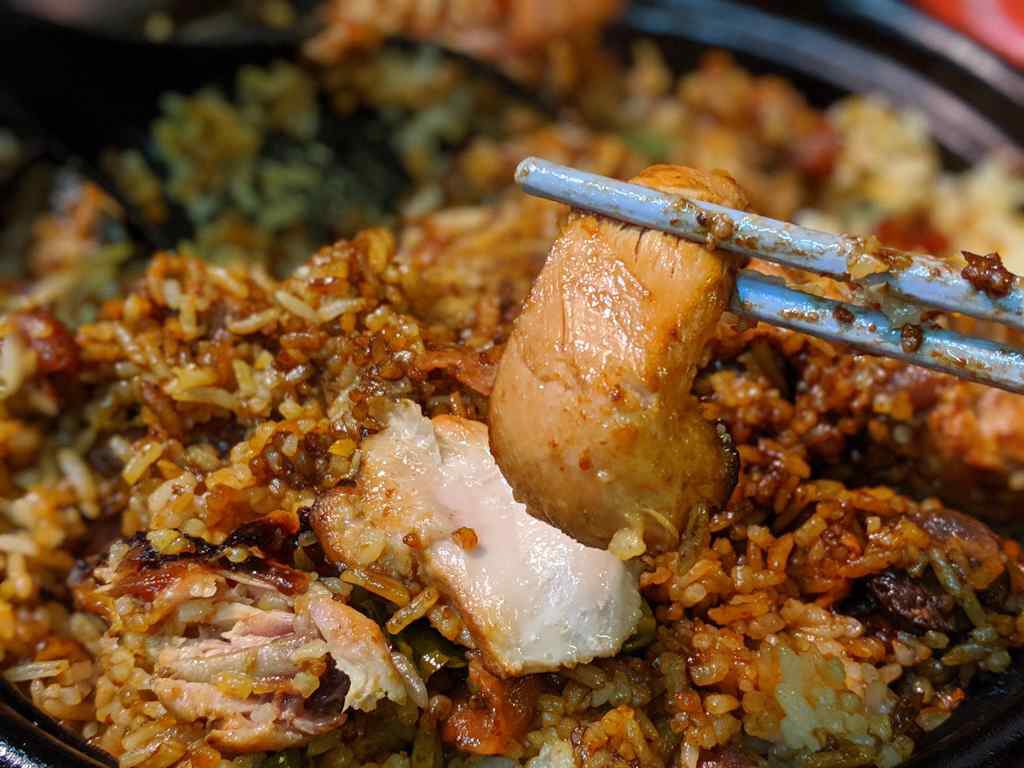 The chicken meat is soft and juicy, they come in a mix of small to large chicken chunks. However, one gripe is that the chicken meat chunks are not completely boneless. I would prefer my claypot rice to be boneless though, though I guess it's more of a personal preference. Most, about 4 out of every 5 chicken chunks in the dish are bone-free.
Additionally, you get two different types of Taiwanese sausages for flavor in the dish, just like how it is prepared traditionally. Furthermore, there is an occasional hint of salted fish bits inside too. It is primarily used in the cooking process to infuse the flavors into the rice. The dish is also well-paired with their paste chili sauce which is sweet, but not overly spicy.
Wet and Cripsy rice, interesting combination
The rice is generally on the wet side. It being cooked with a moderately higher moisture level. I was fine with it and found it holds some good flavor of the dish. However, this may not be the liking of people who prefer their Claypot rice dry and crispy. Also, the moisture also allows the rice to peel off the pot easier as you reach the bottom.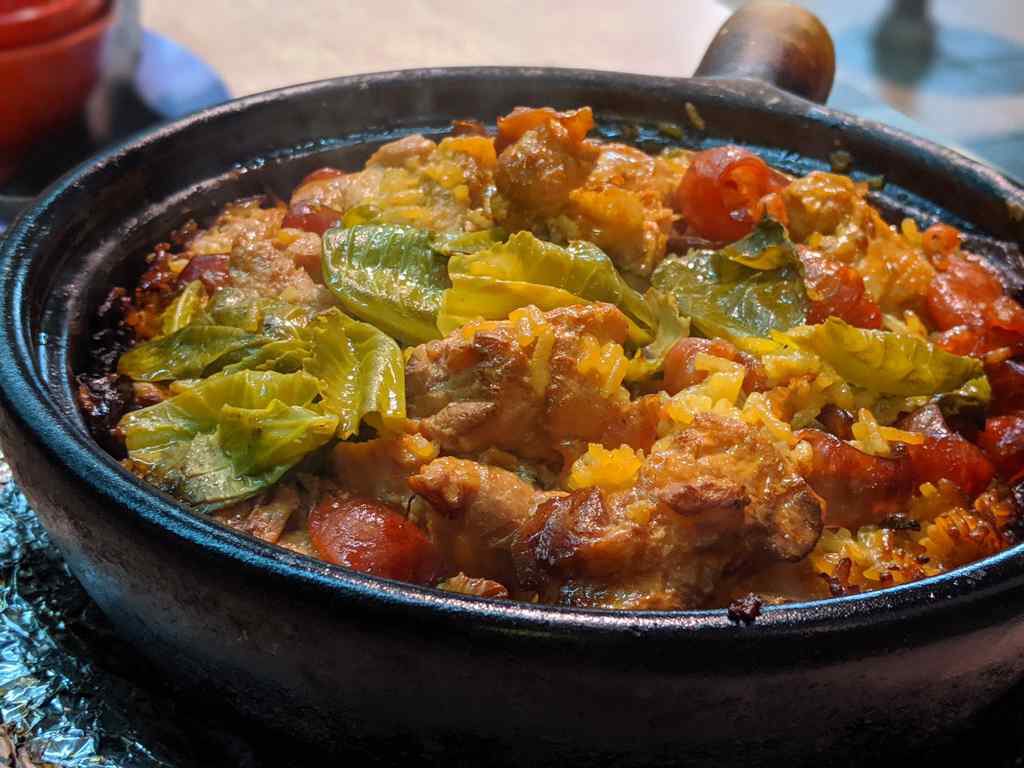 Additionally, if you love to gorge on the burnt crispy bits of the claypot, Tai Liok does not disappoint. Having said that, when you are done, there is a layer of brunt and crispy rice which you can scrape off to consume. Though it is not really something I would recommend you trying to consume, given their carcinogenic properties.
All in all, Tai Liok Claypot is not a bad choice for dinner, also if you are prepared to wait for your food. The establishment only opens in the evenings. The large portions is a good reason to bring a friend along for the meal too. Unless you are really hungry, you are pretty much out of luck if you are looking for a meal for one. Of course, you can away brown bag your left overs if may. Alexandra Village hawker center is where the store is located, it should be on your shortlist, the more if you are a Claypot Chicken rice fan.
Verdict:
Must Go! | Worth Trying | Shortlist Optionally | Should Avoid
Tai Liok Claypot Chicken Rice
Alexandra Village hawker Center
Unit #01-68
120A Bukit Merah Lane 1,
Singapore 151120
Opening hours: Opens daily 5pm – 10pm.
Closed on Tuesdays.