Star Yong Kwang BBQ is a Chinese late night zhi-char hawker store in southern Singapore. It is pretty much your run of the mill Zhi Char store. Tucked in Alexandra village hawker center, an NEA operated hawker center. Let's see what's on offer with a casual dinner dine-in.
Also, you might know the neighbourhood for its myriad of car workshops and is suited near Ikea Alexandra. Also, notably, it is situated on the same row where we visited Mr Avocado drinks store previously.
The Asian seafood BBQ establishment occupies two full store units side by side, with one dedicated to storage and chillers and the other a dedicated kitchen area. Notably, there is a third store down the aisle notable for storage. This does makes a statement of serious business.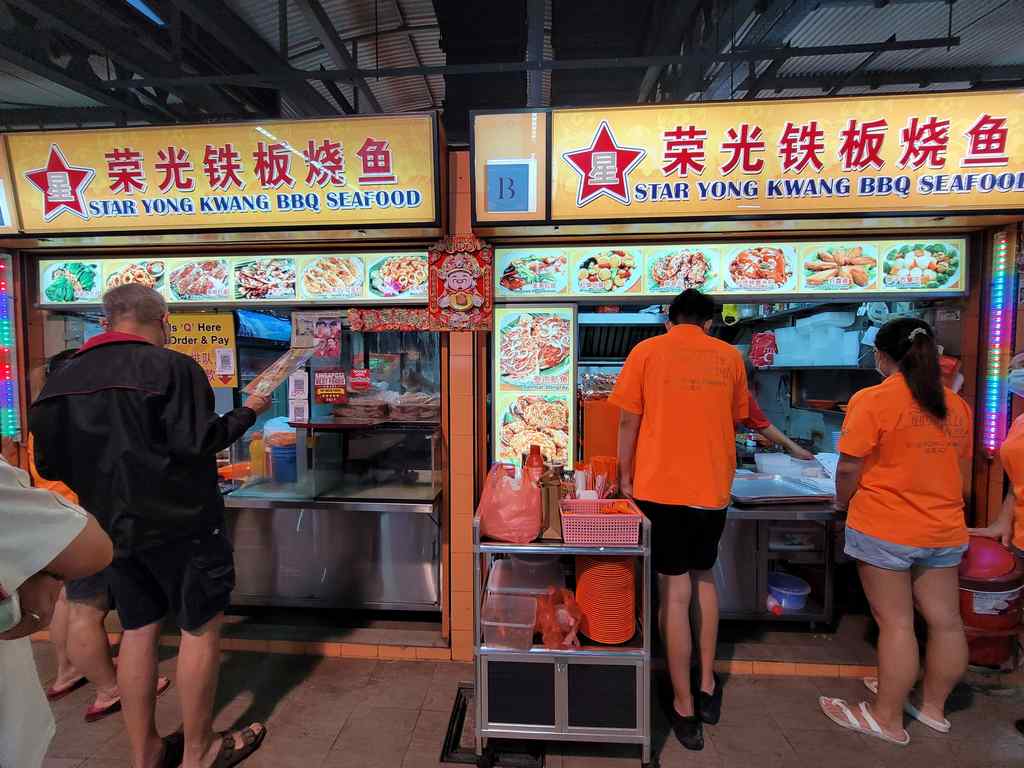 Moreover, Star Yong Kwang BBQ at its core is a dinner place, with the store closed during lunchtimes and only open from 4pm onwards daily will 11pm. Also, the store is run by Chris Eng, a secondary school dropout who ventured into running his own Zi-Char Stall.
Try their Sambal stingray
Furthermore, the BBQ store does offer a selection of grille seafood comprising of shellfish and fish. Recommendations includes their seafood including their Sambal stingray ($11-20 per plate depending on size).
You can't go wrong pairing them with fried vegetables and claypot stews which makes it a hearty sharing meal for 4 diner or more. In typical Chinese zhi-char, your dishes are best ordered for sharing for a large table dining group. This is shared and paired with plates of plain rice per diner each.
Zhi-char staples
Also, do consider having their fried rice and mee goring as staples to go with your meal. They are flavourful and tasty cooked well. A signature dish is their Salted Egg Pork Ribs.
Additionally, on typically dinner days, it is not uncommon to see the front of the store packed with customers, with crowds ordering from the staff. Their staff members are easily identifiable by their distinct red uniform colour.
Also, the food price range is what you expect of restaurant style zhi-char at about the $20-25 price range per person. It is slightly cheaper than that from air-conditioned dine-in restaurants. An alternative would be KDK coffeeshop just around the block too.
In addition, food does take some time to arrive too, especially during peak weekend dining days. The area is served mainly by buses and with the nearest MRT over a kilometer away. If you are driving, it is quite impossible to find a parking lot in the vicinity, though those located in the workshops are always available 500 meters away.
All in all, Star Yong Kwang BBQ Seafood at Alexandra Central Mall does not disappoint. Service can be slow on peak days, and if you are able to tolerate the less than ideal dining environment and the rather stuffy hawker center environment. But still, the price range is reasonable and paired with decent quality chinese zhi-char food even rivaling dine-in restaurants.
Verdict:
Must Go! | Actually pretty Good | Worth Trying | Shortlist Optionally | Should Avoid
Star Yong Kwang BBQ Seafood Locality Map
Alexandra Village Food Centre
120 Bukit Merah Lane 1, #01-04,
Singapore, 150120
Opening 4pm– 11pm daily