Let's take a dine-in at Fei Lou Hawker store, a late-night dinner place in Telok Blangah Crescent. Moreover, Fei Lou Hawker Store has gained a reputation for serving up some of the tastiest and most authentic comfort hawker porridge dishes in the area.
The founder and namesake behind the hawker store, Fei Lou, is a plus-sized chef who can be seen cooking behind the scenes. This modest and unassuming eatery opens from 6 pm onwards. This makes the establishment an ideal spot for a casual dinner with friends and family.
Try their porridge
Fei Lou Hawker Store specializes in porridge, with their signature Porridge with assorted condiments being a sure-try dish here at the hawker center in the evenings. Also, Fei Lou's menu offers a variety of porridge options. This includes ham and century egg, cuttlefish, sampan, pork, meatball, or sliced fish, all priced at an affordable flat rate of $4 per bowl.
Moreover, their porridge is creamy and smooth, without being too watery. Each spoonful allows you to savour the richness of the broth. The array of condiments and mains served alongside the porridge complements the meal perfectly.
Also, Fei Lou's porridge portions are pretty sizable and small eaters could share one bowl for two. I recommend their porridge with pork, with the century egg if you are looking for a classic Singapore hawker favourite.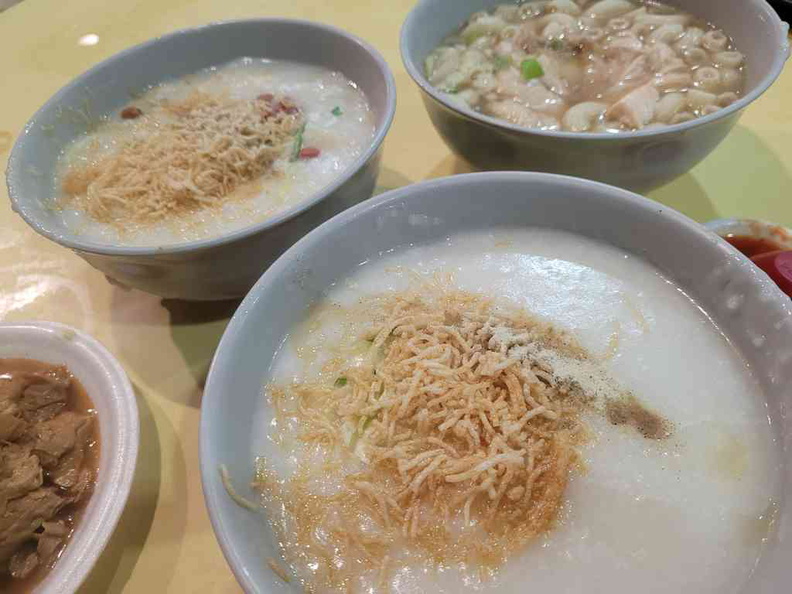 Also, Fei Lou goes beyond porridge and offers an extensive menu. This includes fried bee hoon noodles, vegetable dishes, and more. The portions are generous, making it perfect for sharing. The prices at Fei Lou are reasonable, offering excellent value for money. The establishment has a simple setup, but the warm and friendly atmosphere, along with the accommodating staff, makes you feel right at home.
Soupy Macaroni soup
Furthermore, apart from their porridge, Fei Lou's Macaroni soup is another staple offered here at their hawker store, albeit a rather odd offering for a small Chinese-style porridge eatery. Fei Lou's chicken macaroni is a standout option, cooked with clear soup that retains a good amount of flavour. It's a healthy and delicious choice for those seeking a satisfying meal.
Additionally, to complete your meal, a recommended side to go with your dish be their chicken wings, chicken feet, and pig stomach. Also, the pig stomach dish is served with dried bean curd slices. It has a savoury and slightly spicy kick, although it may be a bit salty for some individuals. Also, their pig stomach sides are best paired with their accompanying chilli sauce and their bee hoon noodles.
Wrapping up
Concluding, do note that Fei Lou is a dinner place and is closed during mornings and afternoons. Also, the Telok Blangah Crescent hawker center is mostly empty during the evenings, owning to most of the hawker stalls here open mostly in the mornings and afternoons till lunchtime. Such lunchtime stores includes Song Heng fishball as well as Xiang Ji porridge we visited previously in the same hawker center.
All in all, if you are up for a budget food with a hearty hawker flair, Fei Lou is one destination of a hidden gem in Telok Blangah Crescent. They serve up some authentic hawker staples which are not only savoury but light on the wallet too. If you find yourself in the area, make sure to stop by Fei Lou Hawker Store and indulge in their signature porridge and affordable old-school hawker staple dishes.
Verdict:
Must Go! | Actually pretty Good | Worth Trying | Shortlist Optionally | Should Avoid
Makan Place Locality Map
Telok Blangah Crescent Market & Food Centre
11 Telok Blangah Cres, #01-116,
Singapore 090011
Opening Hours: 6:30pm- 9:30 pm
Closed Wednesday