Astons steak and salad is the Buffet variant of the largely popular Astons Specialties western grill restaurants found throughout Singapore heartland malls. This alternative buffet restaurant differentiates itself from the regular Astons restaurants through the inclusion of a free-flow salad buffet spread. Let's explore what Astons Steak and Salad Western buffet restaurant has to offer.
Just like the regular Aston specialties restaurants, the typical way to order here is to order, pay before being seated. Hence, no wonder it is not uncommon to always see long snaking queues in front of almost every Astons Buffet restaurant. Here, you see patrons welding menu cards deciding on their orders in-queue before being attended. Going with the flow, you order your main course and make payment at the cashier before being led by the staff to your allocated seats.
Furthermore, this popularity is evident at almost all Aston branches. This is noticeable whether it is the branch at Marina Square or the one at Center point in Orchard. The restaurant layout is open, logical and simple. The buffet areas run through the entire length of the restaurant with seating tucked on the edges of the outlet.
All main courses include access to the Salad bar. Hence, after ordering, you can start helping yourself to the buffet spread. Recommended appetizers include choices of hot soups as well as commitments, and fried sides (e.g. chicken drumlets, and weges). Your mains will be promptly served right to your table. Beef and mixed grill dishes generally take longer to arrive.
What on the menu?
Menu selections are largely al-la-carte. Astons steaks and Salads offers a smaller basic menu offerings. You do not get the similar full grill selections as found in the Astons specialties restaurants. However, there is more emphasis on steaks. Hence, you do have a greater choice of beef selections.
Moreover, the selection includes Halal-certified choices such as Chicken, Beef, Lamb and Fish. Hence, there are no pork or traditional bacon dishes as seen in typical American western diners. Chicken is offered in two different styles, grilled or battered fried with a choice of 4 different topping sauces.
Furthermore, entrees makes up the miscellaneous items on the menu comprising of ribs, pork chops and fish (salmon and grilled fish) dishes. Additionally, there are two selections of burger choices. This comprises of an ieat Super burger or a Waygu beef burger.
Expensive, varied quality, but hey it's a buffet
Moreover, back on Steaks, there are 8 choices of their "so-called" legendary steaks ranging from Sirloins ($29.90), Ribeyes ($31.90) to Tenderloins ($41.90). However, I found that they are priced much more than even by those offered by the Marina's Corner and Jacks Place.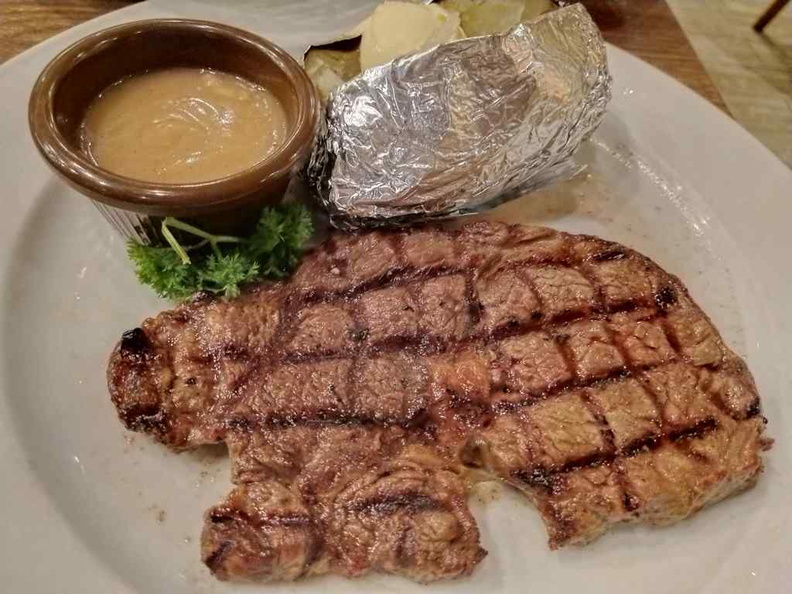 However, during my visit, I found the quality of the mains was mediocre. The steaks I ordered were not overly fantastic and do not have the quality you expect of the higher price point, particular from their Specialties line of restaurants. Disappointingly, it has the dryness and texture you get from cooked frozen meat. This reminds you again despite the fancy restaurant setting that Astons is still after all a budget-conscious restaurant.
However, this was confusing yet as these dishes are near-identical to those served at other Aston Specialties restaurants offering better quality, but at twice the price. Hence, you ought to be expecting better quality. Additionally, a thing to note that your dishes are served comes plainly with your main grill course without any sides. The rib eye steak for instance comes with a plain plate with your steak, a small cup of sauce of your choice, with a small side serving of baked potatoes.
Of course, this is with the assumption that you will be able to (and should) top up and supplement your dish with the greens and salads from the salad bar itself. You can always freshen up your plate with selections from the salad bar, such as more greens to your personal liking.
Also, I found the quality of the food offered in Astons one level up over another well known western grill outlet Collins Western Grille and Bento. This is true for their chicken dishes. But sadly, Aston steaks are not as good as Collin's in terms of the quality offered for the price.
A spectacular "Salad" buffet offering
However, the salad bar however was impressive. This pretty much made up for the less than spectacular quality of the main courses. The greens selections are really fresh and replenished regularly. Feeling that you plate is lacking on any green? You can load them up from here on your plate or any additional servings you see fit.
The salad buffet comprises of soups starters, fried foods, fruits as well as a rather extensive green salad bar. However, the option for the Astons Supreme salad buffet by itself costs about $19, just under shy of $20. But it is recommended to order any grilled main course, as the cheapest dish just costs $5 more than the buffet itself.
Moreover, this is more bang for your buck as it also entitles you to the entire unlimited salad buffet. This buffet and main course setup is similar to what we see at the Marina's corner at Cantonment and Hamburg Steak Keisuke.
Also, I found it pleasing too that Astons has included the provision of additional comfort food such as onions rings, garlic bread and potato wedges. It can make for a rather filling meal. Furthermore, you get free flow of teas, coffees (via a coffee machine) as well as vanilla ice cream via a chiller.
The lowdown
All in all, Astons Steak and Salad is not perfect. Despite the quality of the steaks served not too much my liking on my visits (given my experience with that overdone "medium rare" dry steak), Astons still surprisingly offers good value for money.
Besides having a more premium price point of the Astons brand, I found that the a mix of the quirks and perks still makes eating at casual dining western dining outlet an overall enjoyable experience. In terms of value, I would still recommend Astons Salad and Steaks given the quality of the salad buffet and a good dining environment for small to medium groups.
Astons Steak and Salad Western Buffet Restaurant
At various locations around Singapore. Check their website for full franchise list around Singapore.
Typical opens daily: 11:30am – 10pm