BMW Performance Motors Joyfest 2022 is an annual event by the Bavarian marque held worldwide. The Singapore edition of Joyfest is organised by Performance motors limited in Singapore, the authorised distributor for BMW cars in Singapore. The annual public event is organized as a carnival. It aims to educate and entertain, besides selling cars.
A family carnival and burgers
Furthermore, you can't call it a carnival if it weren't for food and games. The 2 day weekend event was held at the Performance motors BMW Alexandra road showroom. An impressive highlight is free flow of gourmet burgers, courtesy of coffee bandits mobile food truck and donuts from a donut stand.  Burger-wise you have choice of made to order beef, chicken or Plant-based fish patties. There are also donuts and icing pastries as snacks or post-meal desserts.
Moreover, your burgers are served with sides of soups, which were really diluted and oily, as well as chips. Instead, I would prefer French fries over chips and soup offerings. Also, to wrap up your burgers is a choice of 2 cold drinks to complete your meal on top of the lobby hot drinks bar offerings.
On top of regular coffee and tea at the lobby showroom Isetta bar, named after the tiny super-compact car. The showroom ground also offers cotton candy snacks, ice cream and popcorn are also provided. Pretty much run of the mill carnival food, but still a nice touch and a hit with children.
Additionally, there is also a booth where you can make complimentary customised license plates. All you need to do is select 12 characters of your choice and plate colour and the booth staff will stamp your custom plates on the spot.
Carnival games
Furthermore, on top of free basement parking, the ground floor is home to a couple of carnival games scattered over the now-vacated service carpark area. Remarkably, you do get unlimited tries of claw machine to grab a soft toy of choice. Notably, soft toy sharks are the favourite item here.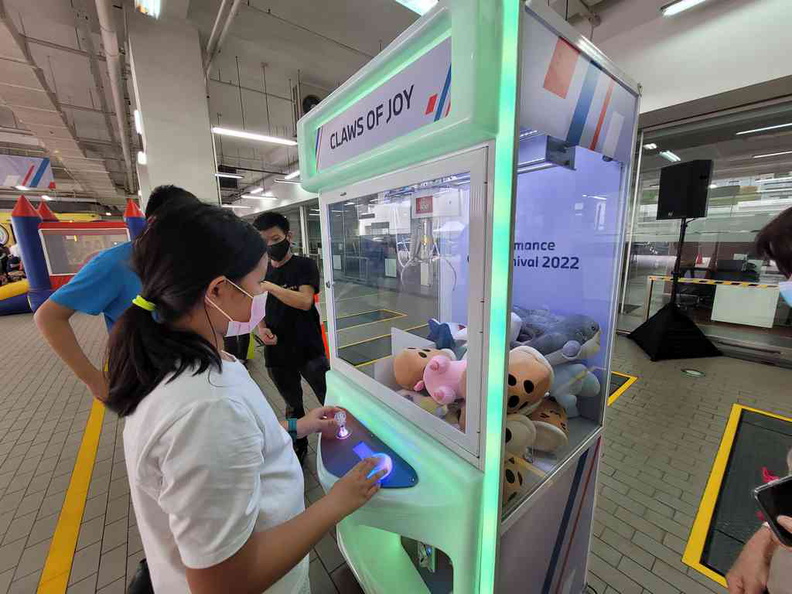 Additionally, there are carnival hoops and hit the cans. Other classic carnival machines include a mini whack-a-mole machine with all with technically "unlimited" tries. So if you had always put-off trying a claw machine or carnival games, here is your chance. There is also carnival bouncy castle, though it is one of the less popular items in the carnival, being devoid of children or large enough for kidults to enjoy.
Also, for every event completed here, staff would give you get a "passport style" stamp. Once you complete and collected all 4 stamps of your passport, you can drop off your completed card into the registration counter for a lucky draw gift chance.
Wrapping up the ground floor after-sales area is home to a mark down discount bin of usually otherwise very overpriced BMW official merchandise. We are talking at least $100 for a Polo T-shirt kind of expensive. Items on sale include wheels, car models and apparel.
VR racing and BMW Electric range
Moving on, the upper floors are home to showroom models of larger BMW cars. This includes models such as the 5 and 7 series, with notable newer models being the new fully electric iX SUV. Other notable new models of interest would be the i4 and iX electric sedan and SUV. The i4 is a peculiar one. It is based off the petrol platform despite being a full EV, complete with the notoriously horrendous front grille, which serves no ventilation purpose for an EV either.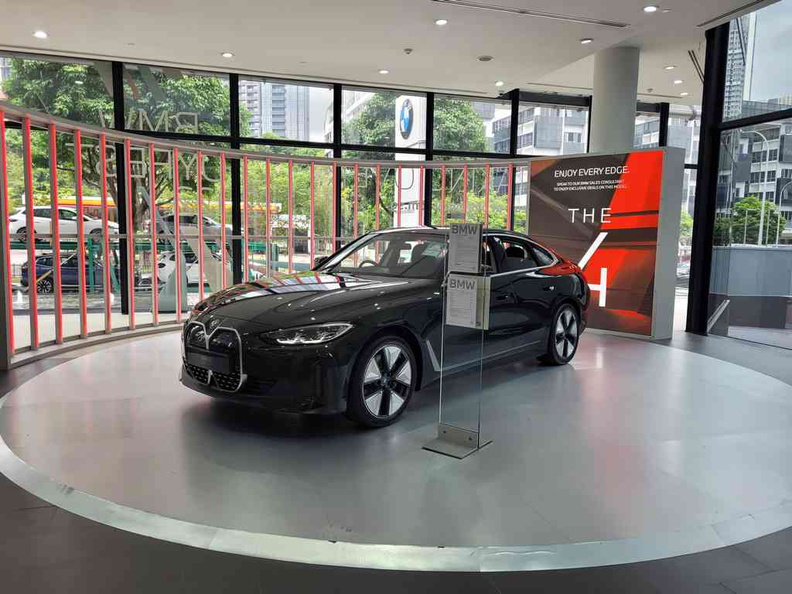 Moreover, there is also a small traffic driving course for the little ones, and PC-racing VR racing booth on the second floor. Here, you can have a go at driving simulated track-ready BMW in a closed track using a steering wheel and VR headset. It is a nice booth to test your driving, manned by friendly staff and not crowded. Notably, BMW Joyfest events abroad usually involve a track day out on a race track with real cars. Here, the performance vehicles can be driven on the road. Guess we have to make do with Virtual Reality in Singapore.
Wrapping up the offerings in Joyfest are events such as bodyshop workshop tours, classes on tire maintenance and sales introduction to BMW electric models. I wasn't able to attend any of them due to the lack of available slots. So do register early.
All in all, it is nice to see the return of large scale physical carnival events post pandemic. The BMW Performance motors Joyfest 2022 was a joyous one, with the last one being held on 2020 before tightening measures. I definitely stayed on longer than expected at the weekend event given all the cool offerings. Looking forward to a bigger one next year.