Mount Rainier, also known as Mount Tahoma is a 4,392 m tall large active stratovolcano located in the state of Washington. It is one of the most dangerous volcanoes in the world and the highest mountain of the Cascade Range of the Pacific Northwest located 87 km southeast of Seattle. Getting there involves a 3 to 4 hour drive from Seattle. With it's last eruption in 1894, it is worthy to note that Mount Rainer too is long due for it's next eruption, so it pays to do your homework a keep in mind on any seismic warnings leading up prior to your visit to the national park.
180 degree Panorama of Mount Rainer

It is the most topographically prominent mountain and volcano in the contiguous United States and the Cascade Volcanic Arc, dating back as far as 500 thousand years, surrounded by a 263,000 acre natural reserve park maintained by the U.S. National Park Service, encompassing wildflower meadows, glaciers and wilderness around Washington's highest peak. You can do a full day trip there from Seattle, a typical drive from downtown Seattle, making a full loop along the outer perimeter of the mountain and around the national park with stops for picturesque photos at the various scenic points and a stop at "Paradise" point will typically take about 6 hours, which will typically mean a full day-trip.
My journey there began on a southbound along Interstate-5 from downtown Seattle. You can make a detour towards Eatonville driving along Alder Lake into Long Mire. Entry to the National Park cost $20 per vehicle and there are no gas stations or mobile phone reception once you are inside the national park. You will be greeted with several nice winding driving roads lined with rows of pine tree forests which give the area a nice fresh feel, able to connect you closer to nature. In addition to visually charming and quaint photos, you get a number of excellent driving roads here, through a number of nice Mountain passes, as well as an occasional bridge crossing the Mountain valleys. The Christine Falls towards Paradise is also one of the few spots of interest. Christine Falls is a 21m waterfall on Van Trump Creek in Pierce County, best known for having a bridge spanning the fall's lower drop which you can drive over on your way up to Paradise.

The journey up to this part from the National park entrance will mostly be an uphill climb, with Paradise itself is 5400 ft above sea level and home to the park's main visitor center (Paradise Jackson Visitor Center). Adjacent to the visitor center is the historic Paradise Inn- a popular destination for travellers in the region for a couple of generations. The inn is a classic long-house with a nice Scandinavian design flare complete with wooden floors covered with lush furry carpets and supported by large chunky wooden pillars with fireplaces topped at the ends.
Paradise is famous for its glorious views and wildflower meadows, giving the place a very lush and colourful postcard feel. The best part is that the flowers here are wild and naturally grows on the mountain slopes. The place was named after James Longmire's (Longmire road is named after him) daughter-in-law (Martha) first exclamation of "Paradise!", when she first saw this site. Paradise is also one of the highest spot with amenities closest to Mount Rainer submit, with ample parking areas in front of the visitor center to start your trek nearer to the top of the active volcano. The Golden Gate Trail from Paradise will bring you up the Panorama point at the top of the active Volanco.
White River Valley Panorama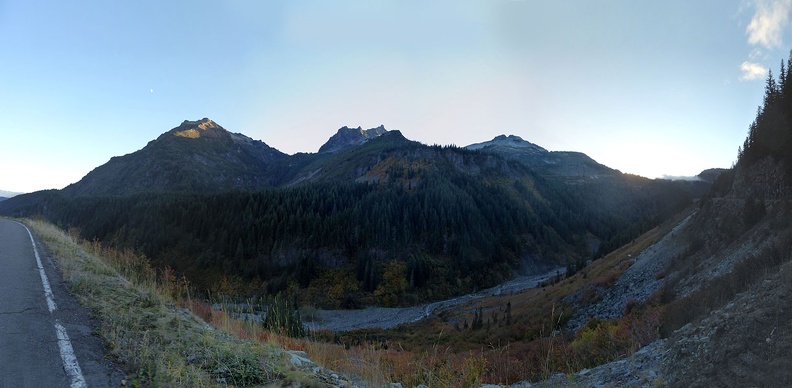 Continuing from Paradise pass Unicorn Peak down south east along the 410 will bring you past Ohanapecosh Visitor center, Greenwater pass into Enumclaw. Areas here will mostly be excellent views of the Valley with mostly winding roads bringing you downhill. There are several pull-off points here too where you can stop along the ridge for nice panoramic pictures of the White river valley with Mount Rainer constantly overlooking over the horizon, the mountain's iconic peak is always snow-capped throughout the year which is instantly recognisable even from downtown Seattle on a fog-less day. Winter events are available north east from Mount Rainer in the nearer towards the Crystal mountain ski area.
Expect lots of driving on this trip! The roads around Mount Rainer are very good driving roads and well connected, allowing you to do a full continuous circuit around the mountain, the route from here on out of the National park is largely downhill, where you soon will start to lose sight of the iconic snow-capped mountain peak as you start your approach into the low-lying vegetation areas. My circle around Mount Rainer was completed on the Northern park exit, where you can connect to the 167 from the 410 up towards the I-5 via Auburn back to Seattle.
That's all folks, happy volcano-ing!
Check out more photos of Mount Rainer here.