The Corning Museum of Glass is a museum in Corning, New York is one dedicated to the art, history and science of glass. The privately-owned museum was founded in 1951 by Corning Glass Works. Today, it is home to a collection of more than 50,000 glass objects, some being over 3,500 years old in age. Let's visit the Corning museum in USA.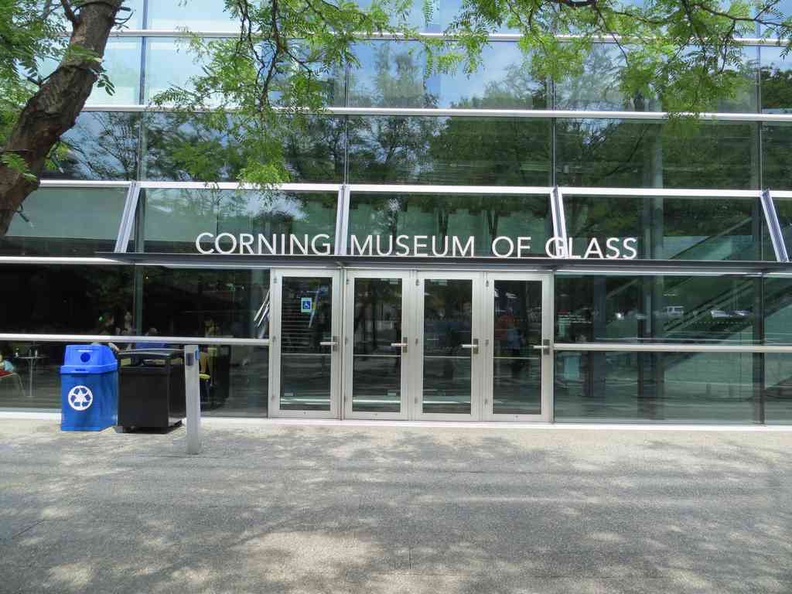 Furthermore, the museum is the world's largest space dedicated to the display of contemporary art and design of glass. You might remember the Corning name a household one from cookware, glassware. or even your hand phone screen protection (gorilla glass).
Moreover, the museum is located at 1 Museum Way. It is situated in the region of Corning which the brand is named after in New York state USA. Also, founded in 1951, the museum establishment aims to entertain, educate and awe into the less seen world into the art of glass making. Interestingly, he museum is a nice place for a short stopover for a day trip and notably is also popular as a passing attraction for bus tour groups.
Corning Museum galleries
Additionally, Corning museum welcomes you into a rather vast museum lobby leading to the various areas within. The galleries are dedicated to art, history and science of glass. Also, you start off from the second floor into the museum's innovation center. The centre is home to showcase of modern glass making methods and, its applications in technology, and the technology which supports it.
Also, the museum entrance is home to a vast two-floored gift shop. Here you can find a variety of books on history and the art of glass-making, as well as various Corning glassware ranging from cookery to decorative pieces you can purchase to take home.
Furthermore, the museum's open layout allows you to explore the various galleries at your own time. You would probably need about 2 hours to check out all the galleries within with the shows included.
A glass making history showcase
Additionally, the Corning museum touts to showcase showcases more than 35 centuries of glass artistry right to the present. Also, the galleries explore Near Eastern, Asian, European, and American glass and glassmaking from antiquity through present day.
There is a lot which goes into curating the museum exhibits. You learn that glass making is indeed a rather global trade skill, though mostly perfected and mastered by the Europeans. Also, you get to learn Venetian Glassmaking, Glass in 17th-19th Century Europe, 19th Century European Glass, Asian Glass, Glass in America.
Moreover, the museum is easy to navigate. The contemporary glass gallery has spacious galleries for you to explore the various exhibits on walls and free-standing ones. Some are pretty abstract with creative use of colours. It has the vibes more of a science center like than museum.
Also, the Contemporary Glass Gallery is housed within the Contemporary Art + Design Wing. It features more than 70 works from the Museum's permanent collection. It is one of the biggest curation of glass works under one roof.
Life glass making demonstrations
Furthermore, ever wondered how some glass sculptures are formed seemingly impossible to cast or shape? The live glass making demonstrations here is a major visitor attraction favourite here. Also, the glass making demonstrations happen live in the Corning museum every day.
Moreover, as glass is very ductile and malleable when super heated, allowing you to get into various intricate shapes. As a museum patron, you can watch the glass-making on a stage, or get up close with the makers themselves. Also, there is one indoor demo and an outdoor stage. The stages are equipped with ovens to super-heated the glass to be made before your eyes.
Learn from experts in glass-forming
Also, the demonstrations amazes on glass-forming into interesting items and shapes. Small intricate shapes of hot glass are freely twisted and shaped. The red-hot glass is oven-heated and formed by hand forming techniques such as spinning, blowing and bending. This is achieved selectively heating part of the glass to be shaped using blue flame torches. The glass gets only hard and brittle upon cooling.
Also, it goes to show that glass can be used beyond its utility for structural purposes in windows, but also the practical, artistic elements too.
Additionally, there is an optical fiber demo session too. It is one which demonstrates an introduction to the high precision extrusion manufacturing techniques, and the peculiarities of fiber optic cables mostly used in data transmission as well as sub-markets in decorative aesthetic art pieces.
All in all, you are good for the Corning museum for a half day trip from New York city. The galleries are vast but pretty quick to navigate with ease. It is a spot of education and entertainment, with glass making shows and suitable for all ages.