Amoy Street Food Center are one of the few gems in Singapore home to a variety of good and cheap food for the foodie in us. The makan place today in question will be Han Kee sliced Fish Soup store. They are known for their sliced fish soup noodles.
In the heart of the CBD
The store is located on the second floor of Amoy Street Food Center. It is within walking distance from both Tanjong Pajar and Telok Ayer MRT stations on the east west (green line) and downtown (blue) lines respectively. Amoy Street Food Center is a double floored food center built in the 80s. Undoubtedly, it is your typical hwaker fanfare located in the heart of the Tanjong Pajar central business district area. Conspicuously tucked near the along Maxwell road in a nicely shaded corner surrounded by tall skyscrapers dominating the neighborhood.
Han kee originally hailed from the Lau Pa Sat hawker center. Lau Pa Sat is one of the few prominent and historical eating places in Singapore located in the heart of the Singapore central business district. Notably, Han Kee had been in the business in the decades. You can tell that the dish and quality of the fish is the result of years of expertise in the business. You can taste it in their food.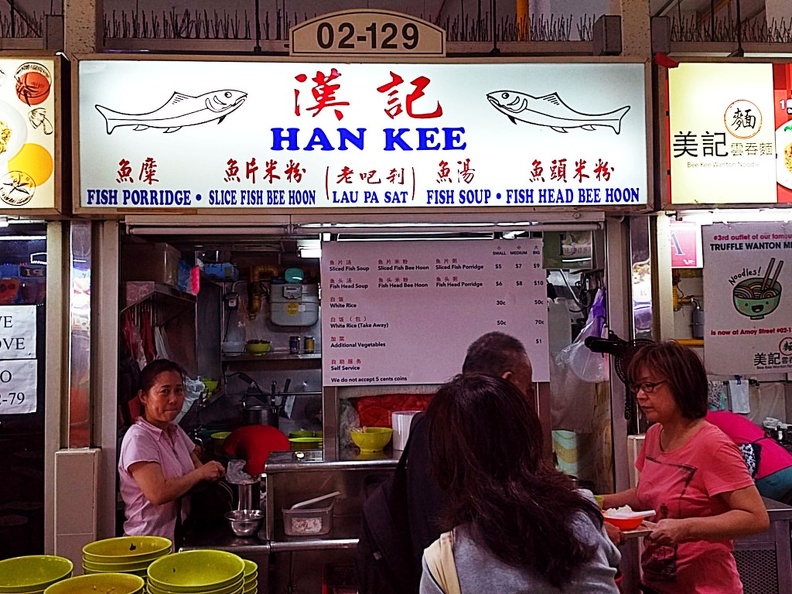 Doing one thing best
The store sells a selection of fish-related hot food, such as sliced fish porridge, fish head bee hoon as well as their trademarked sliced fish bee hoon soup. Having said that, you can't go wrong choosing Han Kee's specialty- their signature sliced fish bee hoon noodles as your default dish. A meal will set you back at least $5 a bowl.
A good time to visit is before or after the peak lunch hours. The store is known to have long queues running from noon to 1.30pm at least, especially on work days. Thankfully, the store usually stock more than enough ingredients to last past lunchtime. Hence, you can still get a selection of fish dish options even after 2pm on a typical workday. Past 2pm, the hawker center is much more emptier and pleasant with the lunch crowd dissipated.
Good quality
The bee hoon served here in question here are of the coarse (thicker) type, which are similar in diameter to yellow noodles, and thicker than your usual (vermicelli) bee hoon. Besides noodles, you have the option to swap them out for a bowl of plain rice for 30 cents, or 50 cents for a large bowl.
The fish are of the white steamed variant, served in a clear soup which has a refreshing tinge of ginger which is pleasant to the taste with good texture. The dish also comes with a small vegetables. It is also a much healthier variation to the fried fish soup- also another Singaporean favorite, but not served here.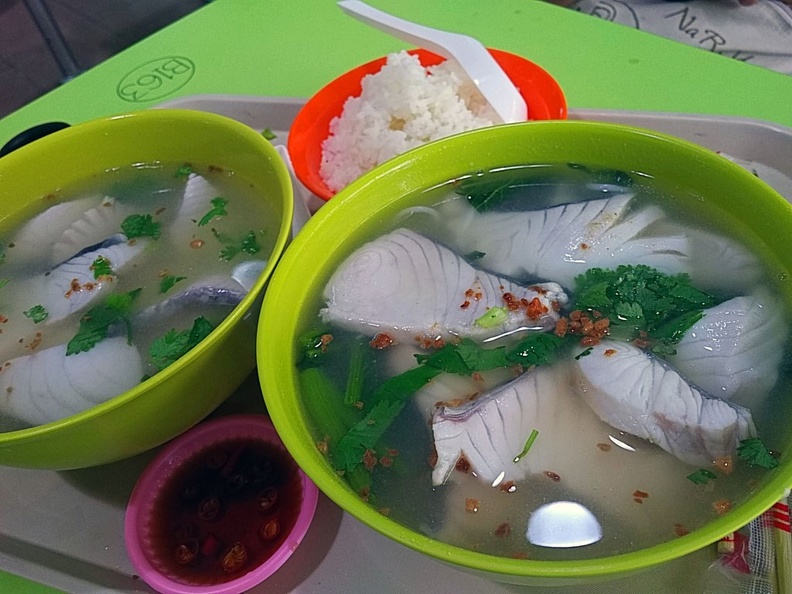 The fish meat servings are generous in size, reaffirming the $5 you paid for the dish, which is above your average hawker-fare prices. But quality is what you get here. Serving sizes come in three sizes, prices starts from $5 to $10 for the largest bowl.
The fish meat is fresh, chunky, firm and chewy. Besides the good quality, the fish are also cooked well, and not overcooked that the thinly slices of fish does not disintegrate or break into pieces when held up with your chopsticks.
I am particularly a big fan of sliced fish bee hoon, having tried many other sliced fish soup stores, but few has came close to the fish quality, consistency and price point. Of course there are way better tasting sliced fish bee hoon noodles, particularly those at Bukit merah and Old airport road. But those costs significantly more too. Han kee does offer a good combination of quality to price, not forgeting being situated in an expensive neighborhood too.
Visit before 3pm
Furthermore, most of the shops at Amoy street center caters largely to the working office lunch crowd. Most shops here on weekdays starting to close from 3pm onwards. The auntie who runs the store was cheery and friendly, who stayed psst her opening hours to serve my rather late lunch, even after a long day serving noodles.
Han Kee sliced fish soup bee hoon store is open daily (except Saturdays) from 11am- 3pm. You can find the store on the second floor at unit #02-129. It is accessible by the hawker complex two side staircases or elevator. Do check it out when you are in the area.
In all, Han Kee gets my recommendations for good and very affordable hawker fare.
Han Kee sliced Fish Soup store
Amoy Street Food Center
#02-129 7 Maxwell Road,
Singapore 069111
Makan Place Locality Map