I had the opportunity to play around with both the Huawei P30 and P30 Pro in a first look before Huawei's March 26th Paris Global launch. Huawei has impressed me again with their impressive camera setup which built on the last year's flagship P20 series (and subsequent Mate 20). Here are my first impressions of both the P30 and P30 Pro camera phones here.
A tale of two bodies
Simplification of the line-up is the thing this year. Huawei had chosen to keep specs similar for most of the P30. The P30 Pro is Huawei's flagship offering. We can see the pro version being an upsized "plus" of the standard base P30. This is true for both the Screen and Processor departments, with the differentiating factor being on the screen sizes and cameras.
6 Inch+ is the new norm
Hence, both the Huawei P30 and Pro versions fronts similar FHD+ 2340 x 1080 OLED screens with a 19:5:9 Aspect Ratio. The P30 Pro screen is just slightly bigger at 6.47″ to the P30's 6.1″. Huawei touts this as their FullView Display display with accurate colour reproduction. It appeals to those who prefer a smaller phone but no compromise on raw hard specs.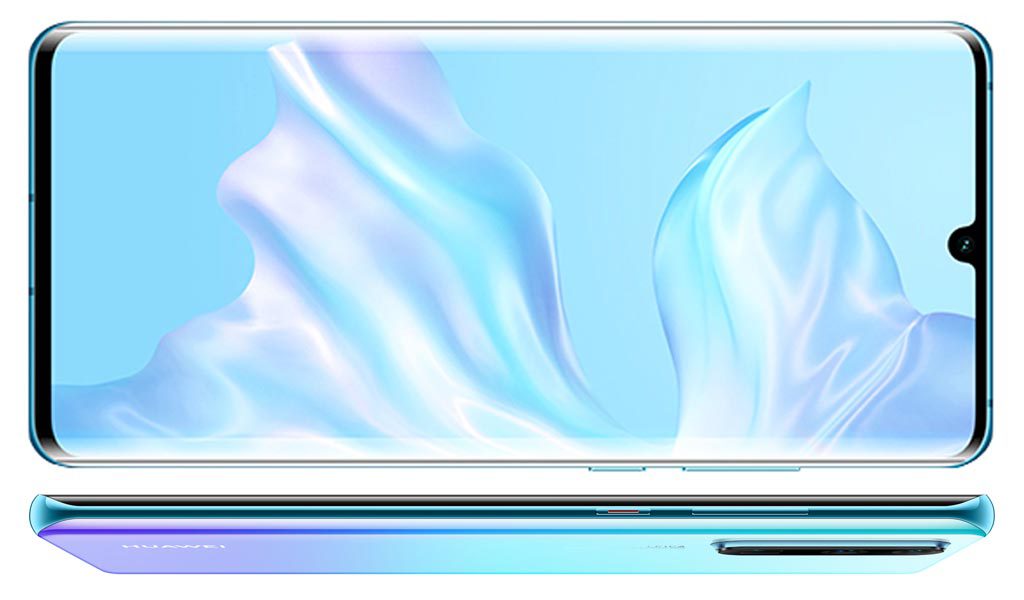 Personally, I prefer the P30 as it has all the bells of whistles in a more compact package. It has a flat screen and an attractively smaller 6.1" OLED screen. I find curved edges of the Pro tad bit of a gimmick and quite a pain to live with past issues of screen protector delaminations.
Also, the P30 feels light in hand, weighing at 165 grams, compared to the slightly heavier Pro at 192 grams. Moreover, I see the P30 competing in the light of the Samsung S10e and the dated but still rather excellent Google Pixel 3.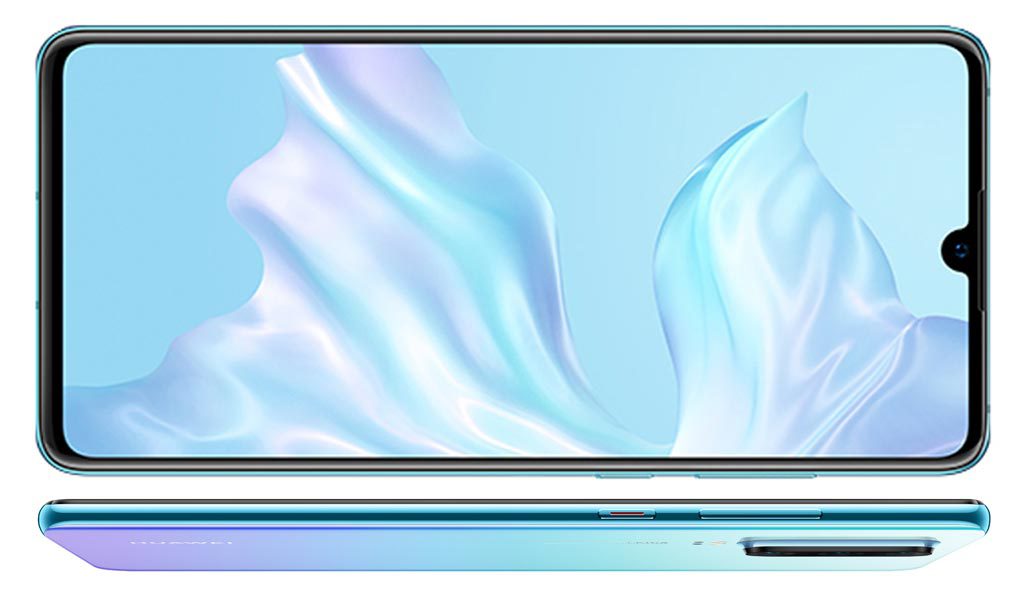 Furthermore, connectivity-wise, it is pleasant to see the P30 spotting a 3.5mm headphone jack (which is sadly missing on the Pro). Both phones charge via reversible USB-C ports and feature base triple camera setup. However, the P30 Pro has an additional ToF (depth) sensor. It is used for more accurate depth calculations for improved portrait images which Huawei claims can accurately map additional data from a scene, such as backgrounds to a subject's hair.
Under screen speaker and fingerprint sensor
While the P30 has a visible top earpiece speaker, the P30 Pro does voice calls delivered through an internal under-screen maglev speaker. Huawei calls this their Acoustic Display Technology. It introduces an in-screen maglev speaker for high-quality earpiece audio.
Moreover, it is situated just under the front teardrop camera where you ear will typically be in a call. Huawei claims this offers high-quality earpiece audio while allowing them to keep the top bezels free of any speakers. In my call tests, voice quality is clear and sharp, even despite the sound coming through the screen. It is as if it was delivered through a direct ear piece speaker placed externally.
Moreover, the P30 Pro brings to the table too, a bezel-less front glass is an In-Screen Fingerprint Sensor for quick and secure identity authentication. We had seen on-screen fingerprint sensors first on the Vivo V series, then Samsung recently on their S10. Now, it is available on the P30 Pro.
World's first 7nm process CPU
Under the hood, both phones sport flagship specs with 8GB RAM paired with Huawei's own flagship Kirin 980 processor. The mobile CPU comprises of 8 cores, with 2x Cortex-A76-Based Cores clocked at 2.6GHz, 2x Cortex-A76-Based Cores @ 1.92GHz and lastly 4 cores of Cortex-A55 @ 1.8GHz. The 7nm Kirin 980 with a Dual-NPU supports faster image recognition which aids in the heavy image processing required by the cameras. Also, both phones come loaded with Android® 9.0 + EMUI 9.1 on the OS department.
Fueling the P30 is a large 3650 mAh battery, while the flagship Pro version is bestowed with a humongous 4200mAh battery. Both phones feature Huawei 40W SuperCharge Technology, as well as Reverse Wireless Charging to charge other devices. A thing you might not like is the lack of SD card support, with only the option for Huawei's proprietary Nano Memory card format.
A photography mastery
Both the P30 and P30 Pro main selling point are the Cameras. Huawei have a reputation to push the boundaries of phone photography with each release since entering the flagship market. I am glad to say, the phone does impress in the Camera performance department.
Specifications-wise, the P30 Pro is equipped with a new Leica Quad Camera system, including a 40MP main camera with Huawei's SuperSpectrum Sensor, a 20MP ultra-wide angle camera, an 8MP telephoto camera, a Huawei Time-of-Flight (TOF) Camera. It is paired with a front-facing 32MP camera for selfies.
Wait 4 sensors?
The big boy of the pack is the P30 Pro, with its rear camera array comprising of a Quad Leica lens setup. It has a 40MP Wide Angle Lens @ ƒ1.6, a larger 20MP Ultra Wide Angle Lens @ ƒ2.2 and a 8MP Telephoto Lens @ ƒ3.4 (5x optical). The TOF sensor is a depth sensor which helps in portrait bokehs, as well as speeding up auto-focus in addition to providing AR measurement functionalities.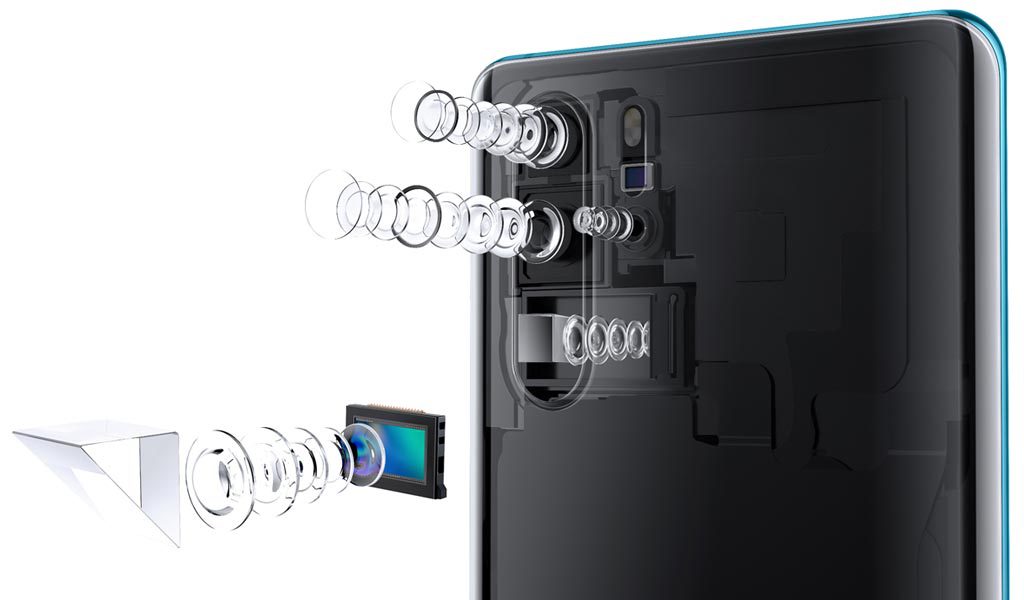 Additionally, the smaller P30 sibling spots a triple lens camera setup with optics similarly by Leica. It's specs are slightly less superior than the Pro. It comprises of a 40MP Wide Angle Lens at ƒ1.8, a 16MP Ultra Wide Angle Lens @ ƒ2.2 and a 8MP Telephoto Lens @ ƒ2.4 (3x optical). Both phones spot a 32MP Front camera with ƒ2.0 aperture.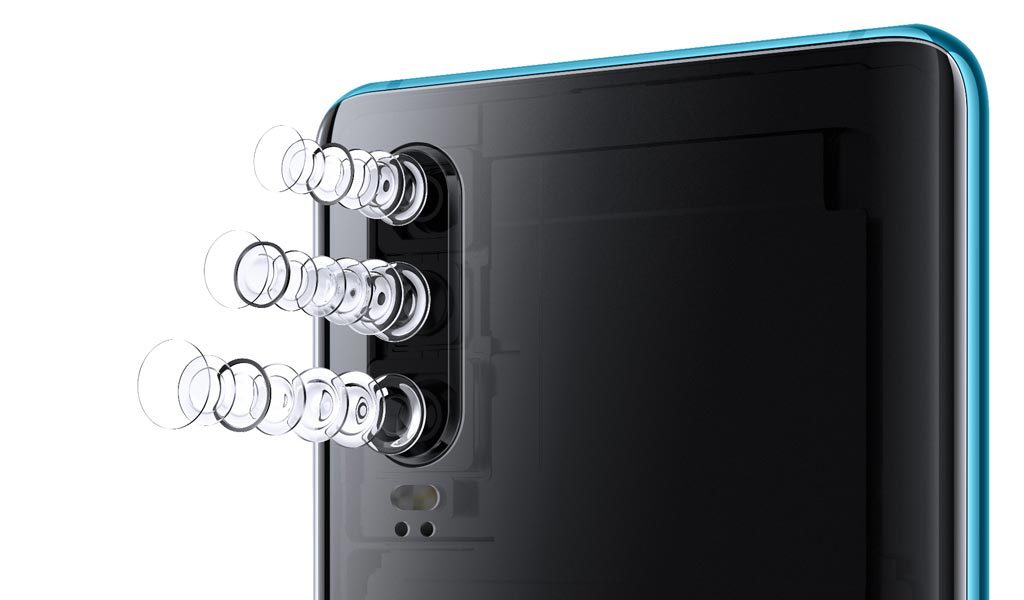 In my cameras tests, I noticed the cameras are great when used as its own, one at a time. The 5x zoom lens is impressive as it captures and retains good detail even as you try to how the camera still when capturing far distant objects. Also, it is nice Huawei did away with the monochrome sensor on the P20 for a more versatile wide-angle and telephoto lens combination. It makes the P30 Pro a very versatile shooter and opens up a wider range of shooting possibilities previously unachievable without the wide angle lens.
Ultra-wide lenses ahoy!
Also, the f/1.6 wide aperture sensor delivers near natural field of view ultra-wide images. It works together with newly remapped RYYB sensor allowing 40% more light to be captured. Together with Huawei's AIS + OIS, even at night, handheld shots are captured bright and in detail, while the optically stabilized main and telephoto cameras steady the shot.
Also, the wide angle lens is a joy to use, capturing a lot of scene at a go, just avoid close up subjects to avoid image wrapping. However, if you are a current Huawei P20 or Mate 20 owner, I do find it hard pressed to find a significantly compelling feature to justify an upgrade from the already impressive P20. Unless you need the new versatility offered by the of wide-angle lens.
Interestingly, the Huawei P30 Series devices let you use two of the rear cameras to record different videos simultaneously. This leverages the simultaneous computing power of the Kirin 980 called Dual-View mode. Here, you can capture both an ultra-wide angle clip and a zoom shot. On UI, it offers a panorama view on the right and a close-up on the left of the screen.
The SuperSpectrum
Huawei shared some inner workings of how their 1/1.7-inch SuperSpectrum Sensor works. The RYYB SuperSpectrum Sensor deviates from the traditional RGBG Bayer filter by replacing the green pixels with preferred yellow pixels. It looks at light in a fundamentally new way. It allows the P30 Pro to deliver brighter images with less noise in dark lighting conditions.
With this, both the P30 and P30 Pro yield a high maximum ISO rating of 204k and 409k respectively. Photos in my test shots appear sharp with minimal noise even at night. This fundamental shift in sensor technology, along with the use of larger pixels, allows the camera to capture a much wider range of scenarios and lighting conditions.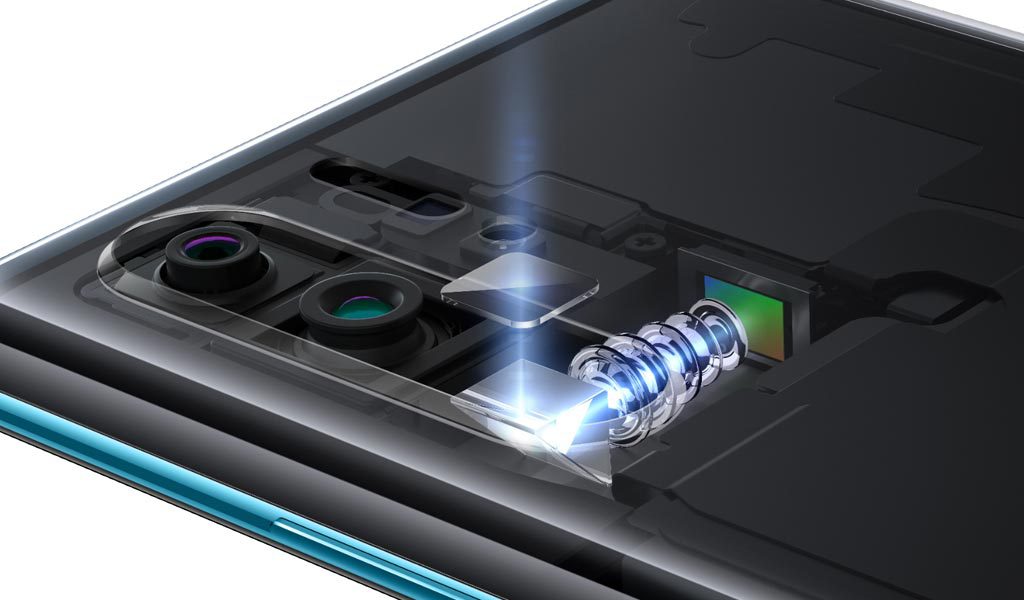 The optical zoom is at 5 times, now, up from 3x on the P20 Pro. There is 10 times hybrid zoom and 50 times digital zoom, which it achieves through a periscope design. I will recommend staying clear beyond 10x zoom as you lose image information with increasing zoom.
Jerky transitions
Also, one gripe in my early test is zooming and abrupt transitions to the telephoto lens. That is where you start to see the clunky implementation of a multi-camera setup. The P30 is no exception. When zooming in continuous video recording, you get the usual digital stepped zoom when the camera will suddenly have a drastic change in aspect ratio and zoom-levels as the camera jumps to a different camera. Notably, in-addition to the jerky transitions between cameras, there is also a noticeable strong difference in color tone between the different sensors when you switch cameras. I hope Huawei can address this with a software update from this pre-release model.
Also, I will recommend staying clear recording video using the telephoto lens, videos appear to be not as stabilized and sharp as using the other lenses. Having said that video recording on the wide and main cameras is really good with excellent Video stabilization without a need for a gimbal.
Price, availability and sale dates
The Huawei P30 Series is available in Singapore from Saturday, April 6th. Prices start at the recommended retail price of S$998 and S$1,398 respectively. At launch, both the P30 and P30 Pro are available in three colours, Breathing Crystal (a light blue colour), Aurora (dark blueish-green) and Black.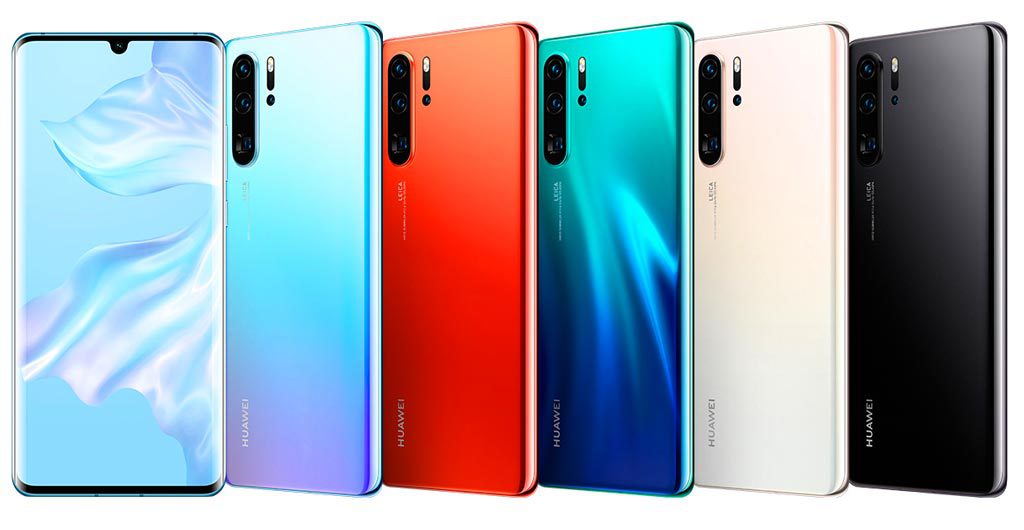 Pearl White colour or Amber Sunrise (Orange) at this point of time. The P30 Pro comes in two variant with only differing storage capacities, starting at 256GB ($1398) and $1,698 for the 512GB version. Both phones are available from April 6th in-stores, and mobile shops.
All in all, the P30 series brings forward a whole new standard of Phone photography which always brings about a buzz in the mobile photography community. The P30 Pro is no exception and sure to push new boundaries in what you can deliver from a phone. It does thin the line between point and shoots.