Wildfire burgers NAFA is a casual gourmet joint located in along Bugis Bencoolen area. It sits inside the campus building of the Nanyang Academy of Fine Arts, a pioneering arts education institution in Singapore. Let's check out their Burgers today with a dine-in.
Interior-wise, the Burger joint has space for a mix of tabled and high table seating, with tabled seating offerings the bulk with groups up to 6 pax. Furthermore, menu selections are simple with 5 burgers on offer. You can't go wrong with their standard Classic 001 Cheeseburger ($10 for a single patty, and $14 for a double patty). The patty is packed with a patty of ISDA-Certified black angus beef.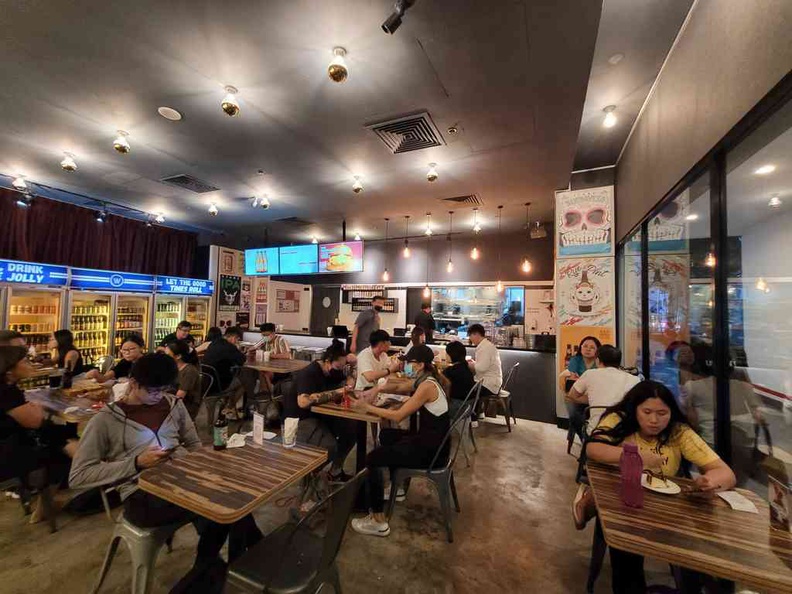 City gourmet burgers
Moreover, their truffle mushroom burger ($13 single, $17 double) as the name suggest, is not vegetarian burger. Your burger is filled with USDA certified black angus beef patty. It is topped between toasted buns with truffle mayo, sautéed with mushroom, American cheese and onions. I found their burger patties are juicy. Also, if you are hungry, I would recommend upsizing your burgers to the double-patty variant, or pair your burgers with a finishing milkshake or beer.
Additionally, your burgers are served on seedless Brioche buns. They are lightly toasted and crispy on the edges. The burgers patties are juicy, but otherwise pretty devoid of topping sauces within. Also, the burgers do looks more appetising in person than on photos.
More premium offerings
In addition to their Shabu burger ($14 single, $19 double) is their Wagyu beef burger. The patty is made from Snake River farm Wagyu beef patty. Your burger is topped with American cheese, Caramelised onions. It is topped with Chipotle mayo without making the burger overly drippy.
However, I found the SRF wagyu burger ($14 single, $19 double) tad underwhelming. You won't be able to tell much a difference between minced wagyu patty as opposed to their regular and cheaper Classic 001 Cheeseburger. Hence, I would simply just recommend to skip the wagyu and go for their regular burgers.
Eggstarter bacon burger ($10). Sitting between your Brioche buns are butter folded eggs, topped with melted American cheese, caramelised onion and Chipotle Mayo. Also, you can add $3.50 to your meal to top up your burgers with a side of fries. Also, the fries are surprisingly good, they are hot, crispy and tossed with traces of. It justifies the higher than average asking price for the sides for 1 pax.
Try their milkshakes
Additionally, Wildfire Burgers is also known as a craft beer place. But you are not missing out if you are just here for the burgers. Their selections. beers ranging $8 to 10. Though I find the beer prices tad on the high side, including their steeper than usual happy hour prices.
Moreover, if you do not take alcoholic drinks, I would recommend in place their Original Vanilla Milkshake, Chocolate, Strawberry. They are similar priced at the $10 price bracket. Also, if you are more adventurous, there are premium milkshake offerings such as the Maltesers, Triple Chocolate to Balley's Oreo or Nutty Espresso flavours. They are priced in the $13-$18 range.
Still, Wildfire burgers are similarly priced to competing offerings in the sub $20 range, like the offerings from Fatboys and Burger Frites at Joo Chiat. However, their offerings are pricey and lower value than similar offerings from Burgs Burgers and Simple Burgers with similar offerings under $12 for a meal.
All in all, Wildfire burgers is another nice welcome into the already crowded gourmet burger scene, targeted to the more mature and less family-friendly crowd with a large selection of beers to boot.
Verdict:
Must Go! | Actually pretty Good | Worth Trying | Shortlist Optionally | Should Avoid
Wildfire Burgers NAFA Locality Map
80 Bencoolen Street, #01-15,
Singapore 189655
Opening hours weekdays: 12pm – 3pm; 5:30pm – 10:30pm
Earlier opening at 4:30pm on Weekends and public holidays.