Lee Kong Chian Natural History museum is one of biodiversity. It comprises education, research and outreach all in one venue. For most it is a museum showcasing animal natural history of the South east Asian plant and animal life. To many, it is known simply as the "Dinosaur museum". Let's check out the Natural History museum with a walk through and exploration.
Singapore very own natural history museum
Opened since April 2015, the museum location is inconspicuously tucked in the NUS engineering campus grounds. Additionally, it is accessible via waking along the university's Conservatory Drive road from Clementi Road from public bus, or via NUS internal shuttle bus derives from Kent ridge MRT. Alternatively, if you are driving, per hourly parking is available at NUS Car Park 3A at $1.28/hr.
Dinosaurs are synonymous to museums, especially to the naive mind. I remembered a young version of myself starting primary school asking a museum staff in the Singapore National museum where the dinosaur collection was, only to be told Singapore museums does not have dinosaurs. Fast forward 20 years and finally Singapore very own natural history museum, with dinosaur bones!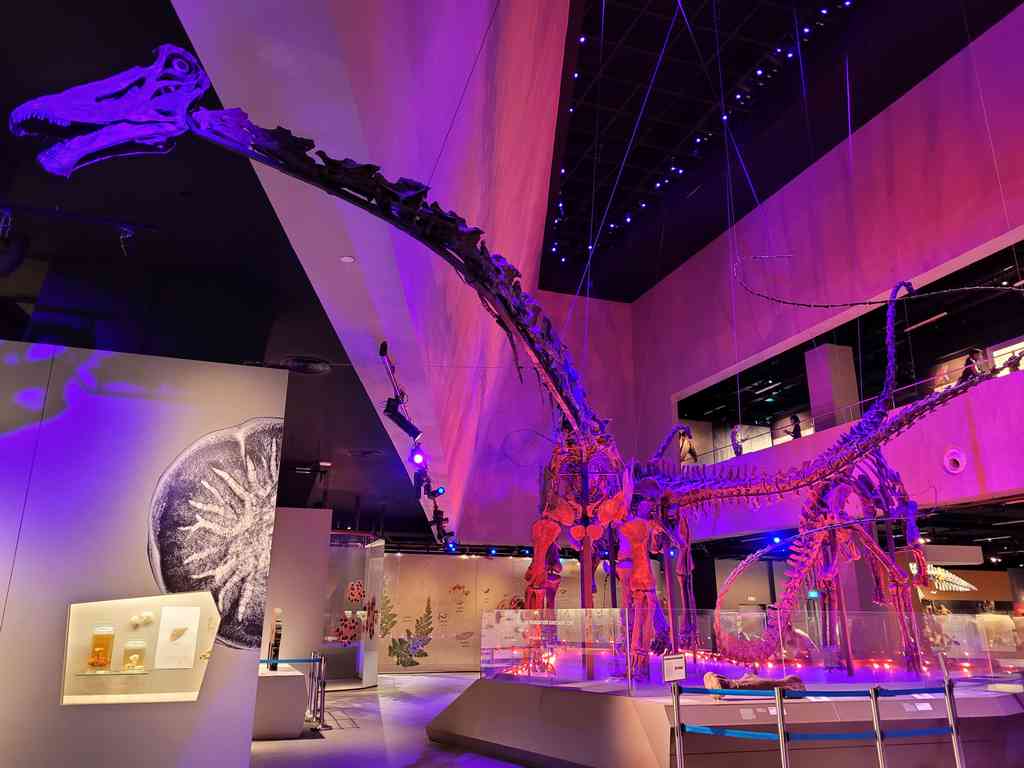 Also, the story is that the NUS department of Zoology had a sizable amount of specimen worthy for public viewing and education. The lower floors of the museum is public accessible museum, spanning over two floors. Also, the building upper floors are offices, research facilities and storage areas housing various zoology not publicity accessible.
Additionally, the museum entrance lobby is home to a small museum gift shop and the museum's ticket counter. Ticketing is manned by a mix of students and full time staff. The shop sells a small selection of generic clothing and science kits on the animal and dinosaur theme. Unlike National Heritage Board operated museums, this Natural History museum is privately managed.
Hence entrance is not free ($16) for Singaporeans and permanent residents, $13 for seniors and $21 for the regular adult regular rate. NUS students and staff get free admission from Tuesdays to Sundays and Public Holidays.
Botany exhibitions
Furthermore, the displays start with an introduction to the botany scene. Here you a find life size mock ups iconic large flowers and plants native to Singapore. This includes the Rafflesia flowers. Also, the Rafflesia is the largest flower in the world, nicknamed the corpse flower for its rather pungent smell which is irresistible to insects as pollinators.
Moreover, lined along the walls are several botany pieces. This includes pressed book specimens ranging from flowers, leaves to entire plant branches and tree cross sections (such as the Changi tree). A notable number of these plant display are still well-preserved, despite being dated a couple of decades ago. These exhibits do may do ring a bell and bare resemblance to the displays we saw at the Singapore botanic gardens Gallop gallery.
Animals with an East Asian touch
In the line of natural evolution, the displays lead on from the plant section to the single cell and vertebrate section. Also, taking center piece on the ground floor are three dinosaurs displays. They are diplodocid sauropod fossils spanning from the ground floor to the top ceiling space standing approximately 3 floors tall.
Moreover, these Dinosaurs are the largest and heaviest land-based animals known to us which roamed the planet. These almost-complete dinosaur fossils were unearthed from 2007 and 2010, originating from a small United States town called Ten Sleep.
Also, going on the theme of extinct animals, on display too is a life-sized model of a Dodo bird, which dies off due to habitat loss and invasive species.
Going crabby
Moving on, the display moves on to cover Invertebrates, including crabs, crustaceans, and molluscs. This includes shell fish, clams and teaches of their life cycles. Also, reptiles are said to form the evolution bridge of animals from the sea to land. This involves the evolution of lungs from gills.
Moreover, topping up this sector is a selection of crustaceans and grubs. There is a notable section on Alaskan crab as well as the coconut-loving Robber crab, the only land-dwelling crab with lungs and would drown in water. Also, here, you can find a preserved specimen of the only known record of a leatherback turtle in Singapore.
Additionally, the following section is the insect and arachnid section, which could bring some creeps to those with phobias. In display is an extensive board of insects. You might recognise them as some living right in your household as pests, such as the notorious American cockroach.
Mammal section and whales!
Next up is the mammal section on where a sperm whale skeleton takes center stage. This whale has a checkered past, being found dead off Singapore's Jurong island. Also, the island is an industrial petroleum refining island within Singapore waters on Jul 2015.
Additionally, the display teaches stories of conservation, lifestyle in relation to bio-conservation from the whales injury and the amount of plastic garbage found ingested by the whale.
Also, here, you can also find displays of native east Asian mammal species. Examples includes the Malayan tiger (yes, not lions), mouse deers, orangutans, jungle fowls and notably the globally endangered Sunda Pangolin native in our region. The pangolin is often over hunted for use in Chinese medicine.
A monkey and primates sector sits at the end of the mammal section, showcasing a range of reconstructed primate skulls for illustration and comparison, particularly where humans sit in this evolutionary tree.
Raffles Natural History Collection
Lastly, the historical Raffles Natural History Collection on the second floor wraps up the display segment. It bares a resembles to the early botany display you can find at the Singapore National museum.
This second museum top floor is accessible via elevators or a row of spiral steps in the main atrium. Here, you can grasp nice photo shots of the dinosaurs from a height vantage, including a portrait mug shot of the dinosaur heads.
Additionally, here you can find a wall mounted display of a Marlin fish. Raffles Natural History Collection comprises of lines of glass cabinets housing and showcasing early historical records immortalised into within. This includes botanical drawings and early taxidermy prices curated by Raffles and William Farquar, and etc, who was an avid natural and led several natural documentation of early Singapore fauna. You might remember a documented drawing style or two from the Human x Nature: Environmental Histories of Singapore exhibition we previously visited at the Singapore national library.
Outdoor garden
Just outdoors from this floor is the outdoor garden. You can peek out at the plants through the various window holes in this gallery. This garden is home to a mix of East Asian touch mangrove, swamps and dryland forest as well as a Phylogenetic Garden.
All in all, you are good for the Lee Kong Chian Natural History museum for about 3-4 hours tops. It is not a large museum, and though the selections are not as well documented and extensive as pioneering museums like the London Natural history museum and the American Museum of Natural History in New York for instance. The educational element is commendable and is family friendly, particularly as a start in showcasing the historical zoology work in South East Asia. Definitely good for a day out.