Shangri-la The Line is an international buffet in Singapore's Shangri-la hotel. The all-day hotel buffet spots an international selection of delectable food choices. This range from fresh seafood on ice, local noodles, sushi selections to authentic Thai salads.
Also there is a large western grill sector as well as freshly-baked naans from the tandoor oven, homemade curries, through to dainty and delicious desserts. The Line claims there is something for your palate liking. Lets check out the buffet with a dine-in.
Additionally, the restaurant is huge and offers a mix of tabled and booth-style seating. The restaurant house now sits half in a new greenhouse-like building extension overlooking the hotel's main pool and hotel blocks. It spans a total of 1,350 square metres of dining space.
Furthermore, The Line features indoor and al fresco dining options. Notably it is designed by Adam D Tihany, an internationally acclaimed interior designer. It does provide for a nice open airy feel, especially when dining in the day, offering views of the hotel's lush gardens and free-form swimming pool.
However, the buffet is laid out quite all over the place. It is one of the few more confusing buffets I had been too with sectors tucked in various corners. However, the layout does add to a sense of discovery with new food and cuisine sectors found on every corner in the restaurant grounds.
Great fresh seafood selections
The Line main selling point is their Seafood, which I shall touch on first. For starters, Sushi and sashimi fan will be delighted on quality free-flow of chewy octopus on top of your usual fanfare of salmon and tuna sashimi.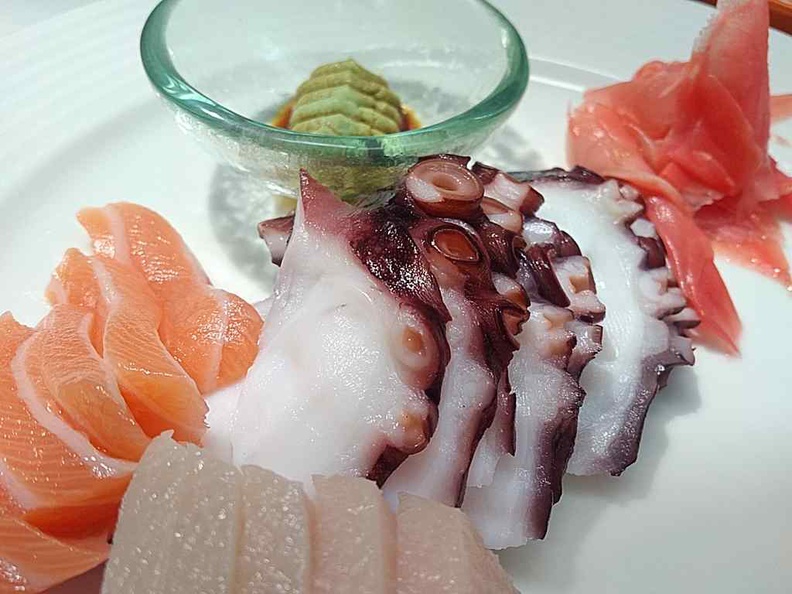 Additionally, the buffet's seafood on ice offers also free flow of fresh raw oysters, clams, baby crayfish lobsters and Alaskan crab.
Notably, their crab is offered mainly whole, unlike other restaurants like Seasons tastes at the Westin and Beach road kitchen offering the best claw parts, which is easier on the hands. Also, I found the seafood offerings really fresh and a bang for the buck.
Notably, the seafood are one of the hottest sectors in the buffet, with oysters and crab often wiped out quickly. Still, the restaurant does a good job in keeping them replenished throughout the night, even till closing. Also, do note that lunchtime offerings has a limited selection.
Great prompt service
Moreover, restaurant service is also good. Shangri-la-good. You are greeted by cheery staff at the entrance. Empty plates are quickly cleared from your table after leaving for more food. This ensures that you table top is always cleared for your next plate serving.
Also, food counters are prompted served by kitchen staff, though there are notably long queues at busier counters, like the drinks and noodle sections. Though service can be tad degraded on busier weekends.
Huge Indian and local food offerings
The Asian cooked food selection takes up a relatively large portion of the buffet grounds. This food staple comprises of local offerings, such as chilli crab, Singapore fishball noodles, laksa and satay. Furthermore, the prawns offered in their freshly cooked noodle counters are huge. This reaffirms the relatively high asking price of the buffet here. At times, you can also smell the aroma of the soup stock on the seating areas near the Asian sector.
Moreover, the Indian section has a large selection of curries. Choices also includes Dhal Makhani, Tandoori and butter chicken. There is also a Lebanese section, serving kebabs and chicken liver stews on my visit. A little known thing is that you can get free-flow of prata here, with the other being Fairmont Hotel Asian market.
Here, staff can be seen diligently preparing freshly made prata by the stack. However, the indian food section is notable one of the few less-popular sections in the buffet. Self-help pots of curries of varying flavour, cooked by an smartly-dressed authentic prata chef working behind the food counters.
European grill roasts and pizzas
If you like meaty steaks, Shangri-la The Line does not disappoint. On the far end is the western and salad sector proving a neat choice of roast and European Italian delicacies of pasta, pizza and lasagna. This European grill section, as I like to call is one of the recommended selection here worth mentioning.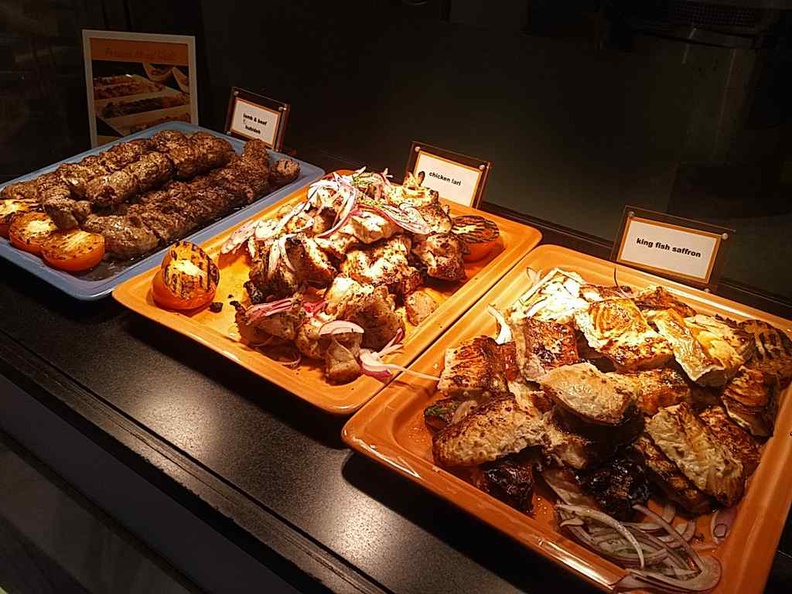 Here, you can help yourself to generous self-help servings of beef tenderloin, roasted king fish, chicken and roasted steaks. There are also mini pizzas. The quantity of food available here is one to be reckoned with. Quality is ok, but not excellent. Additionally, the roast section steaks are however, cooked mostly well-done, which is tad too dry and not as juicy to my liking. If steaks are what you prefer, The Cavery is a better and more affordable choice.
Creative dessert offerings
Furthermore, desserts was a pleasant surprise too, I was blown away by the selection of non-conventional offerings. Choices see an interesting mix of includes Oreo chocolate fudge, mini baked tarts and a huge salad and cheese bar. I particularly enjoyed the display of creative freedom the dessert chefs have here in preparing these selections. A nice touch indeed.
Moreover, one of the peculiar sectors here at Shangri-la the Line is a dedicated section even devoted to drinks. Fancy a freshly brewed coffee or tea?
Also, there is a drinks master here to serve all your drink needs. It's the first time I see a Shangri-la staff member having to man a sector dedicated just for drinks.
Also, here, you get free flow of a mix of soft serve as well as sorbet ice cream. These are all served by a dessert helper who will scoop your selections to your liking, with the manual labour done for you, so as you wish.
A buffet still good over the years
Initially, found it hard pressed to wonder why the line restaurant was always packed. Through the years dining here since I was a kid, I found the quality of the food, though still acceptable not quite the high standards they used to have. Well, at least for today's $95/pax++ adult buffer asking price.
But still, it does make up for the huge food varieties. Amazingly, crowds still flock to Shangri-la for this renowned buffet. Also, often, it is not uncommon having all tables booked out even on weekends. This is particularly when the restaurant offers such as credit cards 1-1 or discounted deals, which are often a rare occasion to begin with.
All in all, I would recommend Shangri-la The Line for the quality and quantity of food offered, with good service to boot. Come to think about it, I never had I had a bad experience here at the Line. It is served in an environment reminiscent of classic hotels of typical pre-1990s with an intimate and new gourmet experience worth experiencing. No lines to be drawn here.2
Verdict:
Must Go! | Actually pretty Good | Worth Trying | Shortlist Optionally | Should Avoid
Shangri-la The line Locality Map
Shangri-la hotel, Singapore
22 Orange Grove Rd,
Lower Lobby, Tower Wing,
Singapore 258350
Opening hours:
Daily: 12-2:30pm, 6-10pm