Let give the New York Metropolitan Museum of Art a visit today. The museum is home to over two million works as part of its permanent collection. You might know the museum colloquially as "the Met", synonymous to the Met gala where it is held.
Furthermore, the museum is a vast one. It is also the largest art museum in the Western Hemisphere. The museum galleries are divided among 17 curatorial departments. Each gallery offers an array and mix of large expansive open spaces. Also the galleries range to small cottage style rooms and displays.
The main museum building sits at 1000 Fifth Avenue, within the grounds of New York central park itself- one of the vast green spaces of New York's premium real estate. Most of the galleries are located on a single floor. Also, the museum was opened on April 1870 and is home to 2 million exhibits, large and small.
Moreover, entering the New York Metropolitan Museum of Art Grand entrance and exit at 82nd street, a great hall ticketing and lobby area greets you at the entrance. From the Great Hall, going left (south) here leads you to the Greek and Roman art galleries while Egyptian art sits on the right (North side) galleries.
Vast Museum Gallery halls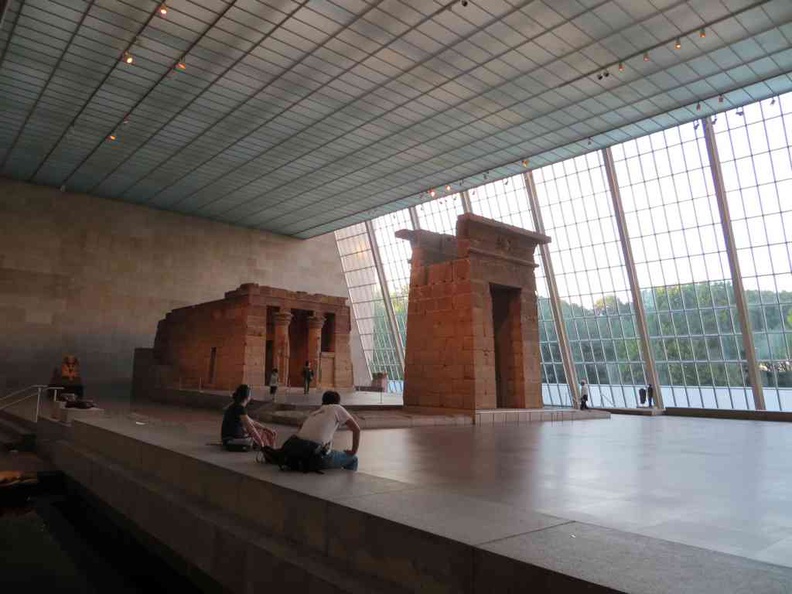 Furthermore, the Metropolitan Museum of Art was founded in 1870 with its mission to bring art and art education to the American people. The museum's permanent collection consists of works of art from classical antiquity, and dating since the B.C era and those from ancient Egypt. Several notable interiors, ranging from 1st-century Rome, through modern American industrial and contemporary design. There are all installed in its galleries under one roof.
In addition to Greek and Roman art galleries and sculptures, a vast gallery here is the Temple of Denur in the Sackler Wing. Notably, the Temple of Dendur is a Roman Egyptian temple on display here in its own vast hall. Also, the temple was built on 15 B.C by the Roman governor of Egypt, Petronius. Notably, it was one of many Egyptian temples commissioned by the Emperor Augustus himself, Roman first emperor.
Also, the Egyptian art section is home to a mix of marble stone figures, vases and even sarcophagus. Here, you can find displays of stone statues of Egyptian pharaoh and guardians.
Moreover, the museum is home to encyclopedic collections of musical instruments, costumes, and accessories, as well as antique weapons and armour from around the world. Also, there also is a vast gallery filled with battle armour, cavalry armour and battle gear like swords and musket guns.
Medieval art and European paintings
Furthermore, the Metropolitan Museum of Art has a large collection of Medieval art and European paintings. Also, these galleries here take up much of the central portion of the museum building. Here, you can find large galleries with floor to ceiling wall filled with paintings from gallery to gallery.
Also, these are usually depictions of statesmen's or families who are wealthy enough to have a portrait commission for them of their family, or a collection of still-life works by the painters themselves.
Moreover, the European galleries are open and modern, yet retains classic old Victorian look in the American and European galleries. Also, here, you can find European paintings, and sculptures from nearly all the European masters of the era.
Additionally, the Modern and Contemporary art section is one showcasing a more modern outlook on art. You can find the galleries on the far west side of the building.
Asian and North American wing sections
Moving on, there is a section housing Asian art and those of Ancient Near Eastern art. Also, these displays portray aspects of Asian art, religion through display of textile items and figurines. Some selections include Japanese and Chinese paintings Asian art.
Moreover, there is even a recreation of a classic Chinese home and courtyard, complete with zen and stone gardens and lit paper lanterns. Also, it covers items of worship for Asian religions like Buddhism.
Additionally, the North American wing is one dedicated to ancient American art. The Charles Engelhard Court at the American Art section is a vast modern development.
In addition, the site spans two physical floors and home to an extensive collection of American and modern art. The galleries are easy to navigate and there are lots to see. Also, this large hall where the American galleries reside is also home to the museum café. There are seating and rest areas here to recharge during your visit.
Wrapping up, the Met maintains extensive holdings of African, Asian, Oceanian, Byzantine, and Islamic art. Also, you can find large sailing boats at the arts of Africa, Oceania and the Americas.
All in all, the New York Metropolitan Museum of Art is a large museum is would keep you busy for an entire afternoon for your visit. Though large in size, the galleries only span mostly a single floor, making covering the museum a quick walk without doing much stairs. It location inside and just behind the Great lawn at Central park makes it a nice place to visit when you are in the central park area in the big apple New York City.