Today let's check out Rubicon steakhouse with a dinner dine-in. The establishment is known for serving premium Hokkaido Wagyu at (relatively) affordable prices. If you are a meat lover in Singapore and haven't been to Rubicon Steak House, you are missing out. We will take a closer look at the establishment, dishes to go for and the overall dining experience.
The steak house establishment itself is located at the ground floor of Thomson Imperial Court along Upper Thomson Road. A popular night super street known for prata and burgers like Molten Diners and Fat Boys Burgers. Rubicon steakhouse was founded in 2018 by Mr Shingo, a Japanese chef based in Singapore.
Shingo's vision was to create a steakhouse that focuses on delivering high-quality wagyu beef and providing a memorable dining experience for customers. He imported his beef overseas, with emphasis from Hokkaido Japan, making sure only the best cuts are served. Hence, the steakhouse is known for its premium quality cuts, excellent service, and cosy ambiance.
Steak recommendations
Rubicon Steak House offers several types of Wagyu steaks all sourced from Hokkaido, Japan. This includes their A5-A3 Wagyu range, although Rubicon do not explicitly indicate the grading of the steaks on their menu, they typically fall within the A3-grade range. Also, their Wagyu Striploin and Ribeye are choice steak options.
Also, for premium cuts these are available as a 250g Wagyu Tenderloin ($135), one of the more affordable dishes at Rubicon Steak House, as well as their 250g Wagyu Sirloin (S$170). The Wagyu Sirloin is a beautifully marbled cut that melts in your mouth. It is a joy.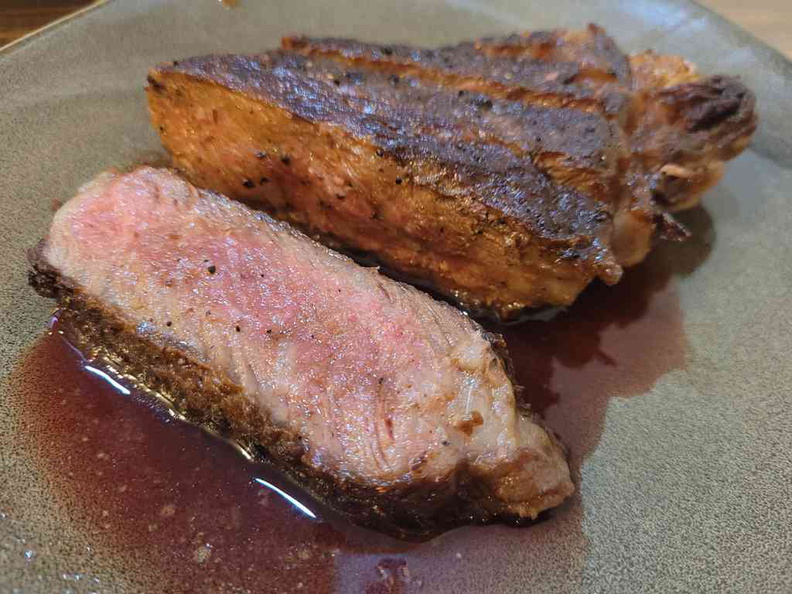 A premium Wagyu offering
Moreover, A5 Wagyu is considered the highest grade of Japanese premium beef. It is the highest marbling score where the fat is mixed evenly with meat. Rubicon's pricing and menu selections takes into account the different cuts and portion sizes available. Hence the offerings during your visit may vary.
The most expensive cut at Rubicon Steak House will be their Tenderlion steak. Priced from S$135 for a 250g plate, and going to S$270 for 500 grams. This choice one of the few lean options that combines a lack of fat with supreme tenderness. An alternative to the Tenderloin be their Lean steak. What makes these steaks so good is the high level of marbling. It gives them a rich flavour and tenderness that is unmatched by other types of beef.
Best in medium rare
I found the steaks when cooked medium rare is nicely soft on the core and tad crispy on the outside, with a seared taste with traces of herbs on the outside. The steak center core is soft, juicy and pretty bloody- typical of grass-fed steaks. Also, the steak does have a long strip of fat running by the side, typical of sirloin, but most of the fat are lightly marbled into the beef itself.
Additionally, your beef is served on a plain simple plate which is effective, but does betray the quality of the steaks on the plate. I went for their Rubicon Wagyu Sirloin (500g) priced at $170, an excellent mid-tier offering sufficient to give you a good indication of quality without hurting your wallet too much. The 500g portions are good for 2-3 diners. There is also a 250g Sirloin option priced at $95 for an individual serving, as well as a 1kg option ($330) great for large groups of 4-6 pax. For evening dine-ins, do come early as the portions may run out pretty quickly later in the day.
Pricey but good
Furthermore, Rubicon menu offerings are barebone, allowing you to order what you need in a mix-and-match fashion.On more affordable options, the steakhouse also offer more affordable Ribeye steaks at $120 and $240 respectively for 500g and 1kg of steak. Also, Rubicon's cheapest steak is their Lean steak. It starts at at more affordable $57 for 250g, $91 for 500g and $173 for a hefty 1kg, similarly great for groups of 4-5 persons.
Moreover, do note the costs can do add up with more dishes quickly. So do keep an eye on the prices, especially for a large group. Also, I recommend to start your meal with a salad. Their fried karage chicken ($19.80) is one large appetizer you can share between two. You get a generous serving of fried chicken sitting on top of a bed of leafy greens.
Though it's steak costing upwards of $100+ per serving, Rubicon prices are a bargain compared to similar quality, but more expensive options in Wagyu restaurants, which can easily set you back up to twice the price. It is quite the value offering.
Still, this puts Rubicon's price range on-par to the price range of celebrity restaurants such as Gordon Ramsey Bread street at Marina Bay Sands, albeit, with small "fine dining" portions. Still, sub-$150 for a steak is also hard to get your head around especially if you are used to steaks costing not more than $20 in the heartlands, or even the $40 range for iSteak restaurants NZ grain-fed offerings.
Affordable options
Moreover, if you desire something more affordable, in addition to their premium steaks, Rubicon Steak House do serve more affordable A-la-carte meals. Examples includes their Haumburg steak ($24.80- $26.80) and Hokkaido pork chop ($39.80). Also, if you desire something more fusion-styled, their Hokkaido Bolognese Spaghetti (S$21.90). Additionally, sides to pair with your meal includes their soup of the day set ($8.90) which includes Garlic bread.
Also, their Hokkaido Scallops is one to consider too If you are in the mood for seafood, the Hokkaido Scallops ($11.90 for 100g) is one worth considering. They are perfectly seared and served with a side of mixed vegetables. Wrapping up, Rubicon also offers a selection of soft drinks, and a small selection of Japanese ice cream (S$6.50) hand-picked by the chef you can complement your meal with.
Great attentive service
In addition, the dining experience at Rubicon Steak House is simple and elegant. The restaurant is small in size, with a capacity for about 25 people, so it is recommended to make a reservation or arrive early to secure a table. The ambiance is cosy and intimate, with dim lighting and comfortable seating. The decor is minimalist, with dark wooden tables and chairs, creating a warm and inviting atmosphere.
The service at Rubicon Steak House is fast and attentive with friendly staff who are knowledgeable about the menu and offer recommendations to customers. The chefs prepare the steaks to perfection, ensuring that they are cooked to the customer's preference and served promptly, though my steaks can take up to 20 minutes to prepare and serve.
Rubicon Steak House: A Singapore Gem for Steak Lovers
All in all, Rubicon Steak House is a one high up your shortlist if you crave premium Hokkaido Wagyu steaks. It is one truly for steak lovers in Singapore. Their offerings of high-quality wagyu beef, excellent service, and cosy ambiance, it is the perfect spot for a special occasion or a romantic dinner. However, due to the limited seating capacity, it is recommended to book a table in advance. Currently, Rubicon Steak House has only one branch located at 200 Upper Thomson Road. Truly a hidden gem of a Steak house in Singapore.
July 2023 update: Minor text corrections and amended inaccuracies of steak origin. Also, updated to current menu prices. Thanks to the folks at Rubicon steakhouse for helping to provide the updated info!
Verdict:
Must Go! | Actually pretty Good | Worth Trying | Shortlist Optionally | Should Avoid
Rubicon Steak House Locality Map
200 Upper Thomson Rd,
#01-04 Thomson Imperial Court,
Singapore 574424
Opening Hours: 6–10 pm
Closed on Mondays and Sunday.