A quirky new feature in the Changi Jewel basement carpark is their new "find my car" system. Called the Video-based Parking Guidance System (VPGS), it is a rather ingenious fully automated camera-based car-finder system. Here, it allows you to simply find your car by just entering in your number plate number into a self-help kiosk. How does this sorcery works? Let me take you through how the system actually works.
3 floors of parking
In a nutshell, the carpark in the Changi Jewel mall spans the lower 3 basement floors. This is from basement three down to basement five. Additionally, it offers 2000 parking spaces through a mix of short term parking (up to 90 minutes at floors B2M and B2) and long term parking (floors B3 to B5) with different rates. The latter option has a flat rate of S$0.04/min while the short term costing a staggering $5/30mins after 90 minutes.
Remember that entry flash? Say cheese!
You might remember a flash of light from a speed camera-like device located at the carpark gantries when entering the carpark. A forward-facing camera directed towards the front of your vehicle at the gantries captures your number plate before the gantry rises for your entry. Moreover, the system can recognise a variety of front facing vehicle license plate fonts including non-Singapore registered cars.
Henceforth, your vehicle number is registered into the carpark's database. Likewise, the carpark's available lot count are updated in real-time.
Business as usual Green lit empty lots
Furthermore, a status light sitting above every parking lot denotes each respective lot status. This is nothing too new or special and is similarly seen in other carparks like the Singapore Sportshub and Harbourfront center for instance. Similarly, the light is red when occupied. It allows you to quickly spot empty lots from a far just be scanning out for green lights.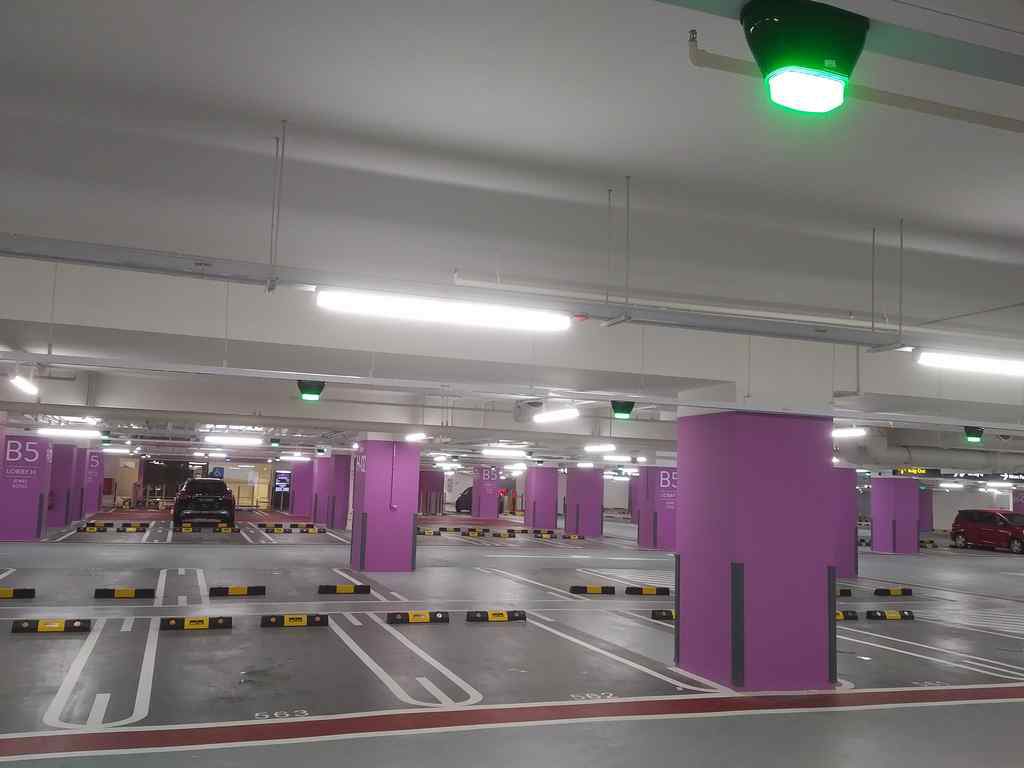 However, what is different is how the carpark system detects the presence of a vehicle. Usual lot sensors uses a passive motion sensor which senses the presence of a large object within the space it is over. The implementation at the Jewel uses an active camera-based sensor located inside the status light.
On close inspection of the sensor, you will notice the camera module. It faces outward looking into the adjacent facing lot. Hence, with this implementation, the sensor which is opposite your lot is actually the sensor monitoring your vehicle presence and updating the lot status above your lot.
Furthermore, this, from automatic image processing and comparison not only visually confirms the presence of the vehicle, but auto reads details of the vehicle it is monitoring. This allows the system to know which car is at which lot by reading your car number plate from the captured camera image.
Find your car the mall directory kiosks
Moreover, this allows the carpark system to auto-update it's lot allocation database. You can search for your car via self-help mall directory digital signage. Additionally, every carpark floor lobby sits one of these touchscreen panel kiosks.
In turn, it allows the system to tell you which floor, zone, sector and lot number your car is automatically. Moreover, entering your license plate not only yields your car location, but even has a photo of your car in the search result.
Also, your vehicle number would be photographed again upon your carpark exit. Henceforth, your vehicle record for your parking is closed for the visit.
Providing surveillance and enforcement
The Changi group also states that the new system also provides more surveillance of cars in the carpark. I can see this also providing additional benefits for enforcement. Examples includes detecting drivers illegally using disabled spaces, tailgating exit or hogging drop-off points.
All in all, this parking system is definitely a boon for drivers, especially the forgetful ones. The provision of parking guidance and real-time lots availability by floor and even by sector aisles demonstrates the power of the system. It definitely goes well with the country's smart nation push.