The Principality of Monaco is an independent sovereign city-state and micro-state, very much similar to Singapore, but much smaller. Geographically it sits on the French Riviera close to the Italian region of Liguria, in Western Europe. You may recognize it for scenes of sandy beaches, expensive yachts, fast cars and of course the famous Monaco city Grand Prix, which is part of the Formula1 annual calendar for decades. Let's check out the city in the flesh and soak in the sights and sounds of Monaco.
Moreover, Monaco enjoys great views of the Mediterranean Sea to the south of the country. It is a popular site too for beaches, sailing and cruise ships to dock at the city. The country is bordered by France to the north, east and west, making it easy to travel along the Cote d'Azur, French Riviera.
Excellent for a day trip from the French Riviera
Furthermore, a trip to Monaco city can be done in a small group day trip. It beats having to find accommodation in the rather expensive city. This is especially if you are planning to backpack through the Mediterranean on a budget. For example, I started my Monaco adventures with a trip from Nice, France. You can find a number of local tour operators from Nice on travel sites such as Viator or booking.com (e.g. Tour Azur which I went with).
Also, this comprises of small group drive and pickup from Central Nice. Your Monaco journey see you passing by and visiting some small villages along the French Riviera Ridgeline towards the Monaco as secondary spots.
Additionally, these groups typically comprised of locals or regional tourists, so the group will generally be a better less rowdy bunch. I had a great English speaking local guide who is also the driver of my trip. In a small minivan of 6 other travelers from Eu, so it is more of a well-behaved bunch here. Doing the sums, it is actually cheaper to join a small local tour group rather than planning out your own bus transport, guide and admission tickets.
The starting point of my exploration is the Monaco city oceanarim. It is an Oceangrahpy museum housing several underwater displays within, you can recognize the building with a yellow submarine outside. Also, do visit the Prince's Palace of Monaco, when you are there, it is open 10am to 6pm daily.
Another notable place to check out the  Cathedral of Our Lady Immaculate, but sometimes called Saint Nicholas Cathedral, or Monaco Cathedral. The interior of the cathedral has a gothic loo, probably inspired by the Notre Dame in Paris.
Driving the Monaco Grand Prix track
A staple of Monaco will be the Monte Carlo Monaco grand prix. Experiencing the Monaco city grand prix is one worth doing. If you are there on a non-Grand Prix event day, you can take your time to explore the various iconic turns and of the famous circuit. Having said that, this grand prix is the first street circuit, built on an actual working public street. The track is known for its tight turns and had been a staple in motorsports history.
Famous hotel hairpin 
Whether it is Famous hotel hairpin turn or a blast along the finishing tunnel straight towards the dockside lined by rows of luxury yachts. The route also passes through several Monaco city landmarks. Check out the Monte Carlo Casino (and gardens). It is an iconic Monaco hotel and casino with an Elegant Beaux-Arts exterior.
It is not uncommon to find rows of expensive cars parked along the hotel and casino front. In addition, speaking of cars, on a normal non-event day with a vehicle, and being an F1 street circuit track like the Singapore GP, you can have a drive along this iconic circuit.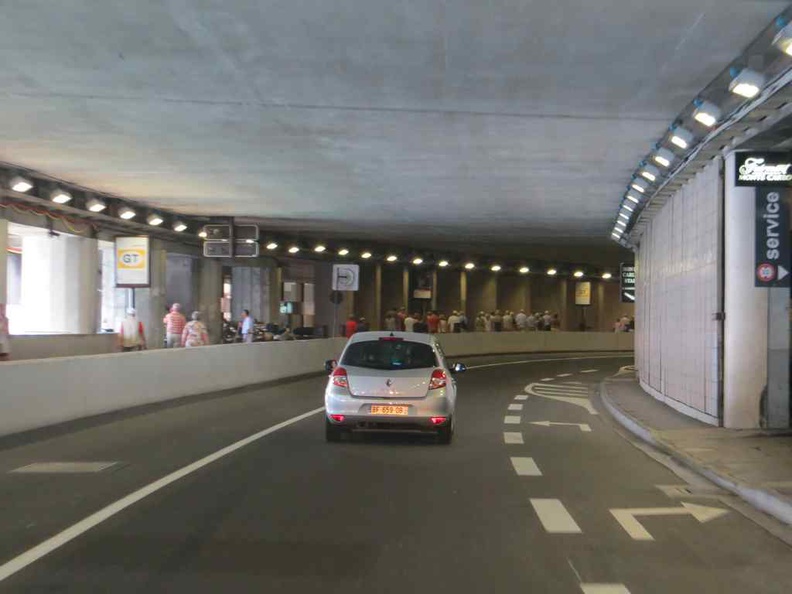 The exception of a regular drive is that some missing bends toward the finishing quay side stretch being adjusted for two way traffic, you can still experience key elements of the Monaco Grand Prix. This includes the famous hotel hairpin turn, interesting, racing strips are still left intact on the iconic corner. You can't miss it.
A place for the wealthy
Additionally, Monaco is home to about 40 thousand residents with a small percentage being locals. It main GDP is based on hospitality and tourism. Also, Monaco is a favorite hangout point for the rich, mostly being drawn to the country's low taxes, making it Monaco a chosen destination for the rich. Interestingly, the locals have gambling restrictions in the Casinos, with only foreigners allowed to gamble.
And that is pretty much Monaco as it is. All in all, visiting Monaco is great as a day trip to view keys sights in Monaco. This includes fantastic views of the Mediterranean sea, the famous Monaco street circuit and nice secondary attractions to visit on your exploration of French Riviera and Côte d'Azur.