Nice is a chill beach coastal town offering a mix of coastal beaches, parks, gardens and shopping. Nice France is the capital of the Alpes-Maritimes department on the French Riviera, sits on the pebbly shores of the Baie des Anges. The city was founded by the Greeks and in its history as a resort town later evolved into a retreat city for 19th-century European elite.
Moreover, the coastal town facing the Mediterranean as part of the French Rivera is well connected to other parts of Europe via rail, as well as regional islands you can hop on via public ferries for day tours.
Furthermore, getting to Nice via rail is a recommended mode on entry. High speed rail is one of the best ways to travel within EU with the ease of no immigration needed for travel between EU states.
Nice central square
Additionally, Nice has a central square called the Place Massena. It is a fountain of the Sun statue sits at the center of the square. Moreover, the Place Massena is a central square and shopping street by the beach. Here, you can find a variety of high end boutique, fast fashion retailers, store, restaurants and cafes.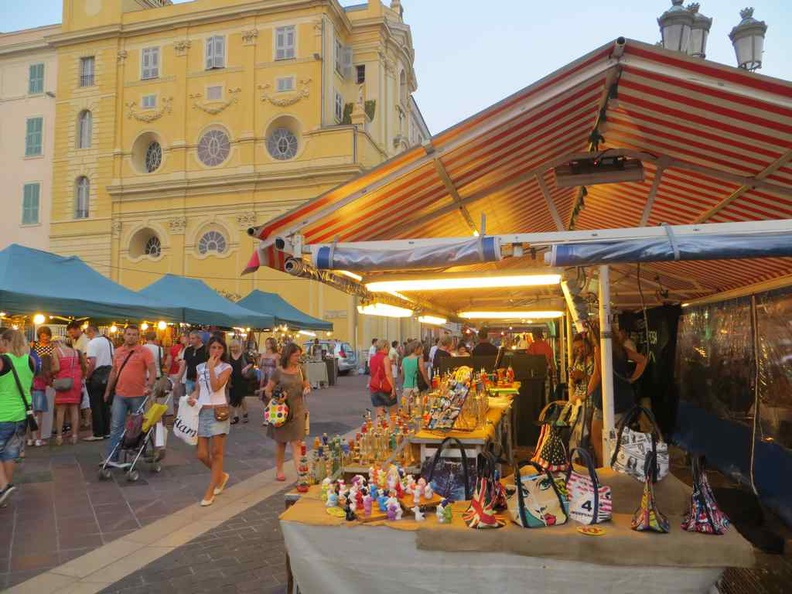 Also, restaurant dine-in prices are surprising affordable, with a meal under 20 Euros. It is a nice place to grab dinner too. And unlike the US, tips are optional here in Europe, and so here in Nice, France too.
Additionally, being coastal town on the outskirts of France. Nice is a great spot for affordable accommodation catering for the tourist crowd. Also, there is quite a huge selection of backpacker inns and hostels offering affordable nightly rates.
If you stay in the hostels are aplenty of activities on their event calendar you can choose to tag on. Moreover, the Nice Old Town (Vieille Ville) is a great place to grab lunch, being home a many small cafes you can grab an affordable sandwich, coffee or even ice cream.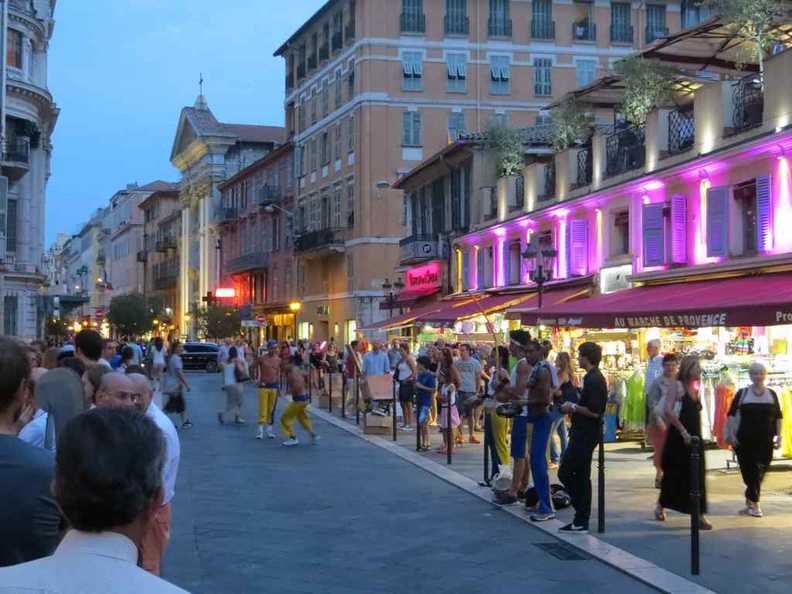 Beaches to check out
Furthermore, Nice offers great sandy beaches to relax at the beach Promenade des Anglais. It is a short walk from old nice with the sea running east-west. Here, you can find the Galerie des Ponchettes, a promenade along this beach side stretch.
This Island is pretty much a resort island with rows of beaches. Interestingly, there are not many fine-sand sandy beaches here. Interesting landmarks here includes the classic Le Negresco luxury hotel. It is owned by the late Flamboyant Jeanne Augier.
Moreover, Nice city itself is well connected with local buses and trams. They serve the various city spots you can use for sightseeing.
Also, if you are keen, the beach side does an electric train ride (Le Petit Train de Nice) at €8 a pop it brings you one end of the beach to the other, or you can simply walk the entire stretch on foot or on the sand.
Moreover, there is plenty to see around here, from street performers, roller skaters to beach activities like para gliding and jet-skiing all along here.
Also, you can soak up the atmosphere here. If you have a day to spare, a day on the beach side is one worth wasting a day on. Do remember to pack your beach wear, or grab one from the many boutique stores or fast retailers here at the Nice old town.
City green spaces
Moreover, Nice Castle Hill is a nice green spot to check out in Nice. It is home to a couple of green spaces and a great panoramic viewing area you can view the city from for free. It comprises of a public park with monuments and a cemetery. Also being on a hill, it does involve some physical climbing.
Additionally, if your idea of a green space includes cemetery, the Nice monumental Hill top graveyard Lou Casteu is one worth visiting. The cemetery was settled in late 18th century on the lower plateau of the Nice castle hill by the old town.
Moreover, notably, the cemetery was part of the former glacis of a citadel which reside here. Nothing taboo here, but the cemetery is a nice peaceful place to visit with good overlooking views of the city. Additionally, interestingly, the cemetery too is quite frequented by locals and joggers and close at 6.45pm daily.
Also, up here, you can grab fantastic panoramic views from the hill top and overlooking the Old nice town. There is also a couple of monuments, such as the Monument aux Morts war memoral, and man-made waterfalls at the hill-top park and gardens.
Museums and cathedrals
Nice is home to a couple of Museums and cathedrals you can visit as part of day fillers. Churches are generally free in admission, but closed during service times. Museums are typically closed on Mondays. Also, one museum to check out is the Musee National Marc Chagall, also known as the Marc Chagall National Museum. It is an art painting museum dedicated to the work of painter. It is located Northeast of the main Nice train station and cost 10 Euros per entry.
One museum spot worthy of a day trip is to the Musée Matisse. Also, known as the Les Arènes/musée Matisse, it is open till 6pm daily (closed Tuesdays) and is located far north from the old town. Entry costs 10 Euros. It is accessible via a number of public buses from the beach area (e.g. bus services 15, 17, 20, 22 and 25).
The 17th century villa museum has a distinctive red colour, housing paintings by Matisse. Also the exterior of the museum is home to the Palais Massena gardens, one the green areas you can find within the city.
Moreover, the Matisse museum area is home to 2 more museums and a church in the area. Just beside the Matisse is the Museum Franciscain, the Museum Archeolgoie de nice and the Cimiez Convent. The one to check out the Museum Archeolgoie otherwise known as the archaeological museum. Also, here you can view the building ruins Located on a Roman archeological site, this museum features statues, coins & other ancient finds.
Notre-Dame in Nice, France
Additionally, the Notre-Dame de Nice is a scaled down Cathedral named after the famous Paris Notre-Dame. Here, the Notre-Dame de Nice spots a similar gothic classical exterior and and equally vast interior and stained glass windows.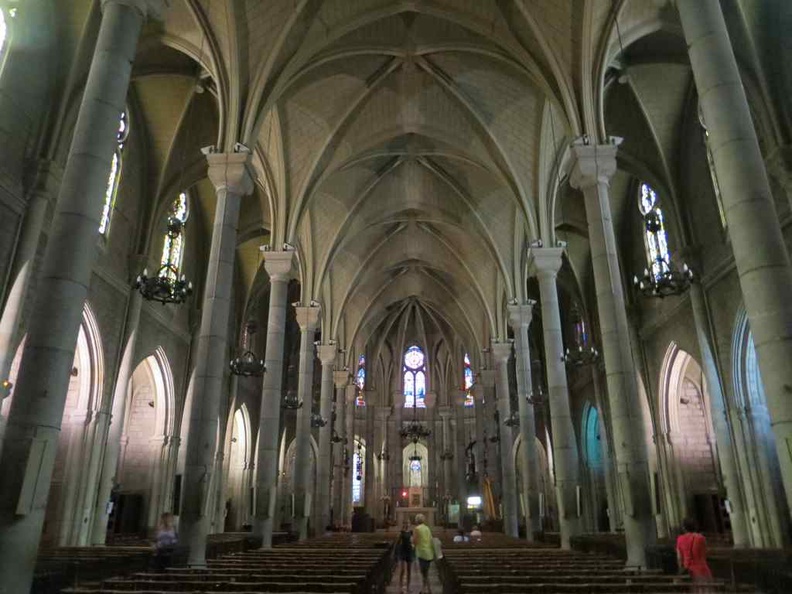 Another notable Cathedral in the city includes the Cathédrale Saint-Nicolas de Nice. It is a Russian Orthodox Cathedral dedicated to St Nicholas and is open daily from 9am-12pm, 2pm-6pm.
Great fine arts museum
Furthermore, if modern arts are your fancy, one nice museum to check out is the Musée d'Art Moderne et d'Art Contemporain. It is opens till 6pm daily and closed Mondays. It has a rather extensive gallery of collections spanning over 5 floors.
Also, the art galleries are vast and are logically linked to each of the gallery floors. It is quite a large museum and you may take upwards of 3 hours to view all the galleries. The top of the buildings offers some panoramic views of the city too.
Moreover, the museum is connect to both a performing arts theater and a library. Also, do check out the Tête Carrée public library, it has a peculiar block head sculpture at the top of the building m just beside the modern art museum.
Moreover, the Palais Lascaris is a small 17th century Baroque palace with frescoed ceilings, tapestries & antique musical instruments. You are good for under an hour here. Also, the Musée des Beaux-Arts de Nice (10-6pm beachside) on the west-end of the beachside is a fine-art museum in 19th-century mansion with paintings by van Loo & Monet, plus sculptures by Rodin. Optional museums to visit includes the Théâtre de la photographie et de l'image.
All in all, Nice France is a relaxing beach resort city with a good blend of beach, shopping, nature and history. It is a well-connected modern city worth checking out on your trip along the French Riviera. Next up, lets check out the regional Antibes or the streets of Monte Carlo Monaco next?