Krakow, Poland is a city of history, culture and is one of the oldest cities in Poland. Let's visit the city of Krakow in Poland. Sitting second-largest in size to Warsaw, Krakow is home to a population of about 800 thousand and was the official capital of Poland until 1596, where it is handed over to Warsaw.
Speaking of Warsaw, both cities are well connected via high speed rail (Balice express) allowing you to visiting both Krakow and Warsaw with ease. Also, getting around City of Krakow by bus and tram lines is one of the best and cheapest ways to get around the city. These buses not only serve the city center but the outskirts attractions as well as the Krakow airport.
Additionally, unlike Warsaw, Krakow was fortunate to escaped much of the destruction endured by Poland during the Second World war and Uprising, especially that in Warsaw city. Hence, you are able to find many old historical buildings still residing in the city.
Historical district in Krakow City
360 degree Panorama of Kraków Old town square
Furthermore, a central point in Krakow is Krakow's Historic Centre (Ulica Florianska). It is a central spot home to the city's Main Market Square (Rynek Glowny). You can find carnivals, events, horse carriages and markets here.
Also, the old town is surrounded by a small border of green spaces and parks which separates the old town from the new.
Old town Night Markets and Churches
360 degree panorama of west-end of Old town
Additionally, notable historical buildings include the Museum of Krakow, as well as a collection of at least 10 churches you can visit. Also, this includes St Mark the Evangelist, St. Thomas the Apostle, St Anne, St Andrews church, as well as the St. Florian's Gate (Brama Florianska).
Also, sitting prominently in the square is St. Mary's Basilica, also known as the Church of the Virgin Mary (Kosciol Mariacki). The 80m tall 14th century church has it roots since the 13th century and is a symbol of Polish Gothic architecture.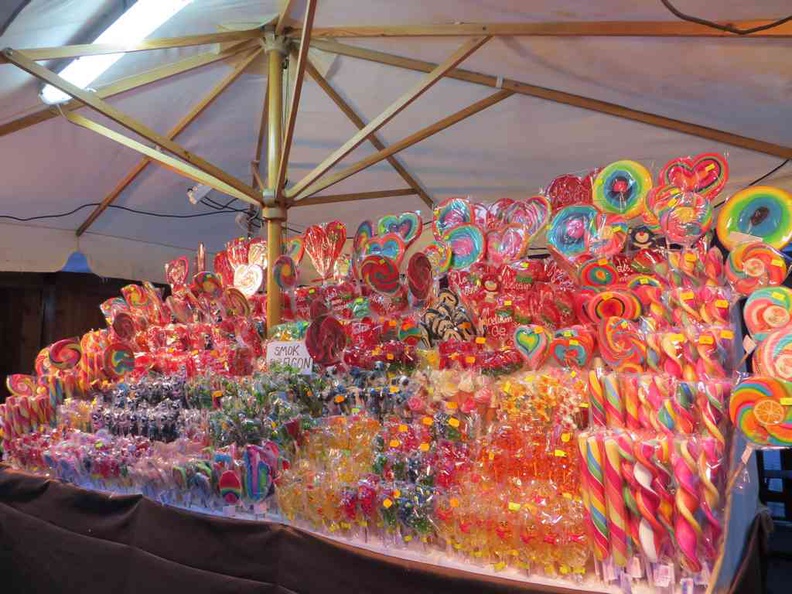 Kraków Cloth Hall
Moreover, a prominent indoor market is the Kraków Cloth Hall. You can find rows and rows of shops here hawking goods from flowers, food, snacks, toys, hand-crafted chess pieces.
360 Panorama of Krakow City Cloth Hall
Additionally, since 1978, the Kraków Cloth Hall has been listed as a UNESCO World Heritage Site. Also, the market compliments the outdoors one outside on a market square.
If you desire something more modern, there are also a couple of modern shopping centers you can spend your time in the city center. Not too far from the market square is the Kazimiera district and Jewish district which I would touch on later. It is trendy, creative Jewish quarter, home to a jumble of indie galleries, quirky shops, and vintage clothing stores.
Also, the Juliusz Słowacki Theatre is a place of the arts. It is a 19th-century Eclectic theatre-opera house on the north edge of the old town by a park. It was built in 1893 and a UNESCO World Heritage Site too.
Also, Krakow has a nice chill river side walk with several Bridges flowing along River Vistula. Minor sights here includes the Church of St. Andrew (Kosciol Swietogo Andrzeja). Museums here includes the Oskar Schindler's Factory, a German who protected Jews in Poland during Nazi occupation. Entry is free entry.
Wawel Royal Castle and palace
Additionally, Krakow city's district of Kazimierz is particularly notable for its many renaissance buildings and picturesque streets. A place worth checking out here is the Wawel palace, the first UNESCO World Heritage Site in the world.
Also, it is adjacent to the City square. Going into the castle invokes a hill climb given the castle's location on high ground. You pass by several bastions and tower gates which encloses by a perimeter of service buildings and castle walls.
Wawel palace sits in central Kraków and was the former residence of three dynasties of Polish monarchs. Also, the castle is one of the largest in Poland. Being refurbished over the centuries, it represents nearly all European architectural styles of medieval, renaissance and baroque periods.
A 13th century castle
Moreover, the Wawel Royal Castle was first built during the 13th and 14th centuries as a royal residency for the Polish king, built at the behest of King Casimir III the Great. The castle consists of a number of structures from different periods added over time. Moreover, the palace Italian-styled main courtyard is an example of Renaissance and Baroque period (16th and 17th centuries) architectures.
Panorama of Wavel Castle Sigismund tiered arcades
Also, I found the tiered arcades of Sigismund I in the Italian Renaissance courtyard more school-like than palace. Still, within are several elaborate state rooms and royal residences which were introduced as part of the rebuild of the royal residence from 1507.
Furthermore, the Royal Chambers is home to the Wawel Treasury and Armoury. Also featured here are Polish royal memorabilia, jewels, applied art (Polish and European paintings), period furniture, a major collection of 16th-century monumental Flemish tapestries. and arms dating as far back to the 15th century.
Today, the Wawel is both a place of national pilgrimage and a popular tourist destination with a treasury and armoury you can visit. Also, Wawel palace is also home to the National Art Collection, The castle interior grounds has two Chapels (St George and St Michael) chapel as well as the main Wawel Cathedral.
Krakow City Old town Jewish district
360 degree Panorama of the Corpus Christi Basilica
Furthermore, Krakow's Kazimierz is home to a large resident Jewish District. Here, you can soak in the chill atmosphere of this unique little town. Szeroka Street here is home to several synagogues including the 16th-century Old Synagogue.
Moreover, do visit the Temple Synagogue here. It was built in 1960 to 1962 by the Association of Progressive Jews as an enlightenment temple. In a nutshell, a synagogue is a Jewish house of worship.
360 degree panorama of Remuh Synagogue in Jewish district
Also, The term "synagogue" is also occasionally used to describe a Samaritan house of worship. You might also know it as alternate names such as a Shul or simply, a temple. One such temple you can visit for a fee is the Remuh Synagogue.
Nice red and gold trims decorates the various temple interiors. Notably, Temple Synagogue was improved through the years on 1868, 1983 and 1924 with much of the original structure still around. Services in Polish and German, it was use as a horse stable during the Nazi occupation.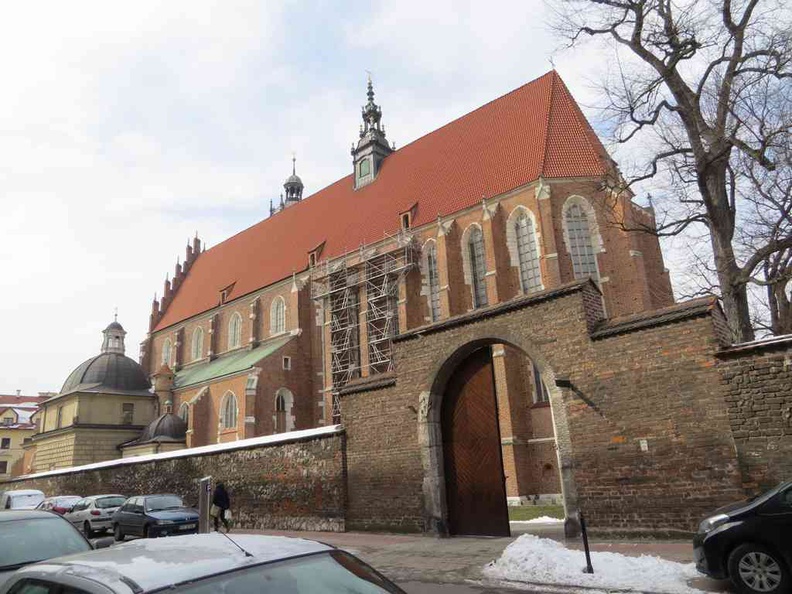 Also, a prominent place of worship here is the Corpus Christi Basilica. You can visit its interior free of charge when there are no services. Also, it is nicely has a nicely decorated interior coupled with stainless glass windows.
Historical Museum of Krakow City
Moreover, if you wish to learn more of the history of Krakow, the Historical Museum of the City of Kraków is one to visit.
Also, the museum comprises of 14 multiple museums or divisions scattered around the city. Its main branch is at the old town while supporting branches can be found at the Old Synagogue and the Schindler's Factory for instance.
In addition, you can also find bars that range from hip cocktail dens to shabby chic spaces in the old town. It is good for a night out bar and chill.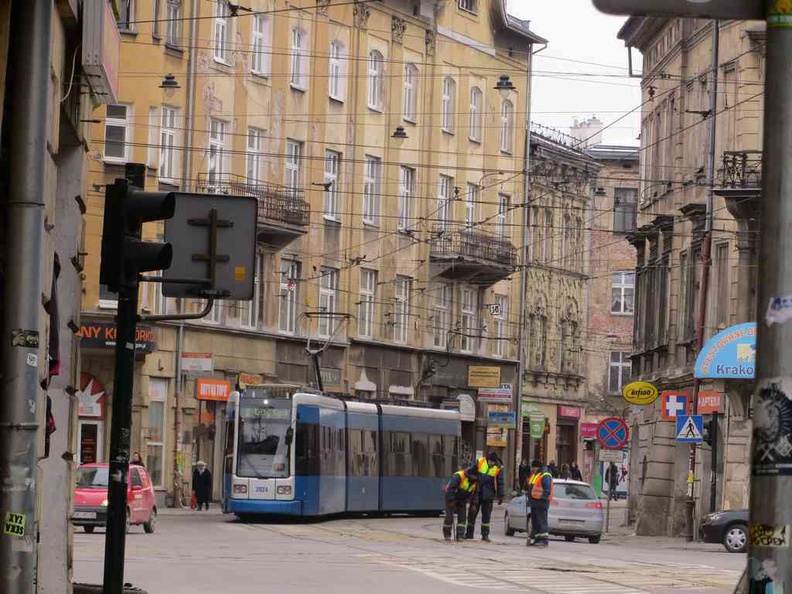 Moreover, I would recommend dining-in one of the many Jewish restaurants here in Kazimierz. The restaurant owners and staff are very friendly.
They typically serve authentic Jewish cuisines as well as Polish staples which I shall touch on later with some recommendations to try. Also, the restaurants have a very homely feel and normally decorated with many photos like a home.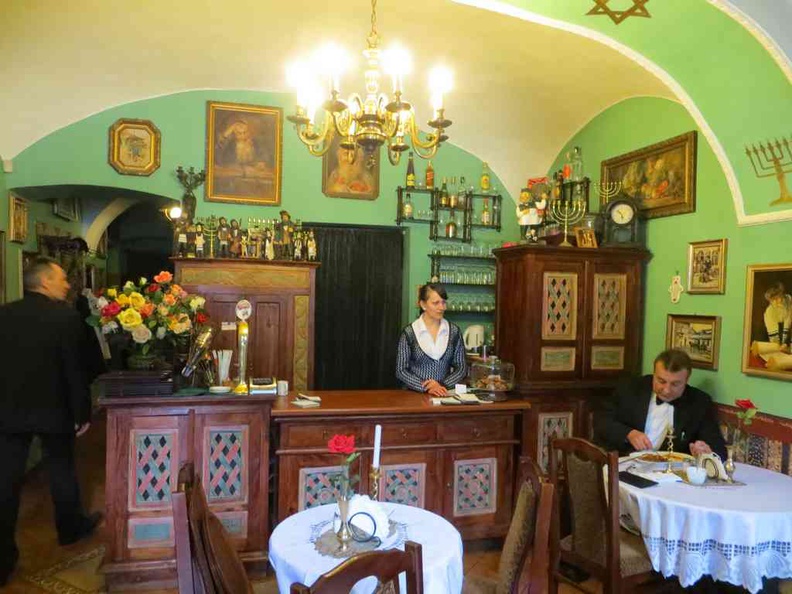 Also, notably during WW2, the Jewish population of the city was forced into a walled zone known as the Kraków Ghetto. From here, they were sent to Nazi extermination camps such as the nearby Auschwitz concentration camp. You can visit Auschwitz the as a day trip from Krakow to learn about its grim and shocking history.
Polish food cuisines to try in Krakow City
Wrapping up, no trip to Poland is complete (or any overseas city for that matter) without having at a go at their local cuisines. Traditional cuisines which is a must try for any visit to Poland.
For starters, I would recommend the Barszcz-Beetroot soup. It is nice warm soup great for winter, served as a clear soup or as with beet root chunks, the soup itself is largely sweet. Also, alternatives includes żurek, a sour rye soup or rosół, a traditional Polish meat broth similar to Barszcz. Their Bigos is a very traditional European meat stew of cabbage and meat similar what my host served when I was up in Norway Mushing huskies.
On mains, do try the Polish pork breaded cutlet (kotlet schabowy). You can find them as a staple in most Polish restaurants. On sides, do have a go at Pierogi, a Polish dumpling dish. Also, it is not uncommon to see restaurants serving over 9 different variants of this rather popular Polish dumpling staple. Pierogi can also be eaten as a main course dish.
Lastly, if large meaty sausages are your fancy, the kiełbasa (big polish sausages) is a must try. They are usually made out of chicken or lamb and consumed as a side. Also, you can also find these sausages usually served at open air markets as whole long sausages or as chopped up and served with bread. They are also priced rather affordably. Also, if you were to visit their shops and supermarkets, finding over 99% proof vodka is mainstream here.
All in all, Krakow City Poland is a pleasant Polish city to visiting the country mainly for the historical value buildings and friendly people who reside there. Particularly the palace, Kazimierz and the Jewish District. One of the more chill and friendly cities in Europe.