A metro is probably one of the last places you can think of when thinking or art. Interestingly, in Stockholm, Sweden, their city metro is tad a work of art in its own right. In a nutshell, Stockholm's high speed rail are largely above ground, the with city's internal metro being largely underground.
Notably, over 90 of the 100 subway stations here in the Stockholm metro have been decorated with sculptures, mosaics, paintings, installations, engravings, and reliefs. Also, here are a few key notable stations to marvel yourself in Stockholm Metro Art.
Some parts of the Stockholm metro runs overground, but mainly of water bodies and bridges like the one near Gamla Stan where the Nobel Museum resides. In addition, the European high-speed rail here, in contrast, runs mostly overground too.
Also, the metro connects mainly via Stockholm central railway station. It also serves as the city main travel artery which is connected to major European cities via this high speed rail network. For today, we be focusing only on the city's internal metro, where our point of interest lies.
Solna Centrum and Rådhuset red
Additionally, Solna Centrum Station situated on the metro blue line has a distinctive reddish hue on its concrete-blasted ceilings. The view is spectacular and tad unreal.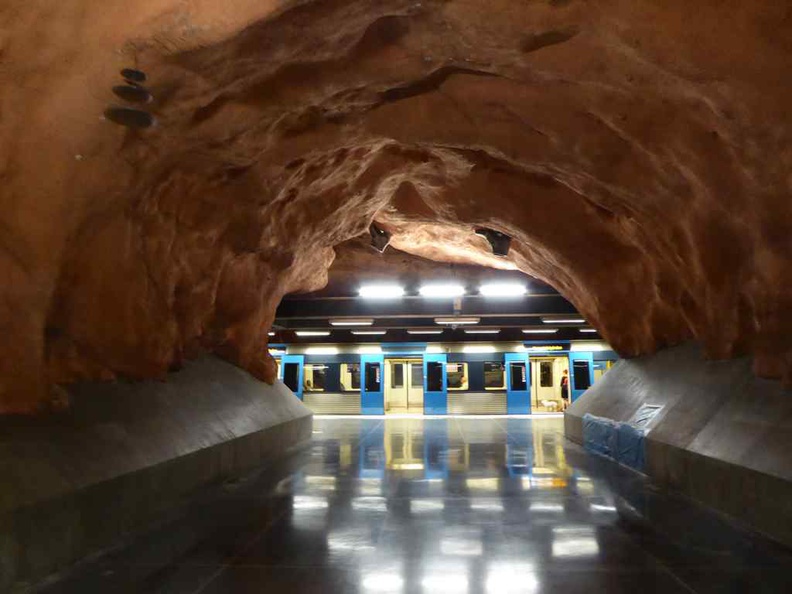 Also, it gives the station an underground bunker sort of feel, but with tad a modern touch. It is not looking like your typical urban subway underground platform.
Also, the red ceilings runs from the platforms leading into the escalators. Notably, this red colour theme is also similar to the Rådhuset Station which has a lighter shade of red.
Moreover, the T-Centralen Station spots a nicely patterned blue, with blue and white patterns intricately painted on the metro walkway and ceilings. It is one of the few detailed offerings of Stockholm Metro Art.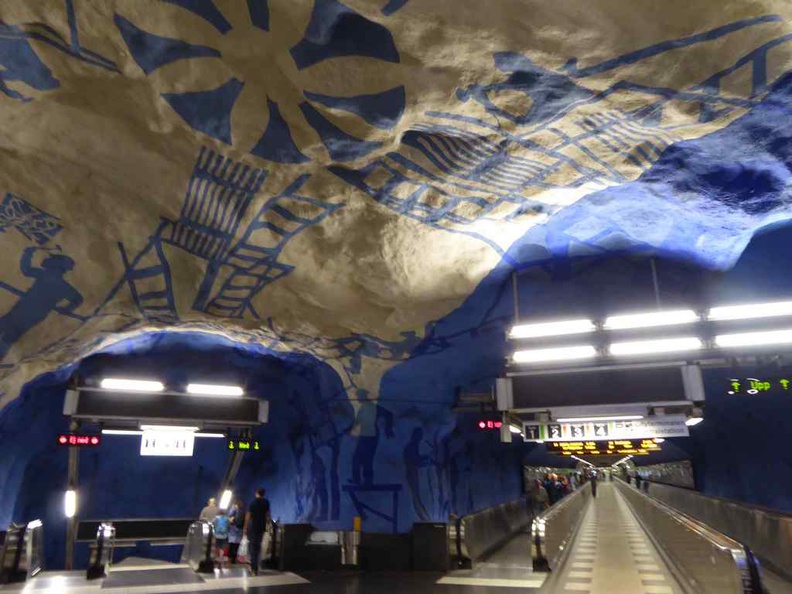 Interestingly, never before had I seen metro stations offering great industrial photographic shots worth visiting just for the station itself.
The industrial-looking escalators cladded in stainless steel, plus the reflections of the lights on the stone roof does give the station a modern and industrial look-and-feel.
Kungsträdgården an archaeological theme
Furthermore, another massive station worth checking out is Kungsträdgården subway station along the blue line. It looks like an archaeological excavation, with the remains of the old Stockholm Makalös palace.
Also, Kungsträdgården Station green and red "Christmassy" theme carries onto the train platforms. It is in stark contrast to the blue line blue coloured trains.
Also, the station spots a garden Egyptian and pop-culture themes which does feels eccentrically out of place. This includes peculiar glass display housing random models and paintings, often most of them unlit, making it hard to discern the contents of the display.
Also, the station also has several water features including a small waterfall and stream which a pedestrian walkway crosses over.
Moreover, sitting at 110 kilometers long, the Stockholm subway system is said to be the world's longest art exhibit. It adds a new degree of fun quirkiness when traveling by subway here in the city. Come to think about it, it's like traveling through an exciting story that extends from the artistic pioneers of the 1950s to the contemporary art experiments of today.
Stockholm Metro Art- Stations of colour
Other notable stations pushing initiatives includes Östermalmstorg station. It highlights women's rights and peace and environmental issues, brought to you by the artist Siri Derkert. Also, Stadion Station has a rainbow archway which adds a dash of jubilance running from the platform central walkways to the escalator exits.
Moreover, the good thing is that you can explore all these iconic stations on a short stretch of the Stockholm underground subway. Notably, Stockholm metro physical geographical span is not as expansive as big as cities like New York or the London Underground tube.
However, Stockholm as a large number of stations in the range of 100 station, and a pretty hefty mix of stops and lines that criss-cross the city.
Interestingly, the metro works here had been contributed by over 150 artists. And has a more contemporary look as opposed to the more societal-focused Moscow subway decorations in Russia.
All in all, if you really have the time to spare, exploring the Art of Stockholm Metro is one of the few fund and quirky things to do in Stockholm, Sweden. The subway operates from 5am to 1am daily, allowing you to explore it at your own time after your entire day of sightseeing.