Let's take a dine in today at Birdfolks restaurant in West coast. The café restaurant is located in the NEWest Mall in West Coast, known for their Signature fried chicken. It is a small rustic private development mall in a residential estate with outdoor F&B outlets, and small shops sitting alongside the AYE expressway.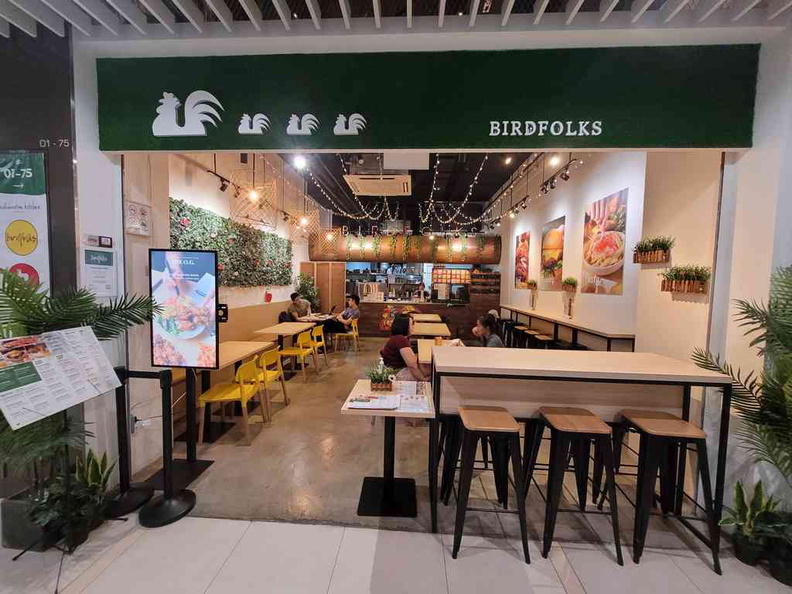 Furthermore, you place your order and pay at the kitchen counter at the far end of the shop before being served. Seating is free in the air-conditioned store.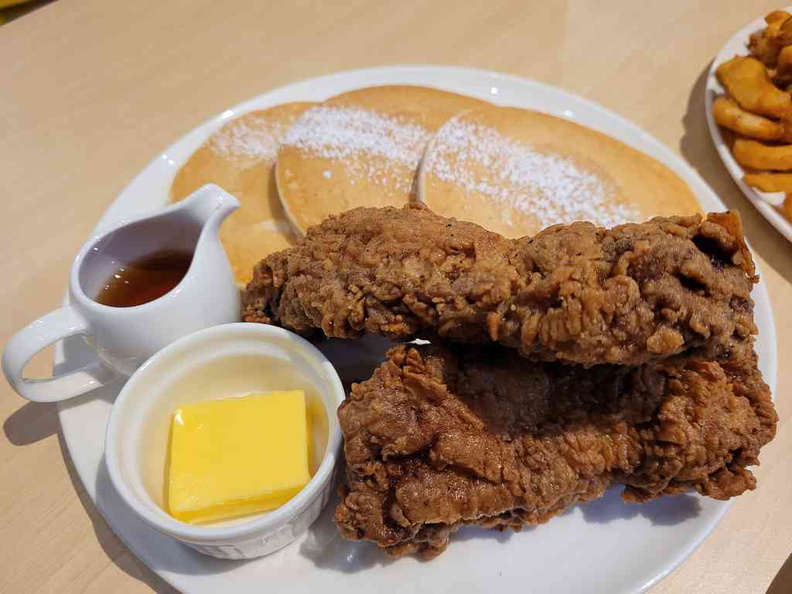 Signature fried chicken
At its heart, their signature item, as the name of the store suggests is their specialisation in fried chicken. Moreover, Birdfolks restaurant menu revolve about permutations of their trademarked fired chicken.
Though they do offer a regular western grill and rice dishes too for variety. Examples include their Gourmet Burgers such as Cheeseburger ($17) and western grille like Chicken chop ($14.50) served with a choice of 2 sides, such as fries.
Also, this fried chicken specialty can be seen resonated in their variety of staple dishes. Examples includes their fried chicken cutlet dish, with an option to have it served with pancakes, making for a pretty hearty brunch. There is also the obligatory offerings of burgers including their Mentaiko fried Chicken burger ($17).
Furthermore, if you are hungry, I would recommend their fried chicken with pancakes. It does ring a bell to their fried chicken offerings from yard bird at marina Bay sand, albeit more wallet-friendly priced under $20. It can be rather filling.
Moreover, their fried chicken is great. It is deep fried and crispy on the outside, yet tender and juicy within. This is hot proper fried chicken should be without being too dry.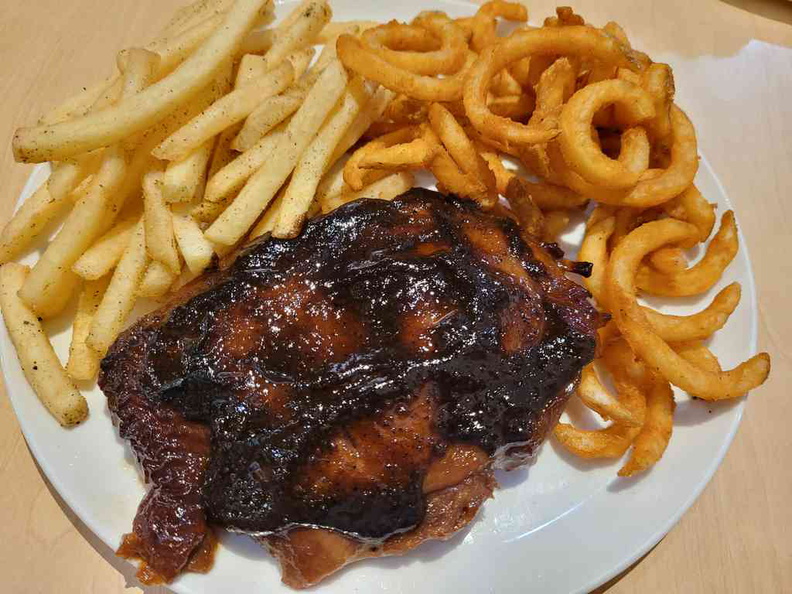 Additional side options to go with your meal includes fries, curly fries, tater tots, corn, garlic rice, sushi rice or salad greens. I would recommend the curly fries. It is crispy and has a different take on regular fries, something we saw first popularized with A&W many years back.
A quiet rustic store
The store is located within the interior of the mall itself, which makes it hard to find considering most F&B outlets are located outside the mall. It has seating spread over 10 tables with a mix of tabled and booth seating.
Still Birdfolks price range is reasonable for the offerings, though priced slightly higher than typical mom-and-pop shops where low-priced value is also one of their selling points. Having said that, a typical meal here will set you back at least $12 to $14 a pop. This is priced just above the offerings in larger chain shops like those by Astons Specialties and Collins Bento and Grill, and sits in the same price range of other western grille competitors such as Purple Panda at Somerset 111, and White kitchen we previously checked out, but offers a larger menu selection in a better accessible location in town.
All in all, that wraps up the offerings here at Birdfolks fried chicken at NEWest Mall. A pretty remote yet cosy offering of a mix of western grill and Japanese meal sets with a reasonable price to beat. Not too bad, and worth trying if fried chicken is your thing.
Verdict:
Must Go! | Actually pretty Good | Worth Trying | Shortlist Optionally | Should Avoid
Birdfolks NEWest Mall Locality Map
Birdfolks Fried chicken, NEWest Mall
1 West Coast Dr, #01-75,
Singapore 128020
Opening Hours: 11am- 9pm
Closed on Mondays