Let's check out scenic Switzerland with a drive through the Swiss alps, views up a Swiss mountain Pilatus and farm countryside, visit the city of Lucerne with some yodeling with Swiss locals. Let's explore!
Up Mt Pilatus, highest Tomlishorn
Pilatus, also often referred to as Mount Pilatus, is a mountain massif overlooking Lucerne in Central Switzerland. It sits at an elevation of 2,128 meters above sea level, comprising of several peaks, and is the highest in the Tomlishorn region.
180 degree Mount Pilatus scenic Panorama
Furthermore, there are two ways to get up the mountain, first by a classic mountain railway and secondly via a cable car. It is advised to use either to get up and down. I took the mountain railway for my Pilatus upward journey.
Additionally, the railway runs through the mountain passes and a series of ridges and tunnels, snaking up the mountain side. Interestingly, due to the constant upward incline, the car, station and carriages have their seats rotated level to create a comfortable and level climbing experience.
Also, up here at the top, you can also find the cable car ropeway station situated not too far off from the top visitor center area too.
180 degree Mount Pilatus Panorama distant lakes
Views up on Mountain Pilatus
Moreover, at the summit, there is an open observation deck, and a visitor center building housing a restaurant and cafe. Here, at every spot, you are treated to vast panoramic views of the Swiss mountain side and the flat lands beyond.
Interestingly, it does look tad a Ricola cough drop and breath mints advertisement, as popularised through their TV ads featuring the Swiss alps. There are some locals who brought their own Alphorns here for a play, interesting.
Furthermore, the visitor center has large spacious courtyards great for events. Also, a climb up an adjacent high point brings you up to one of the few vantage viewing spots. These points are also home to radar communication towers. Also, it is not uncommon to see random radar towers in the mountains, probably for defense purposes. The Swiss are known to have subterranean army and airfields hidden within mountains.
If you are up for it, there is a mountain trial which runs along the cliff-side of the mountain. Also, if you are lucky you can spot a couple of mountain wildlife, birds and mountain goats seemingly defying gravity on the mountain side.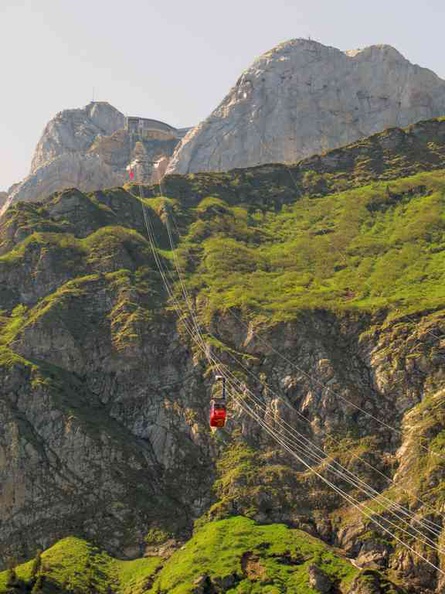 Up here, there are two cable cars lines serving the mountain. One with a large bus-sized car taking you from the mountain high point to an intermediate lower mountain green area.
Also, this mid-spot is notably home to a picnic and adventure camp area. There is a smaller connecting cable car here connecting you to the ground level.
Swiss Farm tours
Wrapping up my countryside tours is a working Swiss farm visit. My visit was hosted by a local family farm which rears cows for milk and cheese. My trip begins with a welcome and horse carriage ride around the Swiss country side.
Here, you are greeted with lush green fields surrounded by rolling mountains. Thereafter I got to do a farm tasting of fresh home-made cheese and do a farm and barn tour courtesy of a Swiss farmer family. It is nice that farming is still a big thing, even for developed countries like Switzerland.
Swiss Mountain Roads into Lucerne
Next stop on is the city of Lucerne. Home to a population of about 80 thousand, it is a small compact city surrounded amid by snow-capped mountains on Lake Lucerne.
Moreover, when driving into the city to Lake Lucerne, the mountain views follows through the scenic St. Gotthard route with spectacular countryside. Highway tunnel roads a common sight here in mountainous Switzerland, it is not uncommon to cut right through impassable mountains here.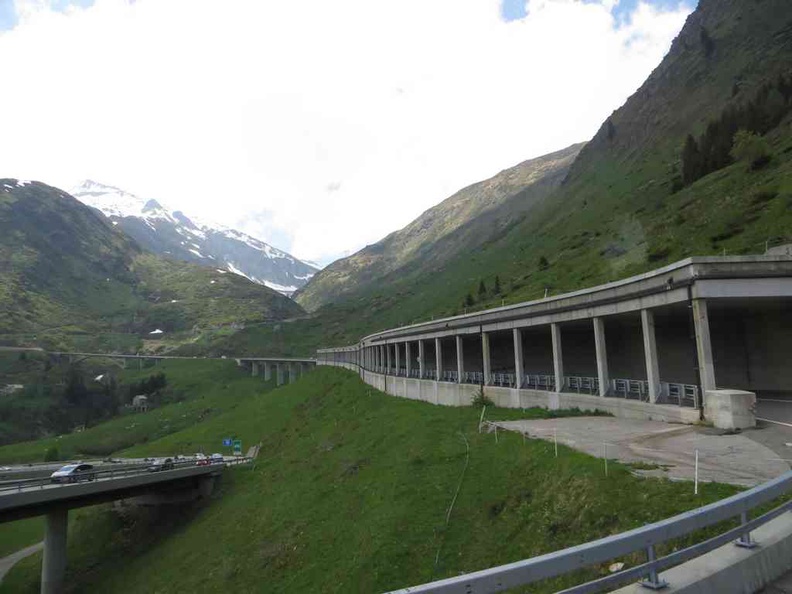 Also, Lucerne is not far and drivable from major European cities, such as Milan, Innsbruck, Austria and Munich, Germany (about 200km away). Here, you pass through, in typical Swiss fashion a variety of meandering mountain passes, tunnels and bridges along the Swiss border. These road arteries connects the various mountains along the Swiss mountain passes.
In addition, besides the breath taking scenic views, you can also find snow and ice up here, even in the heat of the Summer months. The temperature here is T-shirt cool, but strange to see snow still not melted up here.
Lucerne Switzerland Kapellbrücke (Chapel) bridge
Furthermore, a highlight here in the city of Lucerne is the Kapellbrücke bridge and is a centre piece of the city. Also known as the Chapel Bridge, named after the nearby St. Peter's Chapel and is the oldest surviving truss bridge, and wooden covered-bridge in Europe.
Also, the ancient wooden covered footbridge was built in 1333 and spans diagonally over the River Reuss. Beside providing a great photo opportunity, it also serves to span two parts of the city, linking the Aldstadt to the Reuss River's right bank.
Lake Lucerne Switzerland and Kapellbrücke Panorama
Moreover, walking on the Kapellbrücke bridge itself you would notice the roof trusses contains a number of interior paintings. These dates back to the 17th century. However, these paintings were mostly restored from the originals, which were destroyed in a 1993 fire.
Additionally, the lake area is also where other notable landmarks such as the St Peter chapel and the city Central railway station reside. There are many resident swans here on the lake too. Moreover, Lucerne itself albeit a chill place is a rather expensive place to live in. The old town is one of activity in the city, where you can find most of the commerce and eateries here too.
Additionally, in Switzerland known for its well-preserved medieval architecture. You can take your time (a couple of hours) to visit the city old town (Altstadt). It sits surrounded by the 14-century Museggmauer (Musegg Wall) rampart. Altstadt is amongst the prettiest old towns in Switzerland.
However, things are expensive here. Meals cost upwards of $50 per meal and interestingly, even entry to the central railway station toilets costs 2 CHF (about S$3) per entry use. The main shopping street here is also a spot to purchase uniquely Swiss merchandise. Examples includes cuckoo clocks, Rolex watches, SIGG Swiss bottles and Wenger Swiss army knives just to name a few.
Lion Monument
Furthermore, a key landmark here is the Lion Monument stone statue located in a park. The rock relief is known as the Lion of Lucerne. It is dedicated to the loyalty and bravery of the Swiss Guards  (Helvetiorum Fidei ac Virtuti) who were massacred in 1792 during the French Revolution.
Completed on 1821, the statue portrayed a dying lion impaled by a spear. Part of a spear can be seen embedded into its torso. The 10 by 6 meter monument, designed by Bertel Thorvaldsen and hewn, from 1820 to 1821, and was carved into the cliff face by Lukas Ahorn.
You can wrap up your city visit with a short river cruise on the river Lucerne itself. The enclosed lake itself is relatively calm and is popular with holiday goers, especially for sailing and yachting. You can find several river side establishments and hotels based along its shores too.
Dine in Swiss folklore
Moreover, one of the quickest way to get acquainted is to attend a typically "classical" Swiss dinner. I got to visit Stadtkeller Swiss folklore restaurant in Lucerne Switzerland. A typical dinner meal consist of a 5-course Swiss menu with veal, rosti, wine and beer. It is quite a rich and filling meal.
Also, it is tad like a beer tavern similar to the Hofbrauhaus tavern we previously visited in Munich. Everything here upbeat, from the long table seating great for large groups to live stage performances of music.
You also get folklore performances and try it out sessions with patrons, conga line to entertain you throughout the evening. You can even have a go a Swiss yodelling or blowing a Swiss mountain horn. Cheese, wine and beer seems to be available without much limits too, or at best how much you can consume for the night.
All in all, whether it is exploring Lucerne city, monuments, going up Swiss mountains (Pilatus), sailing the lake Lucerne, visiting a farm and dining like a Swiss, there is definitely one of a unique experiences this part of Switzerland can provide.