The Moscow Museum of Soviet Arcade Machines is one of the few quirky historical attractions worth visiting in downtown Moscow if you are into video games and have a couple of hours to spare. Opened on April 2007, the attraction museum is a private historical interactive museum. Additionally, the establishment offers a collection of arcade machines that were produced in the USSR from the mid-1970s.
Location-wise, the museum is tucked in the Kuznetsky Most district. It sits along a street surrounded by an upmarket shopping boutique area. Moreover, the museum is accessible via the city's well connected underground subway system. It is a short walk from Kuznetsky Most station through an up-market shopping and food district.
Notably, the museum was built from a private collection of 60 game machines. Several of these machines been being restored and working, despite many being almost 50 years old. Also, the museum pride themselves to have over forty functional games to play at any given moment.
Two level retro land
Behind entrance two large glass doors is a hipster cafe with counter staff who also sells tickets to the museum. The museum takes up the width of two store fronts and spans over two floors. It does look like a regular shopfront so you could easily be mistaken it for a regular boutique along the shopping alley.
Admission price costs 450 Rubles per patron. A paper guide in a language of your choosing and a matchbox full of old 15-kopeck coins are given to you. You also get access to the museum chill out cafe on the ground floor.
Moreover, these old coins are not in modern circulation since the early 90s. It was made during an era which the machines here only accept (During the USSR). Notably, they are enough coins in the matchbox to last you through a play on all machines.
Furthermore, one 15-kopeck coin is the only way to get the arcade machines started. The ticket price also includes an excursion walk through of the grounds. However, it was not offered to all visiting patrons during my visit.
Anyway you can explore everything at your own time. On the ground floor, you find a row of machines laid all along the wall. Notable game selections includes.
A Russian retro throwback
Moreover, I found most of the machines are rather language-independent. With the exception of one of two machines requiring to follow Russian text, you don't really need to understand Russian or require much instructions to operate them. I guess that is the magic of the university of gaming machines. Just insert coins and play on. Some are just simple driving with race track running along a spinning rotating disk.
The museum is essentially a living running museum, with the exhibits all operating for you to play at any one time. If you see an unused machine, simply pop a coin in and game away.
Moreover, the museum understands that the machines are indeed old, hence feel free to ask for help from the front counter if you have any issues starting or working any of them. The staff is always available to help.
Game selections and Racing!
Games Racing, shooting and sport games. My experience with the Racing games are a mixed bunch, I found one Quirky "Autorally-M" racing machine which is reminiscent of a Tomy Racing Turbo Toy. Also, a favorite of mine is the Marnctpanb highway racing game. It is a game played on massive CRT monitors with ability for two player to compete with two steering wheels on the machine. It is pretty fun to play with friends too.
Moreover, with its simple UI colours, it looks like Space invaders racing edition. The last of the racing games include Bnpadic (Virage), steer a car object around a physical repetitive turntable track avoiding obstacles and cars. Sadly, the game is highly predictable does not have a high replay value.
Whoa are those Vacuum tubes?
As a millennial, most of the machines were made long before I was born. Commendably, with some dating as far into 50s, it is nice that the museum maintains these old machines well. They are even running as well as in their heydays. Notably some machines are so vintage, their score boards pre-dates the invention of LEDs. Here, they are powered by high voltage thermo-ionic valves (Vacuum tubes) in place of transistors-based displays.
So I guess, but hey Video games resonate. Furthermore, the museum recommends you are a perfect candidate to visit the place if you are born before 1985, or had experience playing arcade machines as a kid and wish experience the nostalgia on authentic Soviet-Era games.
Additionally, I found the "Victorina" reflex game a good test of your Russian language, though I failed terribly at the game as the language barrier is hard recognize road signs.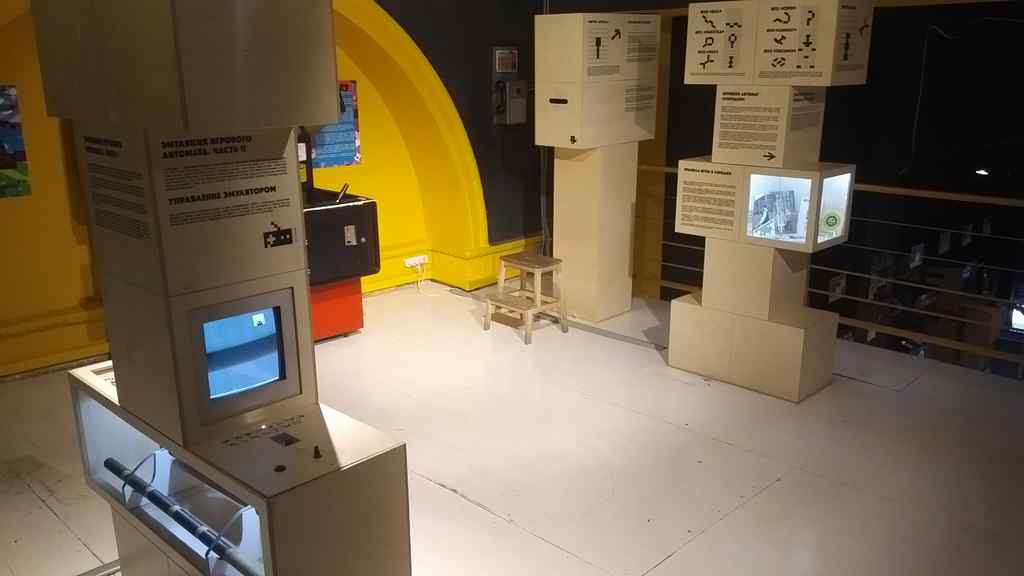 A couple of games are duplicated on the second floor. On the top floor too are a couple of informatics displays and a couple of glass cabinets housing retro calculators. There are also a couple of small TV console gaming kiosks here too, but it is not a popular item.
Shooting and Sport games
There are an assortment of Shooting games, each with their own unique quirky-ness. They feel like an arcade version of the largely popular Nintendo Duck hunt game. However, I felt not all of them are in good shape to take your shot accurately.
Furthermore, you can also find full-sized American pinball machines up here as well. They come complete with a manual spring loaded ball launcher and double level levers.
Moreover, there are couple of kiddy ride machines up here too. Of course these are sized for kids and possibly not large enough for adults.
However, not all games are rather intuitive, and some just are plain crazy and require a degree of skill. I guess when you are just planning on having fun, who really cares if the games are lame or make sense. Go with the flow! After all these machines were built to pass the time even long before cellphones or even the first game console was invented.
Moreover, a couple of games I adore playing most is an air power football arena called Gackemgon. It is a 2 player-only game. Here, you have to activate an air gun to push and shoot a ball into your opponent's net using an array of 15 number buttons. Also, you do have to be quick to relate which right numbered button to press to shoot the ball before your opponent does.
Good for a night out
All in all, you are good for the Museum of Soviet Arcade Machines for about 1-2 hours tops. You are limited by the number of coins you are given in your entry at be given, though you can always buy more. The museum is open daily from 11am-9pm, hence it is a good spot to hang out after a long day of day sightseeing or a shopping break in the Kuznecky Most neighborhood.
Game on!
Museum of Soviet Arcade Games Moscow
Ulitsa Kuznetskiy Most, 12,
Moskva, Russia, 107031
Opens daily from 11am-9pm