Event: Menara Kuala Lumpur KL Tower International Towerthon Challenge 2008
Race date: TBC
Accuracy of Info: As given on 4th Jan 2008
Registration
Register personally at
Upper Ground Floor
Menara Kuala Lumpur Sdn Bhd
No.2 Jalan Punchal off Jalan P.Ramlee
50250 Kuala Lumpur
1 Jan 2009 to 30th Jan 2008
10am to 6pm (Malaysia time)
Alternative mail in registration, downlod the registration form from their website.
And mail to:
The Organizer
KL Tower International Forst Towerthon Challenge 2008
Menra Kuala Lumpur Sdn Bhd
No.2 Jalan Punchal off Jalan P.Ramlee
50250 Kuala Lumpur
Payable in cash/money order/postal order payable to Menara Kuala Lumpur Sdn Bhd.
All registered participants will be issued a receipt is a proof of registration and should be revealed during the collection of running tags.
| | | | |
| --- | --- | --- | --- |
| Category (Individual) | Race Fee | Age (of 31st Dec 08) | Colour |
| A Mens Open | Malaysian citizen & MyKad holder: $20 RM, Foreign Runners: $50 | 18 & Above | Black |
| B Womens Open | Malaysian citizen & MyKad holder: $20 RM, Foreign Runners: $50 | 18 & Above | Red |
| C Men Junior Veteran | Malaysian citizen & MyKad holder: $20 RM, Foreign Runners: $50 | 40-49 | Green |
| D Men Seinor Veteran | Malaysian citizen & MyKad holder: $20 RM, Foreign Runners: $50 | 50-59 | Blue |
| E Womens Veteran | Malaysian citizen & MyKad holder: $20 RM, Foreign Runners: $50 | 60 & Above | Yellow |
| F Boys Junior | Malaysian citizen & MyKad holder: $10 RM, Foreign Runners: $50 | 13-17 | Pink |
| G Girls Junior | Malaysian citizen & MyKad holder: $10 RM, Foreign Runners: $50 | 13-17 | Orange |
| Category (Team of 5) | Race Fee | Age | Colour |
| H Private Sector | $100 RM | NA | Purple |
| I Government Bodies | $100 RM | NA | Brown |
| J Institute of Higher Learning | $100 RM | NA | Grey |
| K Local Authoriy | $100 RM | NA | White |
| L Uniform Body | $100 RM | NA | Bright Blue |
| M NGO's Category | $100 RM | NA | Bright Green |
Route Map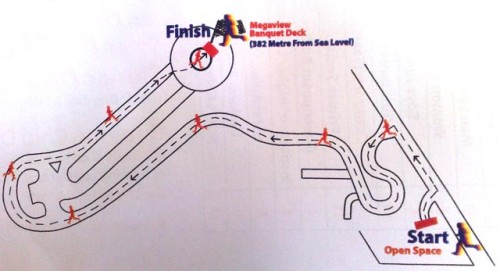 Bib collection
Venue:
Amphitheater Menara Kuala Lumpur
Date: 1st adn 2nd Feb 2008
time: 10am to 5pm
Further Enquries:
Menara KL Sdn Bhd
Tel: 03-20206504/20205448
Fax: 03-30987001/20205389
Website: http://www.menarakl.com.my
Email: safina@www.menarakl.com.my