Squid (Sotong) ball stores are not common to come by in Singapore. Meng Shi Wei number 83 is a store at Telok Blangah Crescent hawker center which been operating here for a couple of years. They are one of the relatively new comers in the food center serving sotong ball noodles. My dine-in experience is a mixed, bag. Let's see what the Telok Blangah Squid Ball noodle store have to offer.
A noodle store at heart
At its core the store sells Teochew style squid balls and mixed soups. You might remember Telok Blangah Crescent hawker center as the one where Song Heng Fish Ball Noodles is on our last visit about 3 years back. Starting on their selections is their fishball noodles. It starts at an affordable $2.50, with the next sized up at $3.00. Quantity is decent, and priced similarly to other good fishball noodle stores right here at the hawker center.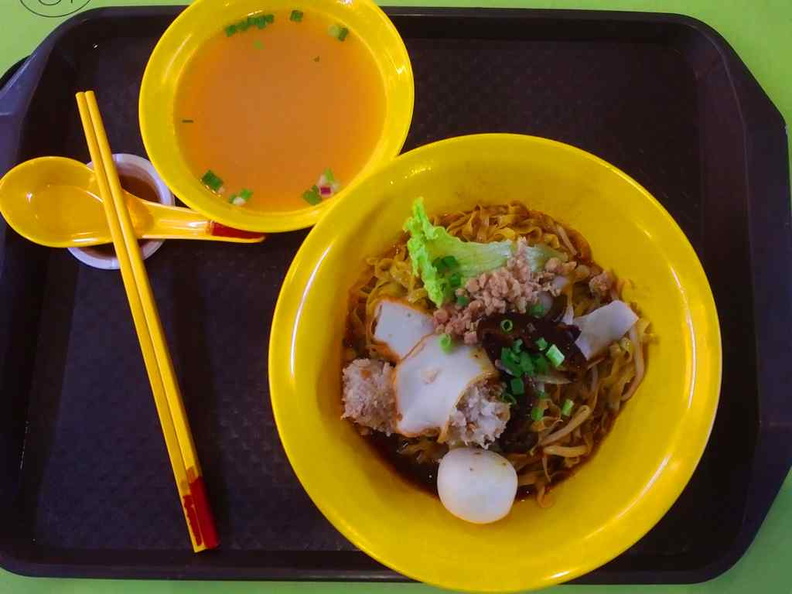 Moreover, next up is their minced-meat Bak chor mee. It is priced at an odd $3.30 for their small dish, with $4.30 being their larger offerings. Also, your dish is served with meat balls and fishballs. They are priced at $4 for rice and $4.80 inclusive with noodles. Also you can choose from a selection of 7 noodles including Bee Tai Mak and Mee Sua as special options. However, it is quite mainstay and not a selling point here.
The dish to go for here is their Sotong ball noodles, it is their unique selling proposition which is what the store is known for. Long queues can be seen snaking out of the store, especially during lunch time. However, I found this is largely attributed to the largely slow service. The store takes an average taking about 5 minutes per customer.
A pricey premium
One of the drawbacks of the store is the price. Noodles starting at $6 is quite unheard of in hawker centers, let be air-conditioned food courts. Sotong ball dishes starts at $6 for a rice set and $7 for noodles. These are served in clear soup with fishcake, fishballs in addition with some vegetable sides. I would recommend a small dish mixed soup at $6.00 if you wish to try the entire works. Otherwise, a more wallet-friendly squid and meatball set starting at $5.00 with rice.
However, their sotong ball dishes are tad on the pricey side, with $6 being the standard starting price. Presumably as Also, larger portions sets you back from $7 for an option with noodles. Strangely, you do pay a premium for noodles over rice. Hence, on average, the price of each sotong ball is $1.10, while meatballs cost 90 cents each.
The benefit of the doubt is that the sotong balls are hand-made and is not too bad. Also, the sotong balls have the texture of meatballs but with a white colour and firmer texture which does not disintegrates as much as meatballs.
All in all, Meng Shi Wei at Telok Blangah Crescent is quite a mixed bunch. The servings and assortment variety is simply adequate, and you do get some quality sotong balls. Usually I would base recommendations for value, taste and price, but the store didn't quite hit all these areas well. But if cost is not an issue with you, I won't call it all out here, then I would recommend you shortlist the store. There are just plenty more other options available at the fraction of the costs.
Verdict:
Must Go! | Actually pretty Good | Worth Trying | Shortlist Optionally | Should Avoid
Meng Shi Wei 83 Teochew Telok Blangah Squid Ball noodle store Locality Map
Unit 01-119
Telok Blangah Crescent Market And Food Centre
Block 11 Telok Blangah Cres,
Singapore 090011
Opening hours: Lunchtime