1.30 dim sum is a late night supper place selling dim sum all day. The establishment is named after the standard rate prices for each of their Dim Sum items. Notably, one other popular eatery we know of flat rates would be the Sushi express we visited previously at $1.50 per plate.
At it's core, $1.30 dim sum is a 24 hour dim sum place with several branches all over Singapore. Today we are going to check out their branch at Ang Mo Kio for a late night supper dine-in.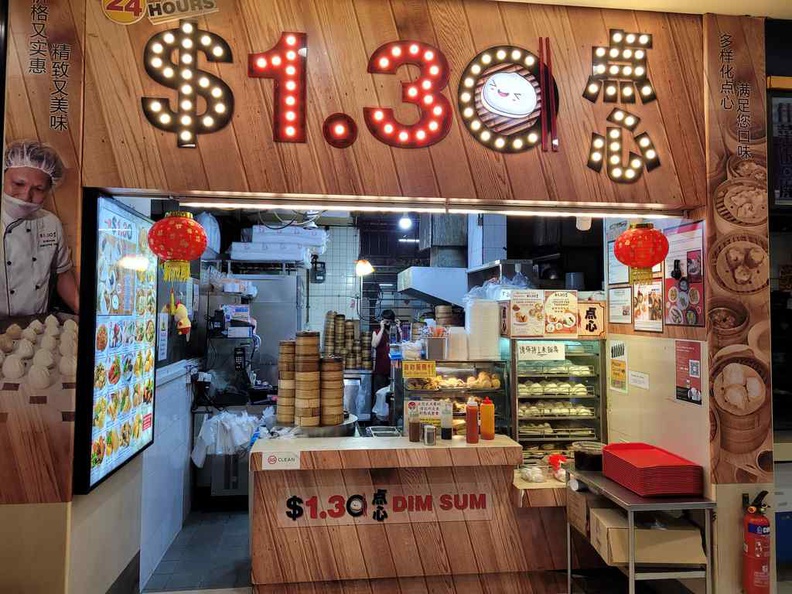 Moreover, starting off on the menu is a selection of pau buns. Also, these white steamed buns are staple of Chinese dim sum.
Try their coffee pao
Notable interesting paus here includes their coffee pao (2 pieces per serving). It has a brown outer surface with a sweet creamy coffee paste filling. On top of this, you get your regular selections of meat baos (big pao), chicken paos and pork paos, on top of red bean favourites.
However, their paos (steamed buns) are best ordered earlier in the day as most of them would be quite soggy by night fall. Additionally, in typical hawker fashion, you pay at the counter after ordering and digital payments such as grab pay are accepted.
Wrapped dumplings goodness
Dumplings are next on the list and one ought to pay more attention to. These are typically wrapped in dough skin, tad like a wanton and steamed in circular bamboo trays. These dim sum are what you should go for. Each tray comes with 3 dim sum items for the flat $1.30 price each, translating to about 40 cents per piece.
Furthermore, next up on their menu is you can't go wrong ordering siew mai with xiao long bao. Also, if you see hungry, filling options includes rice staple such as century egg porridge and steamed glutinous rice (Lo Mai Gai). Otherwise their large pao is a good alternative for the hungry.
In addition, their dumplings are firm, with filling flavorful. Even the wraps are done well and hold their contents without breaking. Also, while you are at it, do try their carrot cake. $1.30 gets you two slices which you can split to feed 4. Also, It is not uncommon to see steady crowds streaming in even after midnight. The place can get pretty buzzing till late and is a good alternate to late-night prata.
All in all, $1.30 Dim Sum offers a rare affordable quality staple which is otherwise something hard to come by these days. The store being open 24 hours is a great plus point, catering to the hungry late-night crowds for their supper fix, coupled with a low price to boot.
Verdict:
Must Go! | Actually pretty Good | Worth Trying | Shortlist Optionally | Should Avoid
$1.30 Dim Sum Locality Map
Ang Mo Kio Ave 10, Block 555,
Singapore 560555
Opening Hours: 24 hours