Let's check out this year's showcase of this year's graduation cohort from the Nanyang Academy of Fine Arts (NAFA). Established in 1938, the Nanyang Academy of Fine Arts is Singapore's pioneer arts education institution at the Bugis Bencoolen area. See explore the various NAFA 2022 grad show galleries.
Furthermore, the grad show features works from NAFA program of design and media, fashion studies, 3D design and fine arts. Also, on display are variety of project pieces from the this graduating year. Notably, you don't get to see much music or theater pieces in the showcase, except for some loop videos on screens.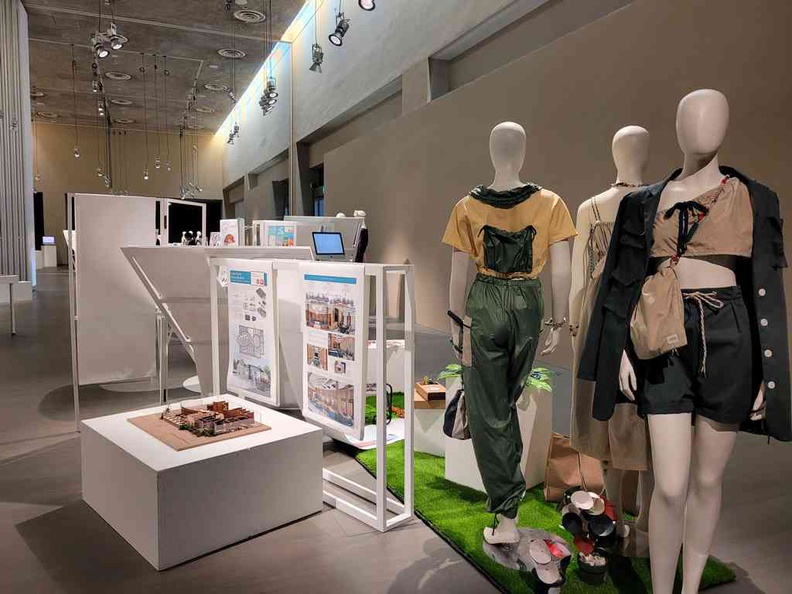 Additionally, the exhibition is spread between their campus 1 and 2 buildings, over three separate locations within the NAFA Bencoolen street campus. Also, if you need directions, you can approach the friendly security counter staff or students on the school benches and they would gladly direct you the way.
An audio-visual showcase
Moreover, the Campus 1 ground floor studio is the largest of the grad display galleries. Called the Ngee Ann Kongsi gallery, the long gallery houses a mix of final year projects without a fixed theme.
Henceforth you can find a mix of fashion items paired with architecture, fine arts, modern art and digital illustrations. Some designs are rather creativity toony with a dose of humor.
Additionally, the vast gallery displays are laid out in a logical and easy to navigate manner in the air-conditioned galleries with displays laid out in an open concept barrier-free.
Notably, most of the architecture exhibits involves about rejuvenation of heart land areas, such as Jalan Kukoh, Old Airport Road and the Queenstown housing estate. Also, the models are also all professionally made using laser-cut fibre board.
Moreover, moving upstairs the school's skylight galleries houses mostly modern art pieces. It spans over two classroom spaces on the upper floor lit by skylights, hence the skylight name. Also, notable items here include a suspended clothing display.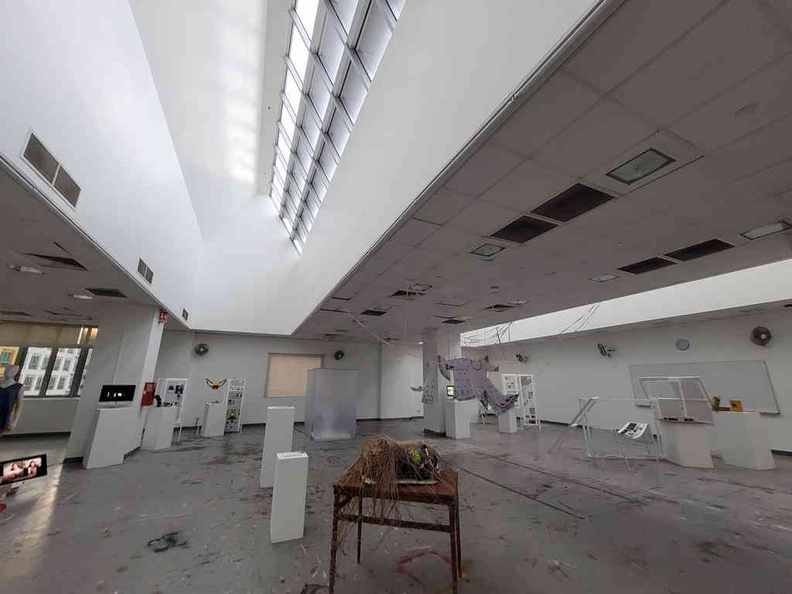 A modern art delight
Furthermore, you can access the upper galleries via an interior elevator serving the building classroom floors. Here, you can also find displays with Lego sets and model dioramas of household scenes like street shops and coffee shops.
Also, projects on displays includes bounded print books and acting sequences recorded on media. There are also a number of murals, more fashion pieces and fine art expressionist displays up here too.
Moreover, there is also a cosy hut with looping Digital media video as part of the modern art showcase. Also, the upper galleries are home to a number of notable and funny modern art sculptures.
A peculiar item of a toilet bowl surrounded by a curtain of "Space place installation" you can also read messages written on the toilet paper and even flush the toilet when done.
A fashion statement
Moreover, the campus 2 gallery houses an assortment of projects with a mixed-media theme. Similarly another ground level studio, it's home to a curated display of various mediums, modern art, print and fashion designs.
Also, being situated in the Fashion gallery, there are obligatory selection of Hand-made clothing fashion shoes and apparel. Examples include sustainable fashion design using renewables and bubble wrap, tad an inspiration book out of punk street fashion.
Additionally, interesting projects of interest includes a card game set such as "The Garden" and "The Slang Gang". Also, the various details of the project are elaborated using scroll-like posters which are draped over chairs frames or hung from vertical stands.
All in all, you are good for all the mixed-media galleries for about an hour tops. And more if you were to watch all the audio-visual clips. The NAFA 2022 grad show runs from 2nd Jun to 20th of next month. Entry is free with the show galleries open till 7pm.