Juzeat coffee shop is a Chinese zi char restaurant serving affordable and Chinese cooked food dishes. The main allure is their Crab signature dishes, which the restaurant claims to be a specialist in. They are located on the ground floor of Alexandra Central mall along Alexandra road.
Chinese restaurant tucked in a remote mall
Moreover, the restaurant don't really have much of a name you can relate it to, I always tend to relate it to as "Juzeat" coffee shop from their logo on their store front. You can recognize it by a large fiberglass giant crab model sitting above their restaurant front main door.
Also, Alexandra Central mall is a mall extension of the Park Royal hotel which the establishment is part of. On a throwback, you might recall the Alexandra mall as a retail establishment housing several other eateries I had visited previously. Namely John's Pizzeria as well as Gogi Korean hotpot up on the third floor of the mall.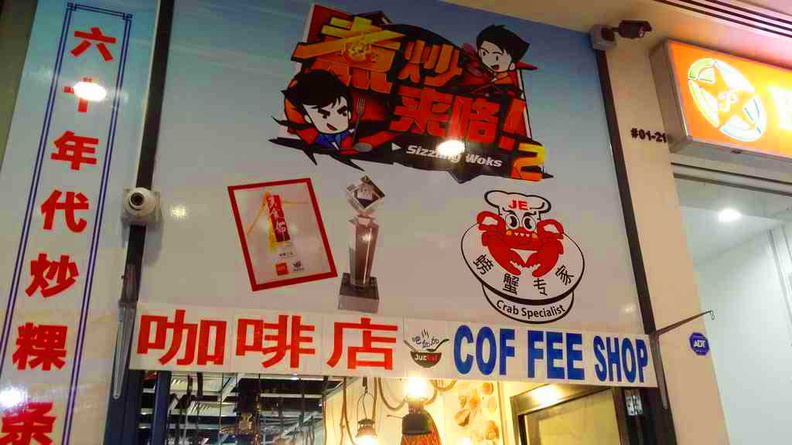 Juzeat itself is a small F&B outlet as part of a row of similar food stores on the ground floor of the mall. The stall (Unit #01-04) offers a combination of indoor and outdoor seating facing Alexandra village along Jalan Bukit Merah road.
Moreover, most of the seating space is located within the air-conditioned ground floor atrium of the mall. There is a mix of large tables which can easily seat groups of 10 with ease, as well as individual single or twin seaters micro tables ideal for a quick meals. The coffee shop occupies pretty much the entire ground floor open lobby area of the relatively-new shopping mall.
Also, the mall was relatively unheard of when it first opened about a year ago last year. Notably, today, the mall atrium is often packed with families and food goers alike. It is especially crowded during evening dinner time.
A place for Crabs
Juzeat prides themselves as an expert in Crab dishes. They serve large Sri-Lankan crabs at a variety of sizes suited to your budget. Also, you have a choice of having your crab cooked in three variety of sauces. Namely, black pepper, salted egg yolk or your default traditional chili crab paste sauce.
Their Chili crabs, a Singaporean staple
Moreover, a recommended dish will be their Chili crab. The base dish starts at $28 for 2 crabs, which is really good value. Also, you can find promotional signs littered around about the restaurant entrance, with a live crab enclosure with multiple $28 stickers stuck on them. You can't miss it.
Often, crabs sell out quickly, so you might be left with choices to upgrade if you so desire. Moreover, you can option to upgrade your dish to the next up $38 option (serves 3-4 diners) which is a heartier meal and can serve 1-2 more diners. You can just specify your budget and the restaurant will size up the crab for you, beats the hassle by having to charge by the weight (or overpriced bill scares).
Having tried both cheaper and larger options, their base $28 crab dishes are just ok. Sauces and cooking style are the same, but an upgrade is well worth as the crabs are meatier and more wholesome. Also, up-sizing your crab is a no-brainer if you have a large group or wish to experience their best offerings.
Additionally, it is strongly recommended to order a plate servings of fried bun (Man tou) which you can use to hand dip into to savor your chili crab sauce. Their crabs have large meaty claws and an eggy interior which will please even the most demanding crab diners.
However, I found their chili crab sauce tad more on the spicy side. It might not appease though who can't stand spicy food. It does get pretty spicy after your 3rd or 4th serving or crab. In this case I recommend indicating upfront when ordering to tone down on the chili, or go for their more manageable pepper or salted egg yolk crab.
The self-service restaurant
You can see the crab and seafood specialist theme resonating through the interior decorations of the outlet. Here, you can find reminiscent of a fishing hub, an extensive seafood style theming within their shop. It comes complete with mock up seafood (and crabs) decorated all along the walls as well as fishing nets.
This sector of the restaurant only serves the ordering of food and where the cashier is. There is minimal seating here. The actual dining areas are located on both outside and inside the Alexandra mall.
Here, you order and pay for your meals at this counter. With the kitchen taking up most of the shop space, what is left here is essentially a narrow walkway.
Moreover, you have a choice of air-conditioned indoor seating within the mall atrium or outdoor seating facing the road along Jalan Bukit Merah. Also, tabled seating are available on request where their staff will tend to you, if they are not overloaded with work.
Notably, the restaurant is run by a hardworking group of Chinese servers. You can often see them whizzing around serving dishes in their carts, but don't expect them to provide any restaurant-style service. Also, do note that staff do not speak English and only Mandarin.
However, unlike a full-fledged Chinese restaurant, Juzeat relies much on self-help if you wish to obtain anything. You can self-help via common cutlery stations additional cutlery and plates out of the ones already set by staff on the table. Same thing as if you wish to have your dirty plates changed. You can all do it yourself. There is no service charge added to the bill.
Additional menu offerings
At its heart and bread and butter, Juzeat is a zi char (zhi char) place. In addition to their signature crab seafood dishes is an assortment of Chinese style restaurant as well as rice meal dishes.
Their rice dishes in particular are popular with the working crowd who wants a fuss-free meal. You have a choice of accompanying meats and vegetables served conveniently on a plate with rice without the need to order multiple mix-and-match dishes.
Options include rice served with chicken, pork or beef with a small serving of vegetables. Moreover, the restaurant also serves Tim Sum, I had not tired those, but it does not look like something the restaurant specialize or is particular known for to provide. The crab prices of the restaurant is what you get out of a typical "Zi char" restaurant. A typical dinner for me with 4 more additional dishes to feed 4 pax (including a fish dish) should set you back roughly $100 to $120 in total.
Catered to small meals too
Moreover, just like any Chinese restaurant you get set menu options on festive periods, like Chinese new year for instance. Also a thing worth noting is Juz Eat also serves small individual meal dishes. Included on the menu are combo sets which are good for small groups or individual diners. Here, you order your meal individually by the dish or as a set menu, like chicken with rice and vegetables.
Furthermore, I am pleased to find that quality and servings of the food is good, above average from your run of mill coffee shop Zi Char, but still not overly spectacular to scream home about.
All in all, JuzEat Coffee Shop at Alexandra Central Mall does not disappoint. Though service may not be best on offer, and you need to know Mandarin to communicate with staff, it is well made up with really good and tasty Chinese cuisine. Their offerings are very good for the price segment, though ~$100 for a typical 3-4 person dinner might still be expensive, it still cheaper to that of mainstream seafood restaurant-expensive.
They sit in a price range synonymous to Premium-economy– For diners who demand more than your typical run of the mill coffee shop zi char but wants to comfort of air-conditioning, but without the high prices of dedicated seafood restaurants (e.g. Jumbo or House of Seafood, etc), with an emphasis on really affordable and value for money great-tasting crabs. Juzeat might just be an eatery of choice.
Verdict:
Must Go! | Worth Trying | Shortlist Optionally | Should Avoid
JuzEat at Alexandra Central Mall Chinese zi char restaurant
Juzeat coffee Shop
321, Alexandra Rd, 159971
Level 1, Unit #01-04
Opens daily: 9am – 10:30pm