Linksys is a household name ambitious with consumer networking devices. Today we shall take a look at the Linksys 5G router. Interestingly, the router has a module name of "FGHSAX1800-AH", let's just formally address it by its more generic moniker you may know simply as the Linksys 5G router. Let's check it out!
Sleek sturdy design
Moreover, the device itself is simple in design. But otherwise, similarly shaped and sized like typical mobile routers you are familiar with, like the popular Huawei 4G routers and dongles. Notably, the Linksys 5G router has a physical footprint tad slightly larger than typical 4G mobile routers when compared side-by-side.
Additionally, out of the box, the router comes included a USB travel charger with an international assortment of plug heads, a USB cable and a set of quick start instructions.
Notably at first impressions, there is a row of simple LEDs on the front of the device. In place, there is no LCD screen on the exterior of the device to show the various device status.
Exterior outlook
The exterior is covered in matte black plastic, it does give the device a nice professional and sleek executive outlook.
The right side of the device sits an internal Nano-sim card slot and tray. It is ejected like the SIM trays in your iPhone and can take only a single sim card (though a dual-SIM could be a welcome). Also, it does not support e-SIM.
Furthermore, the left of the drive sits a single power button and a WPS button. This is the side you be interacting with the device most of time, especially when turning on the device.
The bottom is simple with a single centered USB-C charging port. Also, this USB-C port is not sealed or covered. Still, it is nice Linksys had updated to USB-C with most of the market still on Micro-USB.
The device back contains product and serial number information, as well as a customised unique default Wi-fi password. You can always update or change this when need be. Your device will revert back to these settings if you were to hard reset the device.
Intuitive front LEDs display
Moreover, the router's plain and simple design won't draw too much attention to itself. In fact, it looks more "power bank" than router, which is not necessarily a bad thing. There are five indicator LEDs on the front face flanked by two other LEDs which indicates device status. Lets see what they mean.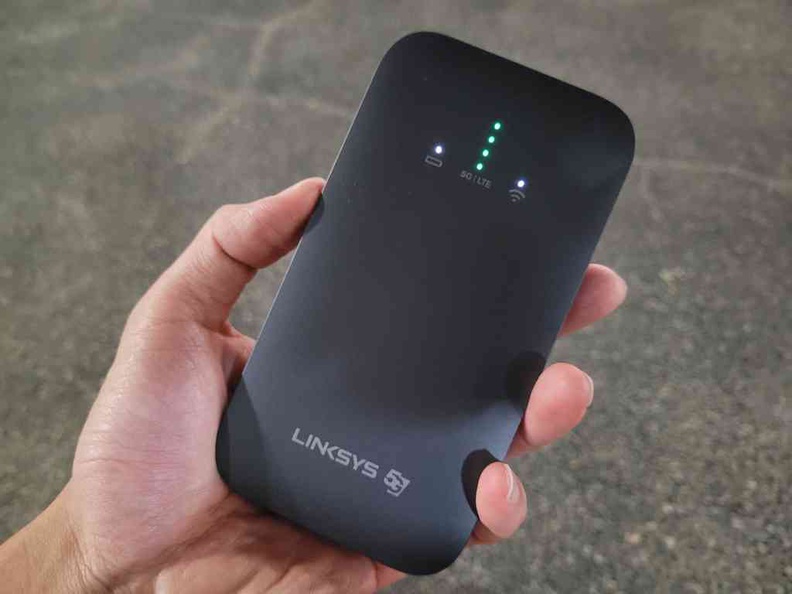 A single left LED indicates battery level, while the right white LED with a fan indicates the Wi-Fi hot spot active status. A steady left white LED dictates a battery charge above 50%, and it flashes white if battery life is 20-50% and flashes amber below 20%.
Additionally, a row of 5 LEDs sits in the center displaying the type and network strength. Solid blue indicates connected 5G with more lit LEDs showing a stronger mobile signal strength. The LEDs are lit green if on 4G LTE networks instead.
Also, I found the LEDs does a good job in relaying device status at the same time reducing to need to have an external staus LCD screen, with benefits of prolonging battery life, which I shall touch on in more detail later.
Web-managing the 5G router
Furthermore, the Linksys 5G router can be managed via its LAN management page by heading to the device's management and gateway default IP address 192.168.1.1. Additionally, it allows you to manage and control more aspects of the router beyond the exterior buttons.
I found the menus simple to understand and follow at first use or reading the manual. Here, you are presented with a sleek intuitive web-interface allowing quick access to the router's main core functionality.
Examples include checking your data usage for the month, session as well as system health statistics like connected network type, number of connected devices and battery life in percent. The sub-menus allow you to implement additional settings such as SIM security to prevent swaps, and some advanced networking like port forwarding, DMZs and NAT.
If you wish to conserve battery life by turning off your wireless radios, the router also offers USB tethering. Also, you can further enhance battery life by turning ON wi-fi sleep allowing your AX Wi-fi to turn off after a specified amount of time when no devices are connected.
Benchmarks and Real world performance
I found the Linksys 5G router does hold up to its promised advertised speeds. It comes equipped with the best radios of what is out there for consumers today, namely 5G mobile connectivity and Wi-fi 6 AX. Wi-Fi 6 speeds are advertised up to 1.8 Gbps (AX1800) and able to connect up to 15 simultaneous devices at a go.
However, the main challenge with the router or most 5G devices in Singapore for that matter is the lack of stable 5G infrastructure. Even in the heart of the city in marina bay, I struggled to get decent 5G speeds to give the 5G router a good run for the money.
Impressive 5G performance
When I do connect to a good 5G signal, impressively in my speed tests, I was able to achieve  good 5G transfer rates of up to 480- 518Mbps with a latency of about 15ms. This is well within realistic 5G speeds in urban areas, albeit in an unlikely location in a HDB heartland estate. Go figure!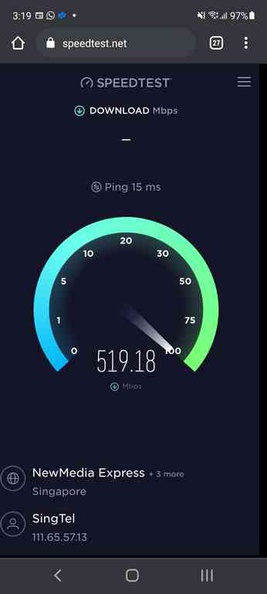 This performance is of course courtesy of the internal Qualcomm snapdragon X55, a 5G mobile-optimised Modem-RF chip. However, the passively-cooled unit does gets considerably warm after prolonged periods of use, but not overly hot to the touch.
Commendably, with 5G speeds able to hit upwards of 1Gbps, I found Linksys decision to equip the router with Wi-fi 6 AX is a perfect compliment to fully ultilise the peak transfer speeds between 5G mobile-to-WLAN without compromise or bottlenecks, all in a tiny package. It tad like a mini Wi-fi 6 router, say, like tiny brother of the Linksys MX4200 home mesh router we checked out previously.
The router is impressive to offer such Wi-fi 6 performance in a small package. However, still, I found the Linksys 5G router a tad bit ahead for its time in the market. Till the 5G infrastructure in Singapore becomes more mature (and more widely available), I be hard pressed to recommend a 5G router over a 4G LTE one, especially if you are not able to fully utilise the available infrastructure. Still, buying a 5G router now is more of a "future proof" decision with the ability to fall back to 4G, but at a cost premium now as an early adopter.
Good-ish battery life
Great speeds won't be necessarily good if you can't use the device for long out in the field. I was able to get about 3 full days of battery life on a 50%-50% mixed use during office hours between 5G and 4G depending on what mobile networks are available. Nonetheless, you'd be fine if you charge the router daily. Sticking on 4G LTE networks only extends the life considerably by about a 1 day-ish. Furthermore, the router will connect to 4G towers as a fall-back and will automatically try to constantly search and connect to 5G towers if it detects one.
This battery performance is not a bad offering, considering that most 5G-conneted phones today can hardly last for an entire day of use. Additionally, the 5G router battery is an internal sealed non-removable battery. Charging is done via USB-C through a port at the bottom.
Interestingly, though the Linksys 5G router is consciously shaped like a power bank. The device itself is not advertised to be a power delivery device, or a power bank. But I found that the router was able to charge low-powered devices if you were to link them up with a USB-C to USB-C adapter cable. On the contrary, plugging in higher powered drive, like a phone charges the Linksys 5G router instead.
Performance at a premium
Priced at $799.00 retail, the Linksys 5G router is definitely not cheap. It is available in all good retail stores. Notably, it costs at least twice the price of an equivalent 4G LTE hotpot device offered by the competition, such as those by TP-link and Huawei. Do note this excludes the cost of your actual 5G telco subscription too.
All in all, so this puts the Linksys 5G router in an interesting position. It is a solid performer in terms of quality, built and performance. If you are an early adopter and demand simply the fastest 5G wireless router out currently available out there, getting the Linksys 5G router is definitely a no-brainer for a recommendation.
Linksys 5G router
Pros
Fastest 5G and Wi-fi6 speed in it class
Excellent sturdy build
Intuitive simple web interface
Cons
Price
Large footprint
5G battery life could be better