Lets check out Zhong Yu Yuan Wei Tiong Bahru Wanton Noodle (忠于原味雲吞麵) at the old Tiong Bahru market today with a lunchtime dine-in. You could recognize Tiong Bahru as the rustic dreamy HDB estate comprising of several short walk-up apartments, cafes and restaurants which looks like a town in early Singapore. The store is located on the 2nd floor of the market building with a wet market on the ground floor.
At its core, Zhong Yu Yuan Wei Wanton mee store offers sizable noodle varieties. This includes wanton noodle, chicken noodle and dumpling soups. Also this is not to be confused by the Tiong Bahru Wanton noodle store at Raffles place with the same name.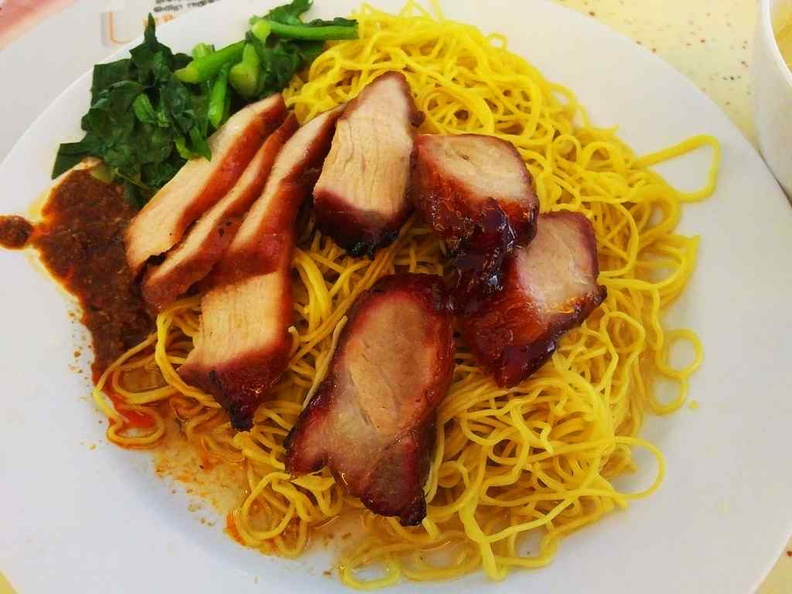 A breakfast and lunch place
Notably, the store is a breakfast place, with it open for most parts of the morning until lunchtime, where streams of lunchtime foodies are often seen queuing up. Notably, the store is often seen to be rather busy during the lunchtime periods, with long queues.
However, despite the queues, food is served relatively quickly with a wait not taking over 10-15 minutes. It is wise to cater ample time or at least 20 minutes more during your lunch break if you wish to dine in during this peak lunch period. Also, the store is pretty sold out by 2pm daily. So you be quite out of luck if you are there just after the lunch time period.
Try their charsiew
Zhong Yu Yuan Wei is pretty much a run-of-the-mill Wanton noodle mee store. You can't go wrong with just a simple Wanton noodle topped with their Charsiew, which does not disappoint.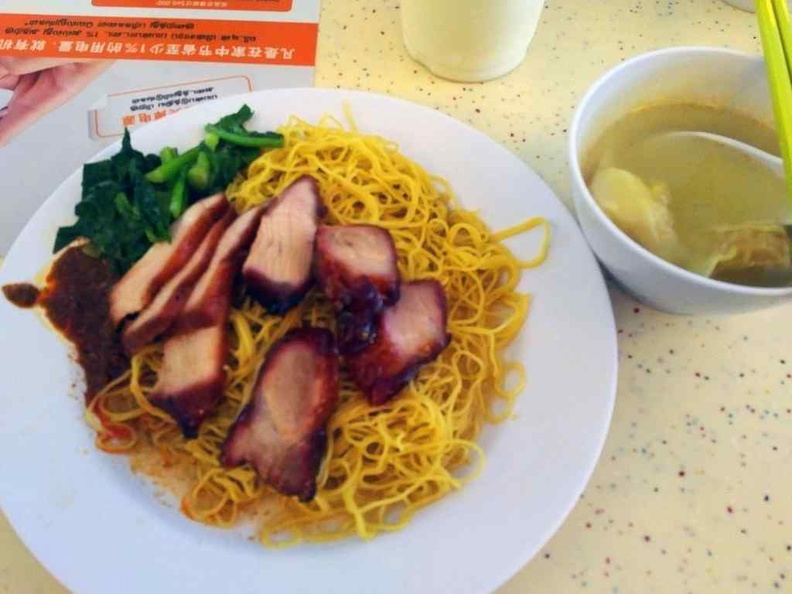 Their noodles are frim, but not overly hard or soft, it has a good texture. Also, the portions are not as large as Wong Kee noodles we visited previously at Depot road, but are more reasonably priced than that of Eng's Wanton noodles. Also, Zhong Yu Yuan Wei char siew is the main selling point here, they are large, chunky, juicy and sweet. You get about 5 or so generous char siew sliced servings.
Do come early during lunchtime
Additionally, it was during my visit where I discover the store also offers favourites including their wanton noodles with premium charsiew. Also, do come early as these charsiew do sell out pretty quickly early into the lunchtime. It is said that you ought to call in an order to book a plate beforehand if you wish to have one. It is that notably popular.
Prices range in the standard $3 to $5 range, it is affordable and reasonably priced for the offerings. Chicken noodle starts from a reasonable $3, while their wanton noodle starts from $4 and sizable up to $5 portions. Adding Char Siew meat brings your starting price to $5 a plate.
All in all, Zhong Yu Yuan Wei Wanton Mee has not bad an offering of authentic classic Wanton Mee coupled with great Char siew to boot. Definitely one to check out at Tiong Bahru market and hawker center.
Verdict:
Must Go! | Actually pretty Good | Worth Trying | Shortlist Optionally | Should Avoid
Makan Place Locality Map
Tiong Bahru Market
30 Seng Poh Rd, #02-30,
Singapore 168898
http://shaunchng.com/photos/index/category/523-tiong_bahru_wanton_noodle