Decathlon Run 2022 is one of the few major running events in Singapore mid this running calendar year kicking-off with the easing of COVID-19 restrictions. The event organised by Decathlon Singapore leverages the best parts learnt from virtual running events the past year with a hybrid event with the joy of a physical one.

The event comprises of an "anytime" 5km Virtual Run and 7km in-person run which you can run at your own pace. All you need are means to record your physical activity via a GPS-enabled or mobile device to measure and clock the race running elements.
Moreover, Decathlon SG touts their hybrid virtual and physical run challenge features various challenges. Also, it allows you to get active anytime and anywhere, with a community of fellow fitness enthusiasts cheering you on. Here are the event details.
Race Info and event date
5km Virtual Run with any route anywhere from 2- 26 May.
Use the MyRaceGate app from the App/Play store to record your 5km run.
App automatically clocks your 5km distance completion with online live leaderboard results.
7km Physical Run at Decathlon Singapore Lab from 27- 29 May
Book a time slot for the physical run at your time from 27- 29 May.
There are 2 sessions: AM session: 7-11am and PM session: 5:30- 9:30pm
You can book time slots in 15 minutes batch internals for each session.
Complete the designated 7km route on your booking slot and time frame.
Similarly, use MyRaceGate app to record your run.

The app stops the clock automatically when you complete the designated route.

App automatically clocks your 7km distance completion with online live leaderboard results.
Before and after the run would be free and easy around the Decathlon Kallang Lab store
7km Physical Running Route
The 7km riverside scenic running route starts from the Decathlon SG Lab at Kallang. It takes you by a park connector river route along the Geylang river and Tanjong Rhu Promenade by the Kallang river towards Gardens by the Bay East crossing under the Sheares bridge.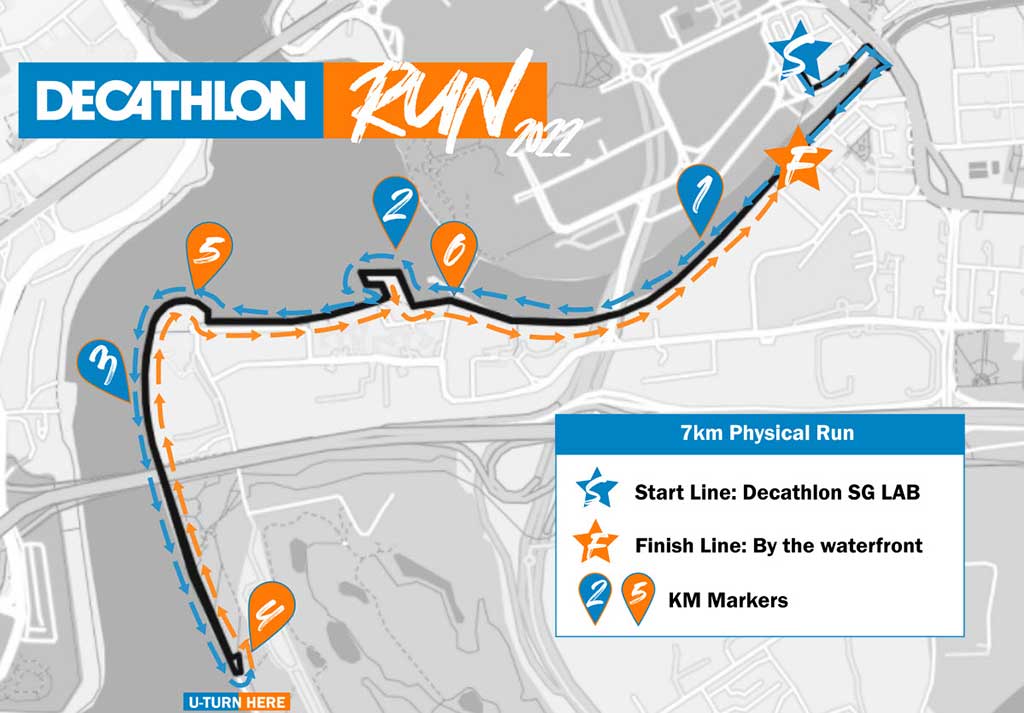 Moreover, you U-turn mid-way along Gardens by the Bay East, with the F1 pit building in-view across the Marina Bay. Thereafter, you run back where you came from before ending the 7km at the field by Sampan Place, interestingly stopping near a car showroom (BMW Performance Motors building).
7km running notes:
Registrant must complete the entirety of the route themself.
You may complete the route only once, and save only one set of run data on the app.
The use of vehicles/bicycles, etc is not allowed.
Participants with duplicate data submission will be disqualified.
Ensure all run tracking data has been saved and kept on the MyRaceGate app successfully by Sunday 29th May, 2359 hrs.
Runner's entitlements

Finisher T-shirt (costs an additional $8.00 at race registration).
Finisher E-certificate.
$20 Decathlon e-voucher upon completion of race
Refreshment drink and finisher run pin
Interestingly, the finisher T-shirt sets you back an additional $8.00 extra, which is strangely not included in the registration as runner's entitlements. Also, having said that, I reckon most runners do not mind paying a more expensive $20 registration fee with a Finisher shirt included. Also do note that chosen tee sizes are final on registration and size changes are not allowed.
Registration and Pricing
Individual participant public standard registration Fee:  $12.00 ($10.80 with Passion Card).
Early Bird Registration Fee til 10 Apr 2022: $10.80 (10% off).
5 pax bulk discount: $9.60 /pax.
Registrations are open now till 1 May 2022.
Participants must be at least 10 years old as of 2 May 2022 to participate.
Runners between the age of 10 to 14 years as of 2 May 2022, should be accompanied by a parent who will be responsible for their safety.
All in all, I find the Decathlon Run 2022 run distance is not too long and suitable for both beginners and seasoned racers looking to start running with Covid-19 restriction easing and to clock your personal best. The Decathlon Run 2022, together with a very affordable registration fee is an event definitely to put on your running calendar this year.