Wow Wow West ABC Market Western food store is an independent western cuisine hawker store serving an assortment of grilled and fried dishes. They are known for their value for money western fare with sizable portions. The store is physically located at the rear end of ABC Market. This part is on the inner far end beside the ABC Brickworks wet market.
Interestingly, the front signboard of the store is just simple black text on a white background. This is instantly distinguishable from the lines of other hawker stalls in the hawker center, but you have to infer on what they actually serve. Also, it is recognizable by an organized crowd of customers at the store front. A queue is not uncommon as the store requires self-service.
Huge serving portions
The unique selling proposition of Wow Wow West will have to be both their selection of sausages and their relatively large plate serving portions. Here, favorites include their selection of grilled dishes. This comprises their popular chicken chop, as well as pork chops and sausages. Do note that the portions will start to grow pretty big with sausages added. It may be too much to handle for small eaters.
Sausage Fest
Moreover, you can order the sausages as a standalone item to-go ($2-3). Options include chicken cheese ($2) or the longer pork cheese ($3). You also have a choice of a sausage platter, with options of a Chicken cheese sausage set at $4 as a meal or Pork cheese sausage set at $5. Moreover, most patrons will add the sausages as an additional side on top of their regular selection of main courses. Their pork sausages are twice as big as the chicken sausages, despite costing a dollar more.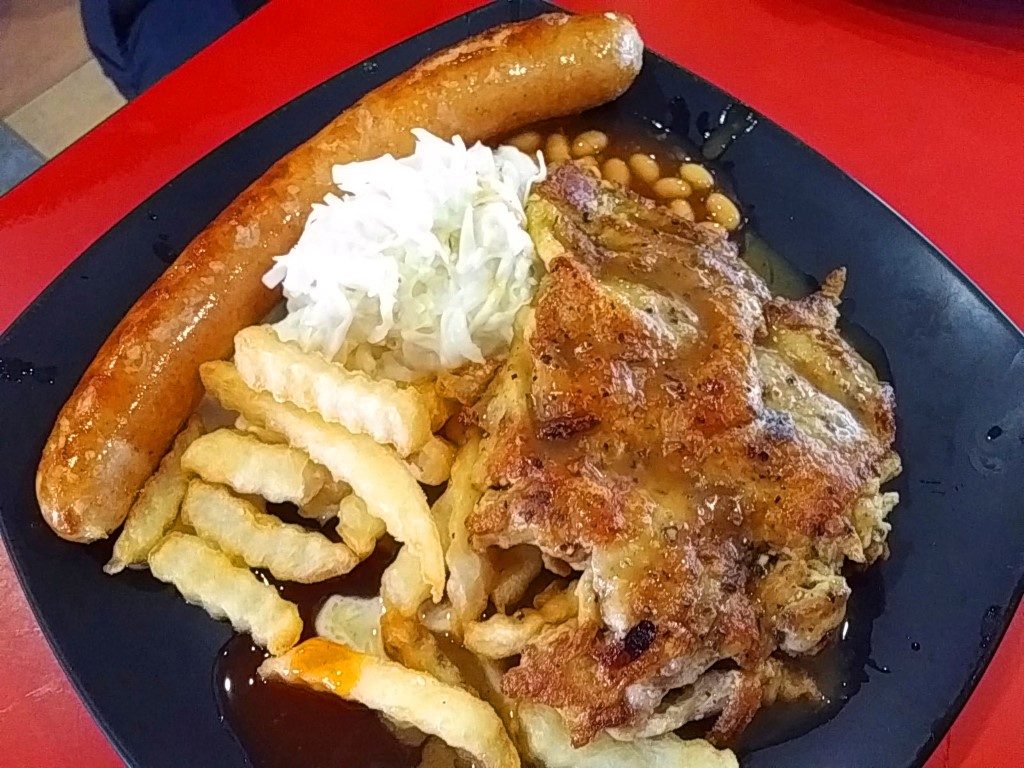 Main courses
A main course typically starts from $7. The $7 range includes your fan fare of western staples, including Chicken chop (grilled chicken), Fish and Chips, Pork Chop and the fried variant of the chicken chop, chicken cutlet. Beef steaks cost more at $8 a plate.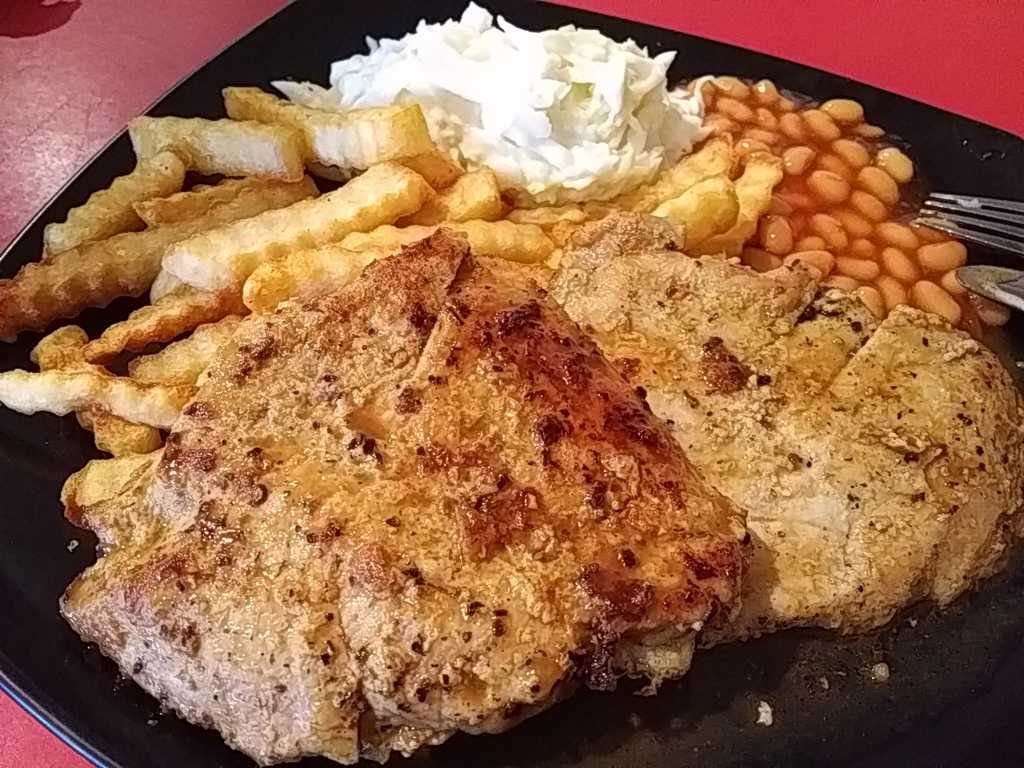 Hence, prices are tad higher than a typical hawker store, but is very reasonable for the portions. Add in extras like a cheese chicken or pork sausage and you can see the prices quickly climb upwards in the range of $9 to $12 per plate. This is on average much more expensive than a conventional "Hawker western food".
Moreover, popular dishes will include chicken chop and chicken cutlet. The latter of the two is the deep fried version of the first. Choice of sauces includes mushroom or black pepper sauces. Fried foods are typically dressed with heaps of mayonnaise.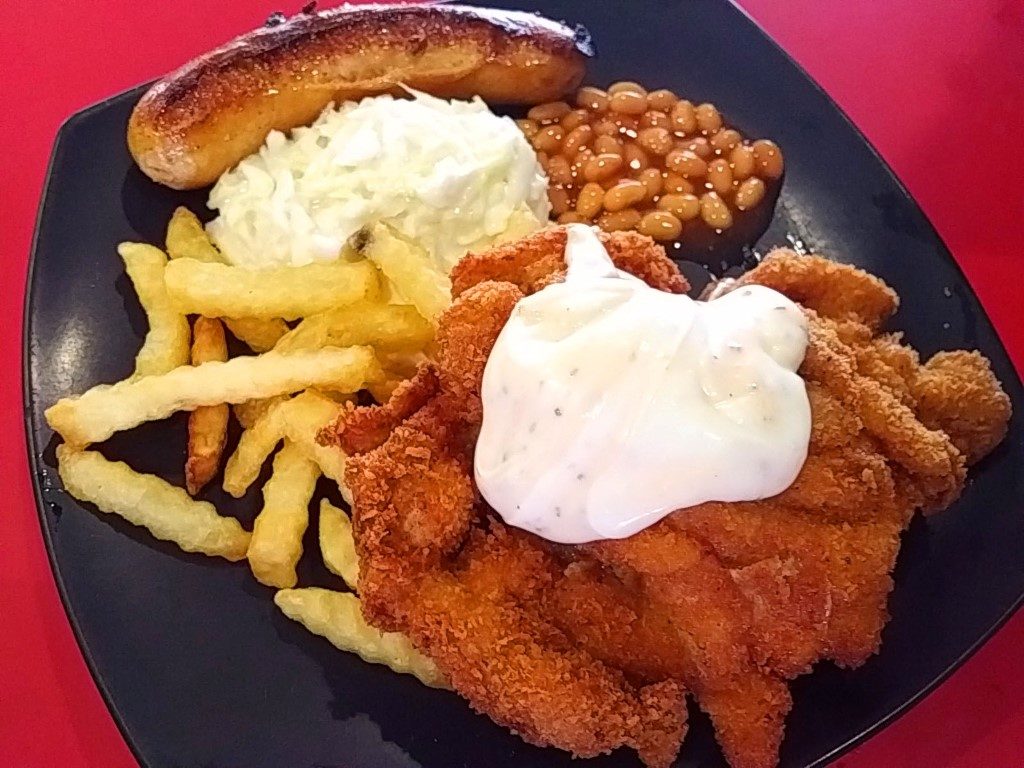 There is nothing too special on the serving sides. It comprises of regular run-of-the mill fries, baked beans and chopped coleslaw. Additionally, the fries are large cut and sprawled in generous portions to fill up any remainder plate space. Consequently, the sides complete the picture, making your western meal more wholesome.
Hence, it is not unusual to find the contents of your dish sticking out from both sides of your plate. The food portions are reminiscent of the previously popular Botak Jones western stores almost 5 years back. This is until that franchise started going downhill when the outlets started skimping on quality and portions.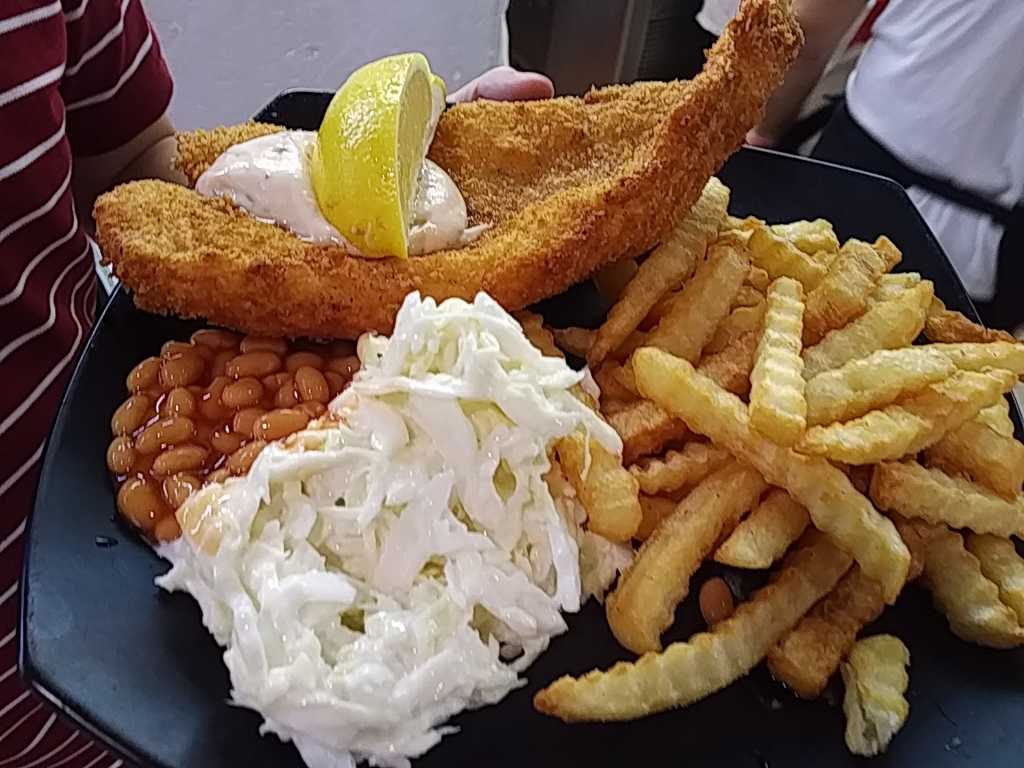 Good Quality for the price
I am glad to find that the quality of food served here is above that of your typical run of the mill hawker western food shop. The meats are not too overdone and are juicy on the inside. The taste of the meats are well-marinated, OK, but not too spectacular. The fries, particularly those served with the Fish and Chips are crispy but not dry or overly oily.
Moreover, for $8 I am surprised you get a large slab of beef. Though it is cooked from frozen, the quality is a far cry from you run-of-the mill hawker beef steak. Their steaks are still mildly tough and cooked to a consistency about medium.
However, the sausages are quite a hit or miss. I wasn't able to find any oozing cheese blobs in my cheese hotdogs. Presumably, they are all infused into the meat within. But they are otherwise not that bad with a juicy core, though mine was a little charred and burnt on the edges.
Comparatively, it is more like your "Atas" western food in the line of Collins and Astons. The quality of the meats served is one-up above your standard hawker western food fair. Almost on par with dine-in sit in restaurants.
Speedy and friendly service
Additionally, the stall service is very friendly. Despite the high lunchtime demand, the stall with 4 staff are able to churn out plate after plate speedily like factory clockwork. While waiting for your food, the front line lady helpers can be seen quickly filling up the plates with servings of fries and coleslaw. The chef in the kitchen manning the grill prepares and top plates with the main course, cooked to your desired specifications. Moreover, an elderly man in the kitchen can be seen ensuring quality control and that kitchen supplies are satisfied to keep the orders moving. The store looks like a family hawker business.
Expect about a 10 minute wait after placing your order. This is the average wait during peak lunchtime. Despite the large number of customers, the store chews through crowds with ease. You will be given a wireless buzzer which will inform you when your food is ready for collection. Condiments and sauces are all available via a self-help counter on a public table right in front of the store.
The stall is open during lunch hours only and closes by early evening. Hence, don't expect to find the place still open after 8pm.
In all, Wow Wow West is not too bad a stall to try for your western food fix at a quality price.
Verdict:
Must Go! | Worth Trying | Shortlist Optionally | Should Avoid
Wow Wow West Western food
ABC Brickworks Market
Jalan Bukit Merah Lane 1,
Unit #01-133, Singapore 150006
Opening hours: 10:30am–7:30pm
Makan Place Locality Map