If doggy pet cafes are your thing, there is one western fusion restaurant in central Singapore worth checking out. At its heart, Wooftopia Pet Cafe is a dog cafe, specifically one targeted to dogs. The pet café is tucked in a quiet row of stores on the entrance row of the Grandstand.
Additionally, the grandstand is otherwise previously known as Turf city, where the sprawling retail and commercial complex is residing on what was the main building of the old Singapore turf club.
Moreover, the restaurant dining areas are spick and span with easy to clean concrete flooring and pet-friendly furniture for your pooch to roam about freely. Also, there are water dispensers and bowls for your pets.
Great fusion selections
Furthermore, offerings on the menu includes 2 burger options. Recommendations includes their Wootopia chicken burger ($19). It is their Signature double patty grilled chicken burger. It is served with Roma tomatoes, caramelized onions, smokey BBQ on brioche buns.
Additionally, their Cheesy Beef burger, also priced at $19. It comes with melted cheese. Both burgers comes doused with melted cheese over your patties and topped with lettuce and tomatoes.
Moreover, their fish and chips ($17) are also one worth trying here at Wooftopia Pet Café. Though the fish and chip fillets are not as gigantic as Smith's Fish and chips, it is priced considerably cheaper.
Your fish batter tightly pack your fish and not airy. It has an excellent batter to fish ratio and is well cooked. Your main courses are served with sides of fries and a garden salad. The salad is great, fresh and crunchy. They are doused with vinegar for taste. Their fires are one of the less appealing areas, they are tad thin and dry to my liking.
Wrapping up their mains are a selection of pasta, which offers a sizable selection of 8 choices. This ranges from Agilo e Olio to Creamy curry pasta, Bolognese and Carbonara. Prices typically ranges from $16 to $19 per plate, not inclusive of 10% service charge.
A place for your pet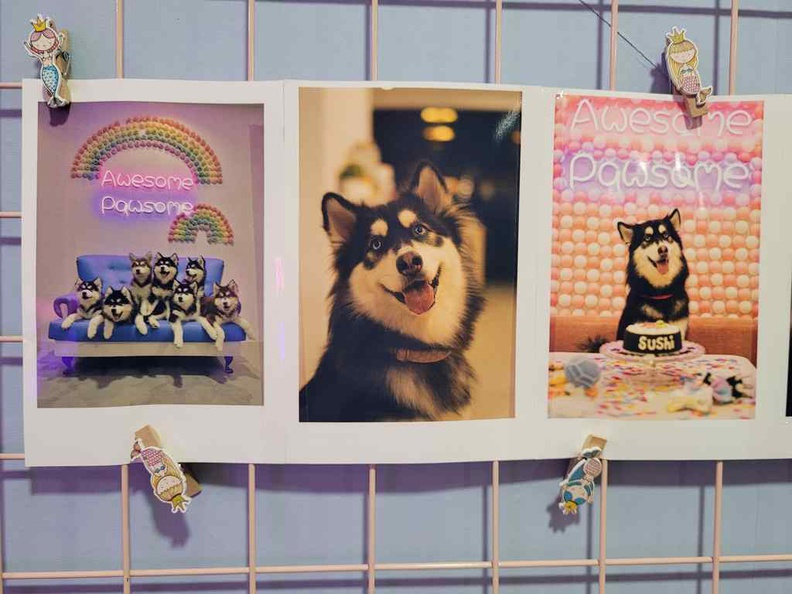 Moreover, pet menus starts from crafting your base meat selection, such as chicken, pork, beef or salmon. You can add in additional vegetables sizes from broccoli, carrots, potatoes or blue berry. Toppings such as garnish sauces and powder are optional. A typical pet's meal costs about $6.
The dine-in area is quiet and chill, with walls lined with art portraits of dogs. Interestingly, during my visit.In addition, there is also an instagramable sofa where you can take pictures of your dog. The restaurant has a gantry gate at the entrance to prevent your dogs from running out from the restaurant into the streets. Also, there is a small giftshop sections selling an assortment of pet maintenance merchandise, such as brushes and care-kits.
Also, notably, on my visit, I was the only customer on my dine-in on a Friday evening. It's the best in terms of undivided service attention, though questionable is the survivablity of the establishment. The cash counter has a small selection of cakes, such as rainbow, chocolate and paired with coffee.
All in all, if you desire a nice quiet place to dine-in in the central Bukit Timah area with your pet in-tow, I am hard pressed to find any other perfect place than Wootopia Pet Café. The pet-friendly and safe environment with a great menu to boot make its one to go for with your pooch.
Verdict:
Must Go! | Actually pretty Good | Worth Trying | Shortlist Optionally | Should Avoid
Wootopia Pet Cafe Locality Map
200 Turf Club Rd,
Unit #01-29,
Singapore 287994
Opening Hours: 12pm – 9pm
Closed on Tuesdays