Heng Long Teochew Rice is a late night Teochew muay (porridge) dining house located in Upper Serangoon Road. The store is located prominent along the main road and tucked alongside along Jalan Rengkam. Lets get up for some comfort Teochew porridge.


To get there, the nearest MRT station is Kovan MRT and is a 200 meter walk away. There is roadside parking available for patrons, though it is recommended to park at the multi storey car park at Block 373a in a nearby Hougang HDB estate. The carpark offers free Sunday parking too.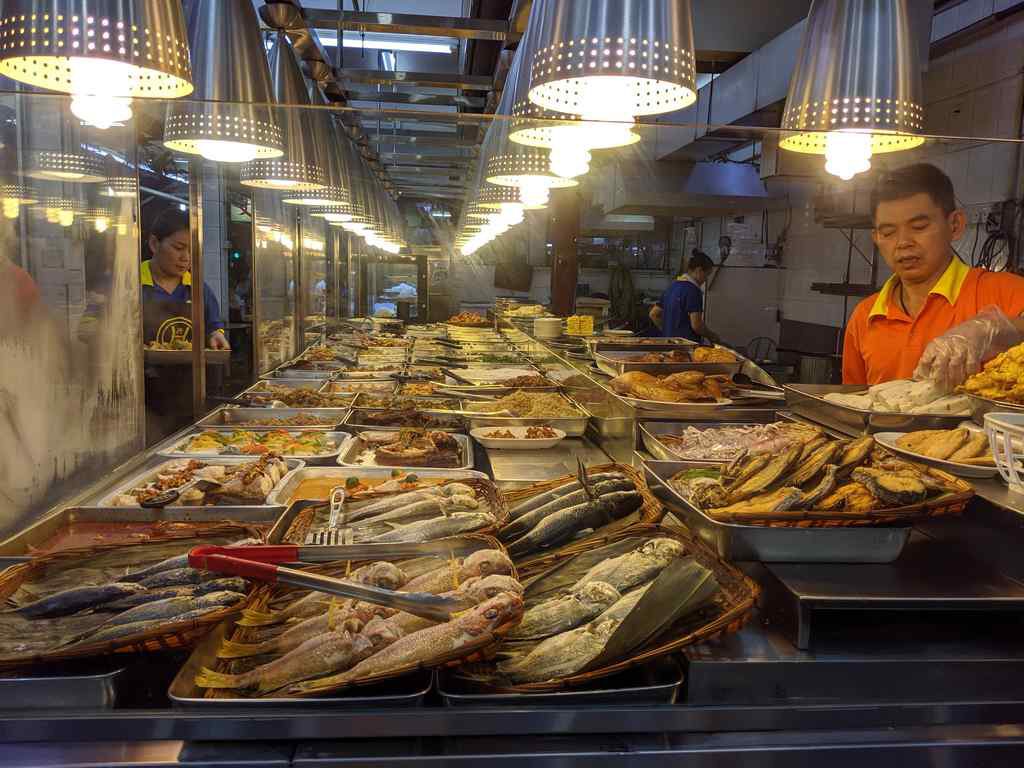 Heng Long Teochew Rice operates from lunchtime till late past midnight. Food is usually freshest just before lunch and dinner times. The store operates on shifts, so you expect to find a different kitchen staff between lunch and dinner times. Also, 6pm is the best time to arrive for dinner. You have on display steaming freshly cooked selections ready for the dinner horde.
Selections of the trade
Their distinctively asian food selections are rather extensive and simple. All your menu items are laid logically out on long stainless steel counters running along the length of the shop. Notable Teochew staples includes curry chicken, fried white cabbage, fried eggs (in various styles) and radish soup.
In traditional Teochew porridge fashion, recommendations includes pork intestines and 3-layered pork doused in black "loh" sauce. You can pamper yourself with both a serving of plain rice and porridge.
Moreover, the porridge is not overly filling and goes great with their oily and black sauce dishes. Also, do help yourself to the various sauces which goes well with their meats and fish.
Additional recommendations includes steamed fish cake, minced pork and, fried chicken cubes, fried silverfish, fish and sweet and sour pork. If you are more adventurous do consider the liver gizzards, braised pig's skin.
Moreover, the road side seating comprising of wooden tables and stool. It gives the place a pretty easy-going and olden Singapore nostalgia feel. It is an old experience often overtaken by air-conditioned food courts.
Besides their food, the selling point of the establishment is their late opening hours up to 4am. This makes the establishment popular for late night supper goers, say after a movie or a club party. Also, with a daily opening duration exceeding 18 hours, Heng Long Teochew Rice is also popular with taxi and grab drivers doing the graveyard shift.
Expect to pay a premium
Teochew porridge started out as an affordable meal for the masses. Increasingly this is hardly the case today. Hence, "eating on a budget" or "eating like a king" are no options here. If you plan on eating a budget, you could be quite out of a luck. A simple meal with rice or porridge with two vegetable sides and a meat sets you at least the $5 mark. This is more than what you typically get from a hawker vegetable rice store selling essentially the same things.
Not nit-picking here, having said, it depends on what food sides you choose. Thing can get expensive pretty quickly, especially if you start ordering premium items such as duck, whole fish, squid and pork trotters for instance. On average, a meal for 2-3 pax can cost at least $30, or averaging $10 – 15 per head. This comprises of about for about 5 to 6 different sides served on individual plates great sharing.
Premium offerings includes soya duck, fresh fish and pork trotters. Items which the store owners will try to coax you into trying when you make your order. You can simply just wave the suggestion away. A general rule of thumb is to avoid the fresh seafood and stick to the cooked food instead.
All in all, if you like the idea of timeless dining in Singapore today, and much to pamper both your stomach than your wallet, Heng Long Teochew Rice is an establishment to consider in the rather crowded Teochew porridge scene. However, things can get expensive pretty quickly, especially if you start ordering premium dishes. If you keep that in check, it is quite a great place for quality food till late.
Verdict:
Must Go! | Worth Trying | Shortlist Optionally | Should Avoid
Heng Long Teochew Rice
1012 Upper Serangoon Rd,
Singapore 534750
Opens daily: 10:30am–4am