Wirecard hosted a sharing and innovation day. It comprises of sharing and discussion sessions together with technology showcases. Wirecard is one of the world's fastest growing digital platforms in the area of financial commerce. They provide both business customers and consumers with a constantly expanding ecosystem of real-time value-added services. Let's check out what is in store at the Wirecard Labs Innovation showcase.
Also, Wirecard operates regulated financial institutions in several key markets. They also hold issuing and acquiring licenses from all major payment and card networks. These innovative digital payments serves as business enablers for consumers. It uses an integrated Business to Business to Consumer approach.
The event started with Jörn Leogrande, Executive Vice President from Wirecard labs welcoming the audience to the event. Terence Lim from Tech in Asia leading the discussion.
Additionally, we also have Glenn Maguire from VISA and Yau Su Peng from Berjaya Corporation to share their views from a retail perspective.
Lastly, we have Devashis Das from Mizuho Bank representing the banker's perspective in a panel discussion with attendees.
Additionally, Wirecard had on display a number of technology showcases set in a science fair setting. These Innovation showcases are as presented by staff of Wirecard innovation labs themselves. Also, showcased were a variety of online, mobile, and ePOS in enabling brick and mortar retail, and payment solutions to accept payments quickly.
Wirecard Payout Page
Don't want to be bogged down by the technical complexities when setting up your own online-shop? Wirecard has on offer their Payout Page Wirecard Payment Page v2 (WPPv2). Essentially, it is an easy and ready to use online checkout solution.
Also, the Payment Gateway can be designed and integrated into your desired merchant site. It combines a highly customizable user interface with payment processing for various payment methods, streamlined to your shop workflows.
Enabling Brick and Mortar retail
Also, the next-Generation open Platform Wirecard provides an innovative end-to-end financial platform. It connects all Wirecard products and services, offering customers benefits of payment automation.
Furthermore, Wirecard open platform enables fully standardised and modular payment solutions that are easy to implement and simplify internal processes. Also, the sales and on-boarding processes are fully automated to help merchants reduce cost.
Going in hand with Smart Mirror
One of Wirecard Labs' brainchild is their Smart Mirror prototype. This mirror sits in a changing room and is a connected one. It is essentially a smart screen embedded into a standing mirror. Also, it offers you a fully personalised digital shopping experience. It first recognises the clothing product you have, recommending you to view more of the store's related inventory.
Additionally, this includes offering tailored recommendations, as well as product availability and information. When done, the mirror also allows you check-out with its own suite of Wirecard payment options.
Moreover, purchase recommendations can shown if a desired chosen product is not available in-store. There are however, no augmented reality options for you to try on clothing digitally on the mirror. You won't want cameras in your changing room!
Reinventing the Point-of-Sale
Furthermore, Wirecard also have on showcase a variety of point of sale devices to cater to different merchant needs. First off is the Q80 Terminal. It looks like a regular Point-of-sale terminal. It is touted as the smallest desktop payment terminal as of date yet.
Coupled with a large bright interactive colour touch screen (which you can digitally sign on), the Q80 enables connected merchants through multiple connectivity options and exceptional security. It can accept any type of transaction and cards securely, all while offering best-in-class user experiences.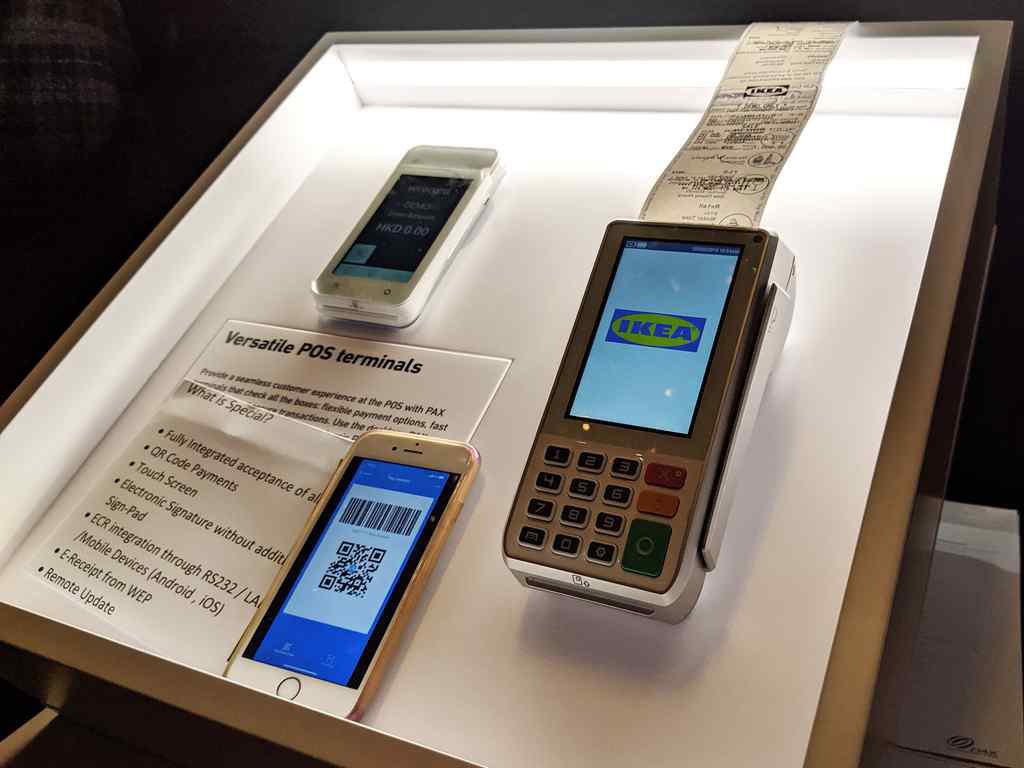 In addition, in places where mobility and space is a concern, the D220 mobile contactless payment terminal is an alternative to the Q80. It offers merchant a wireless mobile payment via apps. When integrated with compatible smart devices via Bluetooth, Wi-Fi or mobile networks (e.g. 3G or 4G LTE), it aims to provide consumers a secure and seamless experience.
Pay with your palm
Biometrics is the next big payment trend. Moreover, Wirecard works with hardware manufacturers to bring forward payment solutions into their ecosystem. I got to try out their contactless Biometric Terminal prototype. This device was sourced by Wirecard onboard their ecosystem to expand their portfolio in biometric payments.
The plus point about this Biometric Terminal is its contactless identification methods. It identifies you by your palm features just by hovering your palm over the reader without touching it. It is useful in big events such as dance parties.
Also, it enables fast, convenient payments without any further proprietary infrastructure. It also makes payment more hygienic, and faster than conventional finger and thumb scanners.
Never too much information with Electronic shelf labels
SES-Imagotags is another application of Wirecard working with hardware manufactures to provide innovations as a digital retail solutions provider. The application of Electronic Shelf Labels or ESLs for short, allows merchants and even customers to quick scan a code to obtain more information of a particular product.
Hey Alexa, buy me two tickets
Moreover, fancy making booking for your favourite musical just be using your voice? Wirecard too presented a live example of Voice Commerce using Amazon Alexa. Voice commands commerce provides an alternative to using a keyboard and mouse to order and purchase merchandise online. Voice commerce gives retailers many avenues to engage the customer buying experience hands-free.
Application can range from integration with smart home to even making orders in other hands-free scenarios like when driving. Wirecard indicated that their partners are very keen to bring this further. We can see Voice Commerce being more widely deployed in the near future.
Making Traditional Payments easier with payments on the go
In addition, in solving the need for travellers' payment, Wirecard have on showcase their Multi-Currency Travel Card as well as their Payout Cards.
The Multi-Currency Travel Card is an innovative means of payment which functions like a prepaid credit card. You use it like any credit card which you can make payments easily and securely worldwide when travelling. Moreover, the card is configurable for multiple currencies. Hence, removing the need to pay foreign exchange fees.
Furthermore, the Payout Cards, functions like a managed prepaid card. Each card can be synced to an online account. You can manage via the Wirecard Payout online portal or associated with a Phone app. You use your contactless cards to carry out seamless transactions at the POS, online or even use the cards to withdraw cash from ATMs. The benefit is reduced need to carry cash in-hand. Also, it removes the need for a bank account.
Blockchain
Moreover, a proof of concept demonstration of Wirecard's blockchain supply chain payment solution was shown. Here, it focus aim on linking merchants with producers, capturing all business processes via "smart contracts". Illustrating the blockchain displays is a coffee bean exchange system.
Moreover, these digital contracts applies the fundamental benefits of blockchain "proof of work". It has benefits of minimising the risk of fraud by openly publishing all steps along the commercial chain. Applications range from contract start, to quality assurance and guarantee of origin, are mapped transparently in a decentralised database.
Lastly is the showcase of transaction banking & FINsim. FINsim is a comprehensive, end-to-end automated test tool for EFT systems. It allows merchants to test all ATM, POS, interchange, regression, and stress test cases concurrently, using a single system. It enables simple and efficient testing of difficult electronic funds transfer (EFT) systems. This ensure smooth implementation and administration of credit and debit cards to prevent system failures and spot system weaknesses.
Alright, that's all folks. It was a good day on the showcase of Wirecard's payment solutions, coming to a store near you.