The Armoury is a bar and restaurant located at the South Beach complex area. It is situated beside the JW Marriott hotel complex, along beach road. The store is tucked in one of the rows of old white colonial buildings which once made the site of an old police academy.
At first impressions, it is just like any other bar along the stretch. Little do you know there is a kitchen in there offering some pretty gastronomical meals you can get for your money. Let's check it out with an impromptu dine-in.
A chill bar, with a great kitchen
Furthermore, the ambience is chill. The interior has an industrial look with a mix of bare concrete and matte tiled walls. The establishment's interior long bar runs he entire length of the restaurant. It offers a selection of house pours spanned over three prices ranges in their menu. For this write up, I am focusing only on the kitchen meal offerings. In particular their renowned giant unlimited meat platters you get at $30 a pop.
Moreover, there is watered service available, where you are promptly served and allocated a table. There is a combination of tabled and high tabled seating. Thankfully, the establishment does not get crowded, even on weekends on the Saturday of my visit. House pours and happy hour $2 off all half-pints lasts until 9pm.
Unlimited steaks for $30
Yep that's the price you pay per person for a meat feast. If you are hungry, the food platters at the Armoury will be just what you need. On buffet choices, $30 gets you get a free flow of 3 main types of courses. You have 5 different selections of main menu meats, 12 choices of sides and two beef steak choices.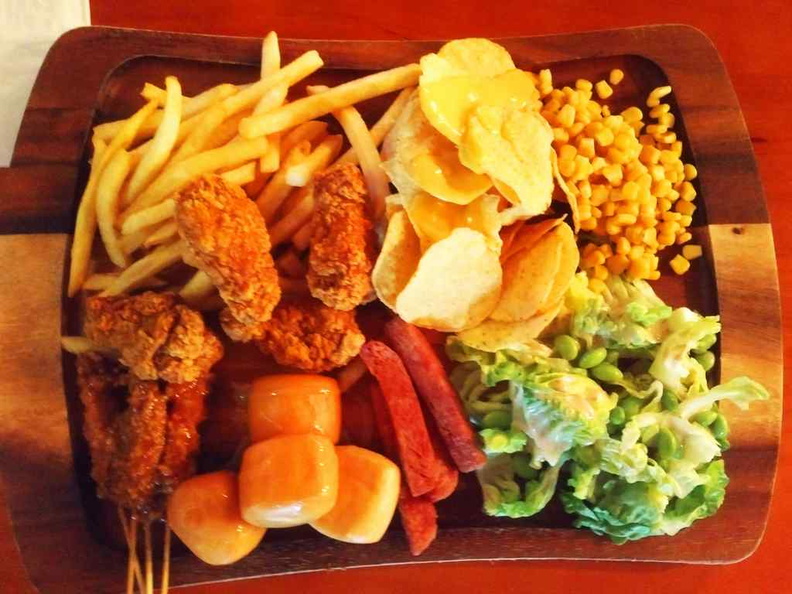 On the steaks front, you are presented a choice of two types of steaks, Rib eye or Strip lion. Alternatively, you can simply order both. They come drowsed with Black pepper, brown or mustard sauce.
Moreover, meats and ribs options include grilled shabu beef with ponzu sauce. Also, on other meat selections, you can opt for additional Balinese pork ribs and grilled pork belly, black pepper grilled dory fish and fried chicken thigh.
Massive platters great for sharing
Additionally, your meals are served over a combination of wooden platters and plates. Also, their fried chicken is not bad. It is crispy and not overly dry, but tad too oily for my liking (personal preference). Also, you get heaps of shredded Shabu Shabu beef, and pulled pork belly which to some extent overflows out the plate. I would recommend ordering less off these shredded beef as they can get pretty overwhelming after a while.
Furthermore, your sides are presented to you in a mega platter. It comprises of heaps of mantou (fried bread buns), fries, spam fries, corn, winglet, satay and green salads. That is what you get when you decide to check all the sides available on the menu. Notably, there is no space for sausages and we left out mainly on the beans.
If you do not know what to go for, or are overwhelmed by the selections, I recommend a mix of their Rib eye and chicken. Additional nice sides includes their plain salad and corn (they are fresh), as well as their spam fries and satay. Their winglets are not bad too and are cooked similarly to their satay. It's like what I did like to call a "bone-in satay".
The all you can eat ala-carte buffets lasts till kitchen closing time at 9pm. The bar still remains open till late. Moreover, the establishment accepts all cards, cash and nets payment options including Grab Pay if you wish to clock in your Grab Points from your purchases.
Not the best of quality but excellent for price
Their steaks are not the best of the dishes offered. You can tell they are steaks cooked from frozen. They were all cooked one level tad over-done despite a request for it to be medium rare. Moreover, the beef is pretty rubbery. It is not the best of experience.
However, despite the food quality shortcomings, you got to manage your expectations to what you get for $30. Notably, some establishments in the neighbourhood are even known to charge $30 just for your appetizer. Menu offerings at what the Armoury provides you an easily cost twice the price per head in hotel buffets. So I guess you get what you pay for. It is just a pity that the Armoury is shy off hitting the sweet spot if it weren't for their quality on the steaks.
In addition, if you demand bit more quality rather than pigging out like a caveman, you can optional for payable extras. Selections includes Australian prime porterhouse (800g) for $20 or Wagyu rumps in weights of 05-1kg for $12 to $20 extra. However, this can easily add up in cost which deteriorates the value. My recommendation is to simply just stick to the vanilla standard meat offerings. That is probably what you need.
All in all, if you are looking for an affordable way to pig out with a good beer and get your money's worth. Don't expect to scream home about the quality. But still for the price, it will be difficult not to recommend The Armoury for their Asian-European fusion food and choice craft beers.
Verdict:
Must Go! | Worth Trying | Shortlist Optionally | Should Avoid
The Armoury Craft Beer Bar