The Q1 building is one of the few tallest buildings on the Surfer's Paradise skyline and currently the tallest building in the Gold Coast, even overlooking the Soul tower. The building architecture itself is rather unique too, shaped to withstand the strong regular cyclone winds originating from the east. So it makes good sense to put the premiere observatory deck right on this building. The SkyPoint Observation Deck, located 230 meters above ground on Level 77 and 78 of the Q1 building is one of the must-see attractions in the Gold coast.
Opened on 26th October 2005, the indoor observatory gives you a full 360 degree view of the surrounding beachline and skyline. On the west of the observatory, will you get a fantastic view of the Pacific ocean coast which fades into the horizon. From this high up, you can even see the curvature of the earth . The east view offers view of paradise island surrounded by the Nerang River housing several high end residential apartments in the vicinity.
If getting up and exposed to the elements on the topis your kind of thing, You can get outdoors on the rooftop with a guide to take you about on the SkyPoint Climb- it's an harnessed building walk, bringing you over the top roof structures through externally mounted stairwells and passageways overlooking the beach. It can get rather windy up there.
A good time to head up the observation deck will be an hour before sunset, allowing you to catch both the day, sunset and night views in one visit. You will be able to grab combination tickets for the observatory deck together with Dreamworld theme park tickets at a bargain. Feast your eyes on the view above in the panorama below
180 degree panorama from Skypoint Observation Deck panorama Surfer's Paradise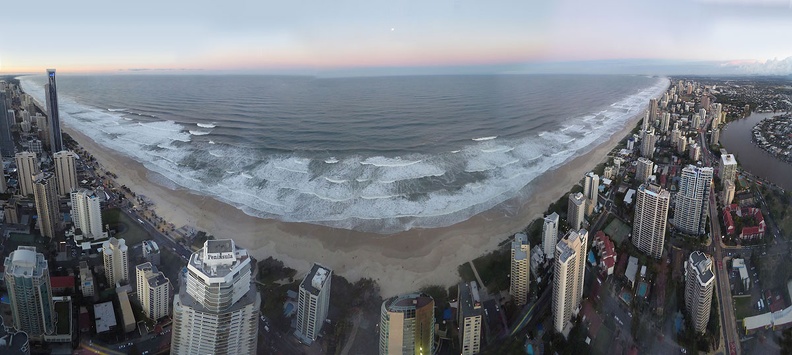 Goldcoast Skypoint Observation Deck photo gallery.