Ce va li is a contemporary and classy rooftop restaurant located on the 57th floor of Marina Bay Sand hotel. They serve an assortment of mostly Asian cuisine prepared for you from their masters in the kitchen straight to your plate. Let's check them out with a dine-in.
You get to the restaurant via a direct elevator ride up to the 57th floor from the hotel lobby of Marina Bay sands Tower 3. The restaurant sits above the Marina Bay skypark for a sky-high dining experience with a view to boot.
Notably most part of the restaurant is also suspended over thing air. It hangs over the edge of the Marina bay Sands Tower 3 on the world's longest cantilever.
Dining with a view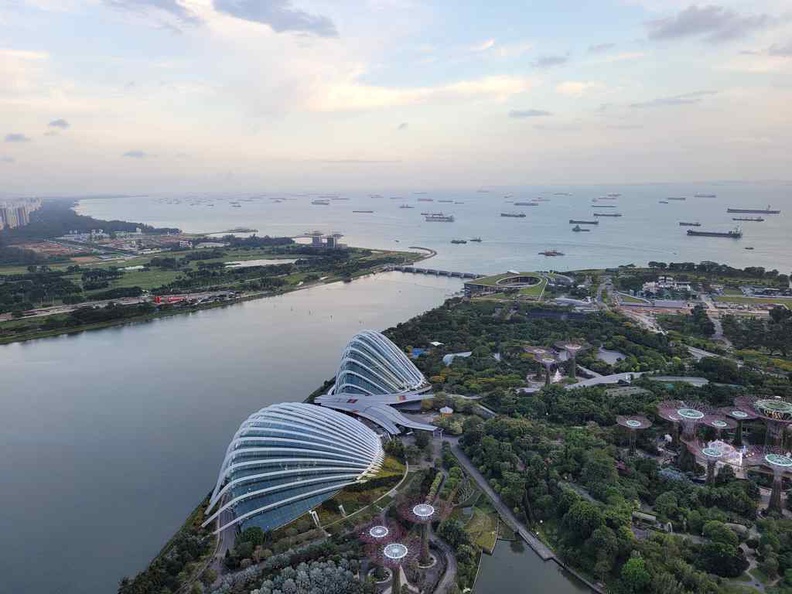 Furthermore, there are a mix of indoor and outdoor seating at the restaurant. The latter have you seated by a sides allowing for views of the Singapore Gardens by the Bay.
This includes the central bar which overlooks the Sands skypark. Also, the indoor seating offers an open concept air-conditioned sheltered seating. This is also where the restaurant bar reside.
Also, the skypark costing $26 per adult a timed visit. Hence, it might make more sense to dine in here to enjoy the views at your own time with no time limits. Notably, the restaurant is also open past the skypark's 9pm closing time.
Fine dining at the top
Moreover, Ce va li main courses are surprisingly reasonably priced for an upmarket restaurant. Selections are priced from $28 for a Vegetarian cauliflower steak and going up to $128 per main course for a 500g Whole lobster with yuzu bearnaise and truffle.
Additionally, recommended appetizers includes Roasted Fremantle Octopus ($32). It is a roasted tentacle filled with Tom yum emulsion and topped with coconut cream. Your tentacle is lightly grilled and tad crispy to the bite, though larger portions could be better.
Wrapping up on notable starts also includes Fine de clair oyster and Oscientra caviar. They are Oysters topped with caviar and served on a bed of crushed ice. The oysters are plenty fresh and chilled too. Even the oysters scallops are hand-seperated for you before serving.
Additionally, their Salmon Tataki is an interesting dish. You get 4 pieces of pan-sheared salmon with an orange inner core. It is topped with Salmon roe, Ikura (Salmon Caviar). Over a bed of sauce.
Ce va li main courses
Also, here, average offerings priced about the $40 mark per main course. It is comparable to the offerings at to Ramsey's bread street kitchen we checked out previously. It can cost up to $100 per person here for 3 courses with service and tax. Hence, though Ce va li is not what we call affordable, it does make up for quality served in a fine dining setting.
Delectable main courses includes their Rangers valley Rib eye steak ($66). It is slow roasted in a cast iron pot and topped with Kampot pepper, celeriac, kanzuri and glazed with red wine for taste.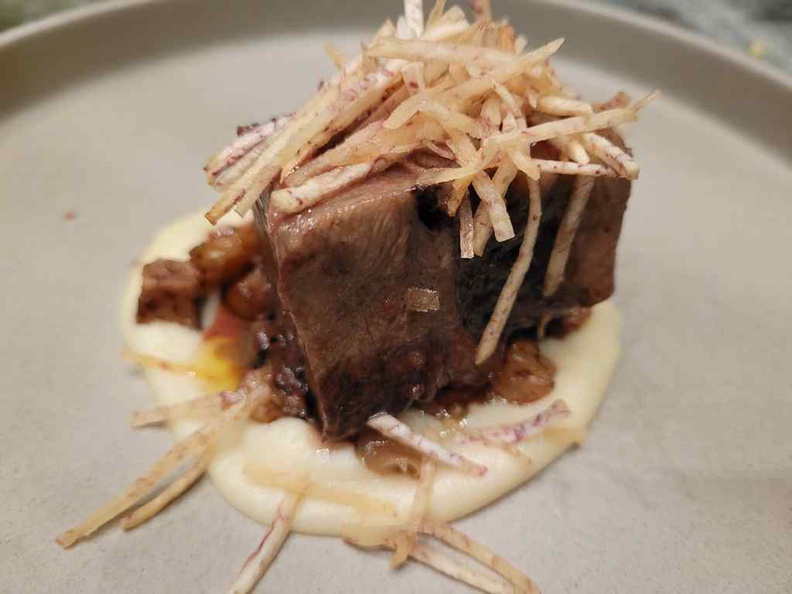 Their Braised Duck ($38) is also a notable recommendation. It is served over a bed of green vegetables and doused in oil.
Desserts and Drinks
The restaurant indoor bar is decked with a temple-like theming with fixtures hanging from the ceiling. Wines cost from $16 a cup to $30 for a glass of champagne. Also, per bottle prices range from $88 for reds to $180 for champagne.
Furthermore, the outdoor bar has an open air setting tucked under red umbrellas with a skyline view of Singapore's Marina bay and the East. You can see the Singapore flyer and the sports hub stadium in the distance.
In addition, dessert prices range from $15 to $20, with special chefs "blind dish" selections ranging from $28 to $68. If you want something more down to earth, recommendations includes their Mango cheesecake ($20). It comes topped with caramelized almonds, pistachios crumble. Also, one dessert great for sharing and packs a statement would be their Ice cream and sorbet ($15)
All in all, Ce va li is a great place to chill with great food and an awesome ambience and views overlooking the Singapore Marina Bay and central business district. The higher than average price point does make it out of reach to most, especially for repeat trips. Though is not as outrageously priced as I thought it to be. Ultimately, if the high life is one you are after, this is one of the few fine places to live it.
Verdict:
Must Go! | Actually pretty Good | Worth Trying | Shortlist Optionally | Should Avoid
Ce va li Locality Map
1 Bayfront Avenue.
Level 57, Tower 3,
Marina Bay Sands, Hotel,
Singapore 018971
Daily Opening Hours: 4pm- 10:30pm
Weekend: 12noon- 10:30pm